SPW/Division 35 Books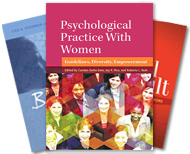 Over 15 years ago, SPW witnessed the publication of the first book in its book series, Bringing Cultural Diversity to Feminist Psychology: Theory, Research, and Practice, edited by Hope Landrine. Since then, 12 excellent division-sponsored books have appeared in print. Having APA as our publisher ensures that the product, as well as the content, is of the highest quality. The most recent book in the APA series is Talking about Sexual Assault: Society's Response to Survivors by Sara Ullman.
Have a Book Idea?
If you have an idea for a book and would like to discuss its appropriateness for the APA book series and the process and procedures involved check out the Book Proposal Guidelines. The Book Series Committee works closely with prospective authors and editors to provide guidance and support as needed. Generally, one-half of the royalties go to the author/editor and the other half goes to the society.
Explore SPW's Psychology of Women Series.
Other Division-Sponsored Books
SPW recognized the need to expand the types of books that we support, such as more experientially based work. These books are reviewed by the book series editor and reviewers and held to the same high standards as our APA books. In 2012, the first of these division-sponsored books, Retiring but Not Shy: Feminist Psychologists Create their Post-Careers, edited by Ellen Cole and Mary Gergen, was published by the Taos Institute. In this book 23 highly successful women who have been pioneers in feminist psychology provide engaging, personal and lively descriptions of their experiences that offer wisdom, insight and guidance for any professional woman contemplating her "post-career" future.
If you are writing or editing a book and would like to explore the possibility of Division 35 sponsorship, please contact the Book Series Editor Linda J. Beckman.