News & Events
Div. 44 sponsors several events throughout the year. They include scholarly presentations, social gatherings and cross-disciplinary meetings, offering opportunities for connection and transformation in the company of LGBT and ally colleagues.
News
Members Receive APA Presidential Citations
In his first month as president of the American Psychological Association, Barry Anton, PhD, awarded presidential citations to two members of Div. 44's presidential trio.
At the National Multicultural Conference and Summit in Atlanta, Michael L. Hendricks, PhD, received a citation, "For his critical work on behalf of transgender and other gender nonconforming individuals." The certificate cited Hendricks' expertise in "theoretical, evaluative and treatment concerns for transgender and other gender nonconforming individuals" and his lead role in the development of the Minority Stress model for transgender persons which "brings his expertise in suicide assessment and management to this particularly vulnerable population." Anton cited evidence of Hendricks' "dedication to the needs of gender nonconforming clients in particular and LGBT clients more broadly."
Then, at the Division Leadership Conference in Washington, D.C., just a little more than a week later, Allen M. Omoto, PhD, received a citation, "For his passionate dedication to social justice and to bringing psychological science to bear on social policy." Omoto's certificate cited his "strong and lasting commitment to social justice and inclusion through his research, publications, teaching and mentorship, and leadership." The certificate noted that Omoto "inspires and leads his students and his colleagues to affect social justice through the science of psychology by his passion, his dedication...and by the example he sets for integrating his values into his personal and professional life."
Both recipients were unaware that they would be honored in this way. The surprise, it turns out, is a part of Anton's plan in presenting his presidential citations throughout the course of this year.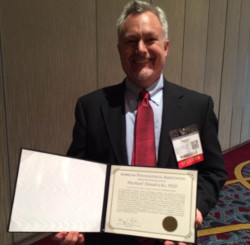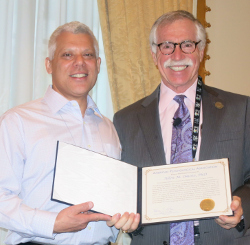 Events