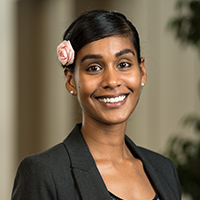 My interest in cognitive aging began in college when I conducted neuropsychological assessments with older adults. With excellent mentorship from Laura Zahodne, PhD, and Vicki Ellingrod, PhD, my interest in the field has blossomed into a program of research focusing on physiological and psychosocial contributors to cognitive aging.

I recently defended my dissertation and began the final (clinical internship) year of doctoral training. These milestones led me to reflect on the many opportunities that helped shape the next steps in my career path, including being a student member of Div. 20. I am grateful for the exposure to a large breadth of adult development and aging research, which has led me to consider novel methodological approaches to answering research questions. At the recent APA Annual Convention, I co-chaired a symposium in which I presented my research on adverse childhood experiences and later-life cognitive outcomes via educational attainment and cardiovascular health pathways. Despite the virtual conference platform, I was able to discuss my research and obtain valuable feedback, particularly from Div. 20 members.
Although I missed the in-person interactions of Div. 20 social activities, attending the business meeting via Zoom was very enjoyable. It was inspiring to learn about the growth of Div. 20 from senior faculty members and celebrate award recipients. Given the current pandemic-related restrictions, I am especially appreciative of experiences like this that have allowed me to maintain connection to the larger community of professionals in the field.
My involvement in Div. 20 also provided opportunities to learn of and apply for research-related awards and grants, including the Graduate Student Research Award that I was recently awarded. I am honored to be part of a thriving and productive group of psychologists. I am grateful that I can develop my career as an aging researcher with the support of this professional community, and I look forward to opportunities to collaborate with and continue to learn from Div. 20 members.