Div. 25 President
Anna Ingeborg Petursdottir, PhD
2020 President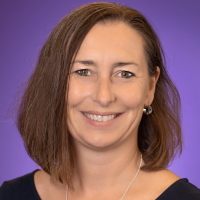 Anna Ingeborg Petursdottir received her BA in psychology from the University of Iceland and her PhD from Western Michigan University. She is currently an associate professor of psychology and chair of the psychology department at Texas Christian University, and also holds an appointment as a part-time lecturer at Reykjavik University.
Petursdottir is a past editor of The Analysis of Verbal Behavior, a previous associate editor of the Journal of Applied Behavior Analysis, and a current associate editor of the Journal of the Experimental Analysis of Behavior. She additionally serves on the editorial boards of various other journals, such as Perspectives on Behavior Science and European Journal of Behavior Analysis. Petursdottir is a board member of the Society for the Experimental Analysis of Behavior, a member of the science board of the Association for Behavior Analysis—International, and a past president of the Texas Association for Behavior Analysis. 
Petursdottir's research encompasses both basic and applied interests and focuses primarily on verbal behavior acquisition, stimulus equivalence and other derived stimulus relations, and applications in the areas of language intervention and instructional design.