President's Column
Advocating for Psychological Science
On April 22, Twitter was aglitter with posts and retweets from psychologists and students from cities and towns across the U.S.
By
Anne Cleary, PhD
The membership of Div. 3, as well as the larger scientific community that Div. 3 represents, had great representation at the March for Science on April 22, 2017, in communities across the country, as many experimental psychologists and cognitive scientists took to the streets to advocate for their science.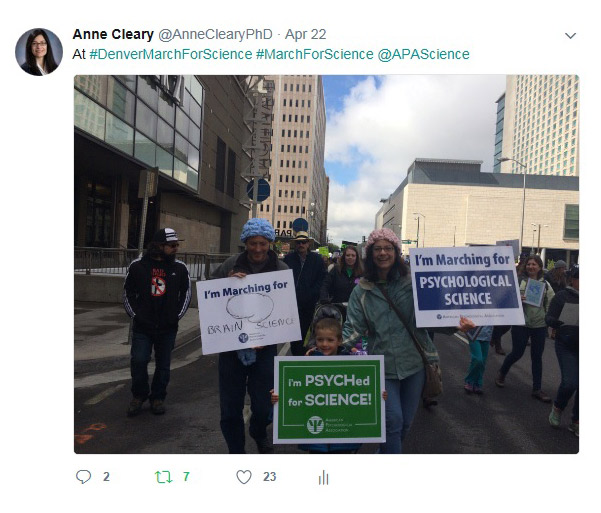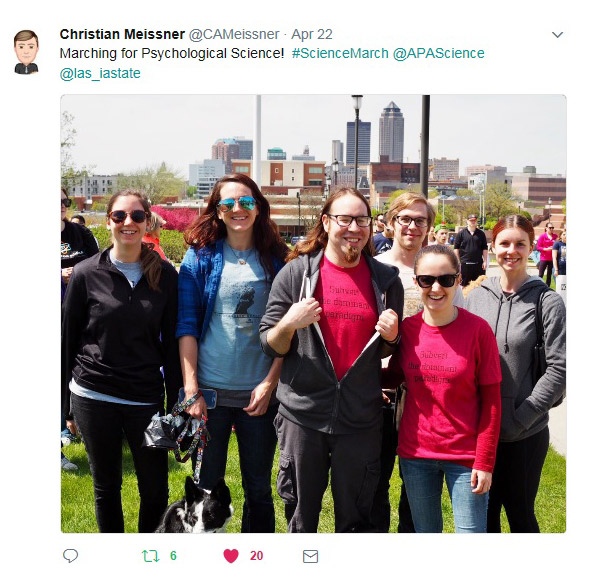 Left to Right: Anne Cleary marching in Denver; Marchers in Des Moines, Iowa.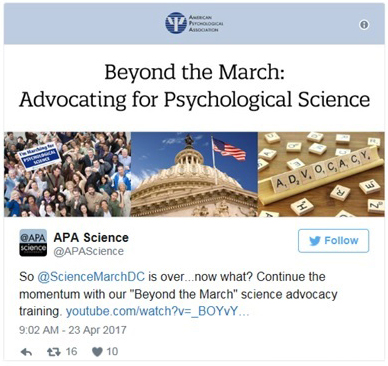 Even if you were unable to participate in the March for Science, there is more that you can do to advocate for your science. The march was only the beginning of what we hope will be a continued momentum of advocacy and support for psychological science.
Watch this YouTube video, "Beyond the March," on science advocacy training to learn what else you can do to continue to advocate for your science.
While there is a lot of useful information in this video, if you are in a hurry or don't have time to watch the whole video, members of Div. 3 may particularly find Heather Kelly's advice on communicating basic research to a non-scientist useful. Heather Kelly comes on at about time stamp 21:24 and offers very useful tips on communicating your work to members of Congress as well as to media who may be conveying your work to the public.
For more information on what you can do to help your science and to help your science help the public, please review the APA's advocacy toolkit.
See also this great National Public Radio (NPR) piece, "Alan Alda's Experiment: Helping Scientists Learn to Talk to the Rest of Us." The article is an interview with Alan Alda regarding his new book, "If I Understood You, Would I Have This Look on my Face?: My Adventures in the Art and Science of Relating and Communicating."
From the NPR article:
On why there's such hostility to science

I think it's at least partly a communication issue. Trust is really important, because...we [don't] have the time in our ordinary lives to get up to speed on...nanoscience or quantum mechanics. It's kind of important to have trust that we feel toward those people who have spent their lives doing that. Science and the public have separated so much that many people in the public consider science just another opinion.
We can make the same argument about hostility toward behavioral science, more specifically. And so it's on us to try to change public attitudes toward behavioral science by more actively advocating for our science and communicating its importance to the public.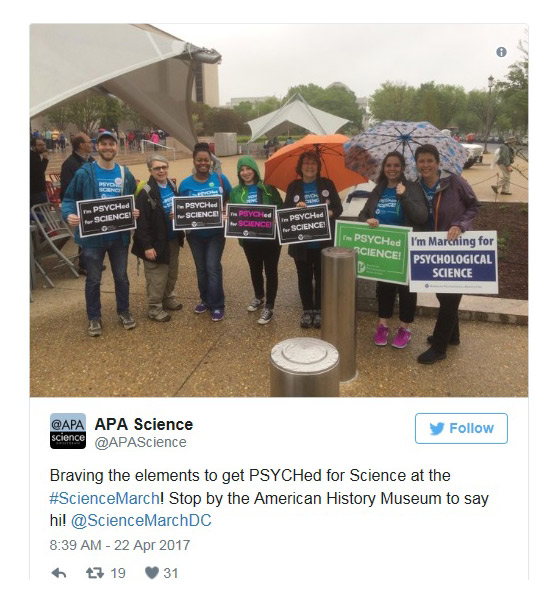 Members of the APA Science Directorate at the Washington, DC March for Science.
Finally, another way that you can continue to help your science is by encouraging others to join Div. 3. You might recall, from my last newsletter column, David Washburn's "It's on Us" campaign: every person involved in Div. 3 should bring one more person into Div. 3 who is in their earlier career stage. Recall that in our change to becoming a society, we now have a mechanism that makes it inexpensive to join Div. 3. Membership in Div. 3 does not require membership in APA. This makes membership much more affordable now to people who are not already APA members. People who are not APA members can join for just $20. Please spread the word and help to ensure that Div. 3 can adequately represent its increasingly diverse constituency of scientists that are out there. We work to have a place at the APA table, serving as a liaison between our scientific community and APA, and the more voices that we have from the community participating, the better able to achieve this we will be.
I ask you to encourage others to join now.