Diversity Initiatives
The Diversity Leadership Development Training Program is held every two years at State Leadership Conference. The workshop is a co-sponsored effort between the APA Commission on Ethnic Minority Recruitment, Retention and Training in Psychology II Task Force (CEMRRAT2 TF) and Div. 31 as one project of the Task Force's larger "Partnership Development Initiative." It has been held every two years since 2009 and is the brainchild of Jennifer Kelly, PhD, a former president of Div. 31. 
Jessica Henderson Daniel, PhD; Sandra Shullman, PhD; Melba Vasquez, PhD; and Cathy McDaniels Wilson, PhD, organized and facilitated the workshop. These four esteemed psychologists have leadership development skills as well as an understanding of the challenges that psychologists of color face in becoming leaders in organizations, especially SPTAs. The areas of focus included leadership, negotiating and mentoring. Following the workshop, APA President Donald Bersoff, PhD, JD, sponsored a wine and cheese reception for the participants at the APA Board Room.
The Diversity Leadership Development Training Program had always been threatened by the likelihood of not receiving enough funding. It was launched initially with funding provided by the APA CEMRRAT2 Task Force's Implementation Grants Fund. Kelly developed the concept, which called for the presentation of the workshop every two years, and submitted a funding proposal to the task force. It was accepted and approved for funding in partnership with Div. 31. In late 2011, Kelly amazingly was able to secure annual funding from the CEMRRAT2 Task Force which will enable the program to develop further and set goals to increase the number of psychologists of color in leadership roles in SPTAs. The grant Kelly was able to secure for Div. 31 assumes continued administration and identification with Div. 31 for the purpose of ethnic minority leadership development in SPTAs. The CEMRRAT2 Task Force and its projects are staffed by the APA Office of Ethnic Minority Affairs.
Diversity Initiative Progress Reports
Each year diversity delegates from various states provide 
reports of their goals and progress
 (PDF, 234KB) from the previous year and publish their current initiatives and goals.
Diversity Delegate Orientation Manual
The 
Diversity Delegate Orientation Manual
 (PDF, 237KB) contains everything you need to know to attend SLC — from the history of how diversity delegates were created as a part of the diversity initiative to tips for new delegates. Find out about what to do and think about before the conference, mentor-mentee matches and suggestions, useful information about SLC and other resources.
2013 State Leadership Conference Diversity Delegates
The Diversity Initiative of the Committee of State Leaders is now in its 15th year with continued support from the Committee for the Advancement of Professional Practice and the Office of Ethnic Minority Affairs. The primary goal of the initiative has been to involve more ethnic minority psychologists in membership and leadership positions in the SPTA's through funded participation in the APA Practice Organization's State Leadership Conference (SLC). This year 27 diversity delegates (PDF, 67KB) from 24 states participated in the SLC.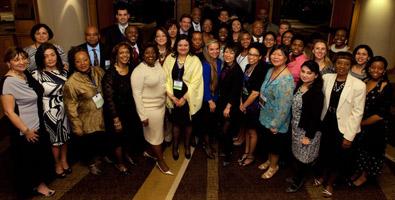 First row (L to R): Dinelia Rosa, Takako Suzuki, Carolyn Sahni, Vida Dyson, Jennifer Kelly, Christine Agaibi, Cristina Cox, Karen Cone-Uemura, Jessica Floyd, Mabel Lam, Anu Raj, Patricia Griffen, J. Oni Dakhari, Eleanor Gil-Kashiwabara; Second row (L to R): Mera Kachgal, Rodney McNeal, Martine Pierre, Mikaru Shichi Lasher, Phyllis Bolling, Felicia Smith, Lucinda DeGrange, Pooja Khaiwal, Melinda Williams, Kiesha Ross, Shahana Koslofsky, Crystal Joy; Third row: Peter Economo, Wanda McEntyre, Gregory Simonsen, Karmon Sears, Adriana Ortega, Chester Copemann, Christine Sam, Josephine Johnson; Fourth row: Norman Anderson, Darryl Salvador, Travis Colwell
2013 Diversity Delegate Recognition Award

Josephine D. Johnson, PhD, was selected as the 2013 Diversity Delegate Recognition Award winner. Johnson has a longstanding history of making significant contributions to the SLC Diversity Initiative, and Div. 31 is delighted that she was recognized for her outstanding work with the diversity initiative, and with the many years of diversity delegates.
Related Resources
Diversity Handbook: A summary of state initiatives that have been used successfully in various SPTA's