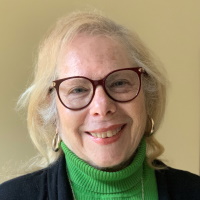 For my first presidential column, I want to begin by wishing you all a happy and healthy holiday season. We can't enter this new year with its renewed concerns over COVID-19 and the Omicron variant without some frustration and worries over the impact on our patients, clients, and colleagues, not to mention on us and our families. The role of global mental health and behavioral factors during this time bring out the importance of psychological science and interventions as our public service. I want to publicly thank all of you who have worked so hard over these past years and ask you to please reach out to me if there are ways in which Div. 31 can help you continue your good work.

I am delighted to begin my year as president of this great division. Throughout my professional life, SPTAs have been a constant in my work, in my awareness and in my approach to psychology. My main focus for this year and the one I have carried through all of my APA roles is the importance of maintaining and enhancing a strong and collaborative relationship between APA and the SPTAs. Our profession differs from many other mental health and scientific organizations in that we do not have a chapter model for our professional organization. Each SPTA is an independent entity not a chapter of APA. That means that APA's "boots on the ground" outside of Washington is our collection of SPTAs. Maintaining strong associations in each state province and territory is a need and a benefit to psychology. We need to make sure that there is a strong SPTA voice in APA and in the APA Council of Representatives to bring in priorities originating outside the beltway. We need to work to financially support those smaller SPTAs that have the same advocacy needs as our larger organizations but not the same level of membership to support their organizations. That makes them potentially weak links for adverse advocacy and potentially strong organizations for trailblazing advocacy.
I am reminded of an experience when I was the executive director and DPA of the Massachusetts Psychological Association. I got a call one day from the executive director (ED) of the Massachusetts Psychiatric Society. In Massachusetts at that time, we had a relatively good relationships between the mental health professional organizations due to the success of a decades-old Mental Health Coalition which brought together psychology, psychiatry social work, counselling and psychiatric nursing along with consumer groups and legislative advocacy groups promoting strong mental health policy. The ED of the psychiatric society was a friend and a character who did not pull any punches. She called me and without even saying hello she exclaimed "where the hell is Guam?" That was the first I heard that a psychopharmacology practice bill for psychologists had been passed there. One of our smallest SPTAs was the trailblazer for a major expansion of psychology practice. That was not the only time I was confronted by a psychiatry staff member about prescriptive privileges for psychology, the last time being when I worked at APA and the ED of the American Psychiatric Association spread misinformation when our last state got a psychopharmacology practice bill passed, also in a state with a small SPTA. What it does show is that we need strong organizations throughout the country since you never know where psychology advocacy will be needed or opportunities arise.
Money and membership are cornerstone issues for both APA and the SPTAs but the impact on SPTAs has been particularly challenging at this time. APA has subsidized small SPTAs but the number of these has increased over the years while the funding available from APA has not increased in 20 years. In addition to this funding which just helps to keep the doors open, there used to be grants to support legislative challenges or opportunities and to support growth in staffing for SPTAs which have completely disappeared. The division recently spoke to the APA Board of Directors about the SPTAs' needs for increased finances and broader membership (beyond the practitioner community) with an eye toward collaborating on solutions. As there is a need for advocacy around pocketbook issues as well as scope of practice, social justice and social and health policy issues at the state level. In addition, the troubling anti-professional and anti-scientific political climate in some states creates new challenges for our science-based discipline. I have fears that this will come up as psychology addresses health equity and policy issues or discusses opening our licensing laws to address master's level practice. These breadth of these advocacy issues clearly points out that SPTA membership benefits all members of our psychological community and that membership must reflect this.
The last idea I would like to explore during my presidential year is mitigating the loss of our history and the wisdom of leaders at the SPTA level. As I hear about the passing of many of our colleagues, I think about some of the SPTA initiatives on video history of people and events that shaped psychology in your state and that shaped the SPTA itself. The Ohio Psychological Association has an Oral History Committee that has online interviews with over 50 prominent Ohio psychologists. During the first year of the pandemic under the direction of Katharine Hahn Oh, PhD, that work was expanded through interviews with psychologists with disabilities leading to a discussion event called, "What can we learn about ableism from the pandemic? Projects like these help members and non-members appreciate the richness of the local psychological communities. I would like to know which SPTAs have programs like this, have SPTA archivists or which would like to develop them and we will try to assist.
I will end with a plea to you to reach out to me if you have a program that you would like others to know about or a need which your SPTA would like help with. We have a wonderful website under the stewardship of Andy Benjamin, JD, PhD, ABPP, which is always looking to share great SPTA activities and programs. I also would like to know if you would like to get more involved with Div. 31, it is a good way to expand your career path from SPTA leadership to APA leadership roles. I hope to work closely with you over the coming year and once again I wish you a year of peace and health.
Elena Eisman, EdD