Midwinter meeting of Div. 31 Board of Directors
Div. 31 leadership members were honored at midwinter board meeting.
The Div. 31 leadership gathered for the midwinter board of directors meeting. Highlights include honoring Cathy McDaniels-Wilson, PhD, ABPP, for her leadership in 2015 and the board members present at the meeting.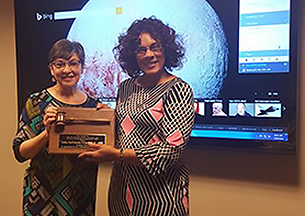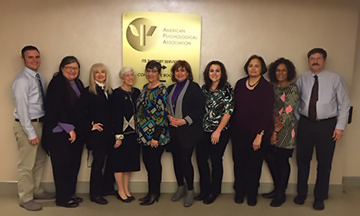 Left Photo: President Dinelia Rosa (left) presents Past President Cathy McDaniels-Wilson with a leadership award. Right Photo: Board members from left: Council of Executives of State, Provincial (and Territorial) Psychological Associations Representative Tom Cote, Executive Director Connie Paul, APA Council Representative Lisa Grossman, President-elect Linda Knauss, President Dinelia Rosa, Treasurer Nan Klein, Student Representative Jennifer Doran, Member at Large Mera Kachgal, Past President Cathy McDaniels-Wilson and Secretary Peter Oppenheimer.