Div. 32 shares the following statement from some psychology faculty and students from the University of Massachusetts-Boston in opposition to the notion that teachers should be armed to prevent school shootings.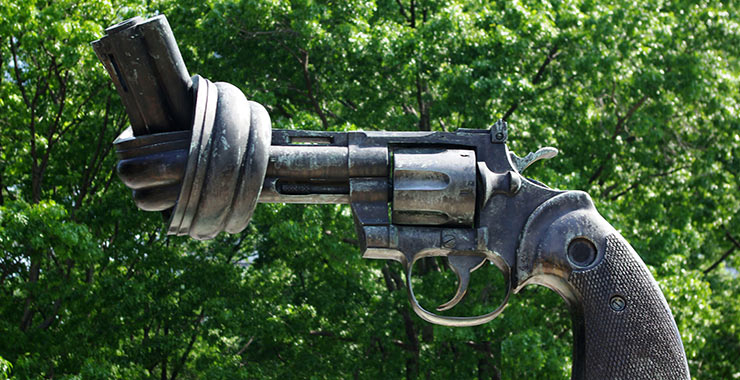 As helping professionals (e.g. school psychologists, school counselors, mental health counselors) working with children, our main objective is to protect and advocate for their wellbeing. Naturally, this involves having conversations about issues that directly and indirectly affect their daily life. On Feb. 21, 2018, a meeting of students and faculty was held to discuss how helping professionals could assist in dismantling the school to prison pipeline, a complex phenomenon describing how social structures funnel minority students, specifically African-American students and students from urban, low-income communities into the criminal justice system. During this meeting, a couple of school psychology students and faculty from the Counseling and School Psychology Department could not help but to take notice of President Trump's remarks in his reaction to the fatal shooting at Marjory Stoneman Douglas High School in Parkland, Fla., and the potential impact this would have on the students we work with in our communities. The President said he would devote federal money to training teachers to carry guns in schools. He promoted the idea of compensating those armed as an incentive, which will then make the school into a "hardened target." In a White House meeting, President Trump went on to say, "We have to let the bad guy know that they are hardened." In the days following the President's announcement, conservative organizations and state-level government offices have echoed his sentiment, and at this moment legislation is being crafted to put more guns into our institutions of public education. In this letter, we offer an alternative perspective on school safety and how to fulfill the mission of our education system.


This notion of schools needing to be "hardened" is particularly problematic. Today in urban schools, it is a common reality for youth to be perceived as "bad guys" that the already "hardened" school structure seeks to control. It may be a hard pill to swallow, but teachers with guns may create yet another adverse consequence for students of color. The prison industrial complex is fed through the school to prison pipeline by the disciplinary and criminalization practices in schools that disproportionately, if not exclusively, affect minority students — black students in particular. The utilization of exclusionary practices can lead to feelings of disengagement (Brown, 2007) and perceptions of the education system as being unsupportive (Sekayi, 2001), leading to students experiencing alienation from the educational community and losing interest in learning (Brown, 2007; Wald & Losen, 2003). Incorporating guns into what is already a systemic issue — and unnaturally "hardened" school system — creates vast educational disparities, may result in black students feeling criminalized when engaging with their teachers and school community and ultimately makes it difficult to build and maintain trusting relationships with their teachers and other staff.
While arming teachers may be perceived as a method to save lives, it has the potential to further traumatize minority and low socioeconomic status (SES) communities that already experience traumas throughout the inequitable educational system, specifically in regard to school discipline practices. In the United States, nondominant youth from historically marginalized communities face enormous disparities in educational outcomes and opportunities (Anyon, 2005; Darling-Hammond, 2010; Gamoran, 2010; U.S. Department of Education, 2016). African-American males are suspended two to three times more frequently than other students (Brooks et al., 1999). Black girls are more likely to face punitive discipline and zero-tolerance policies in school than any other group of girls and, in some cases, more than their male counterparts (Blake et al., 2011; Crenshaw et al., 2015). Black boys and girls are more likely to be disciplined for more subjective offenses such as disobedience, disruptive behavior, fighting and bullying/harassment (Morris & Perry, 2017).
The disproportionate discipline practices traumatize our youth. Young men of color are more likely than white men to experience trauma and struggle with posttraumatic stress disorder, attention deficit/hyperactivity disorder and other disordered behaviors that involve executive functioning, which are all associated with subsequent criminal behaviors (DeCataldo, 2015; Fabelo et al., 2011; Milner, 2013). Students exhibiting behavior problems could be attempting to cope with existing traumas, and schools should be a safe place to encourage emotional management without subjection to further traumas by arming teachers. If we arm teachers, it could put children at the risk of the teacher's judgement, and negative perception or judgement of a black student may lead to harsher consequences than exclusionary discipline if a teacher subjectively feels threatened.
If there are funds available to incentivize teachers to carry guns in schools, those funds could instead be spent on research-based preventative programs to change education at a systems level that can better equitably serve all students. Less punitive and more proactive alternatives are suggested as strategies to decrease the contribution of exclusionary discipline in the school to prison pipeline (Darensbourg et al., 2010). Many scholars suggest the implementation of Positive Behavioral Interventions and Supports (PBIS), which offers a more comprehensive approach to minimize school disruption by incorporating proactive alternatives, such as positive discipline (i.e., reinforcing appropriate behaviors, setting clear rules, teaching appropriate interaction styles between students and staff), school management and a tiered approach to addressing the increasing behavioral needs of students (Fenning & Rose, 2007; Skiba et al., 2006; Sugai et al., 2000). This support system has a significant effect on reducing the disproportionate rate of exclusionary discipline in African-American males (Fenning & Rose, 2007; Skiba et al., 2006) and increases positive school climate.
Additional strategies where additional funding would be most helpful include classroom management which provides teachers with an understanding of the variables affecting student behavior such as class work, getting attention, being bored, feeling academic frustration and helping teachers feel confident in their ability to teach behavior in the same way they teach academics (Netzel & Eber, 2003) and cultural competency training may help to reduce disproportionate discipline practices (Darensbourg et al., 2010).
Students who are often disciplined punitively at school feel ostracized and disconnected (Brown, 2007; Sekayi, 2001), so it is important that these students reconnect with not only their teachers but also their school community (Darensbourg et al., 2010). This reconnection can be done by providing school and community-wide initiatives, such as after-school sports and academic planning (Darensbourg,et al., 2010), which can help students and families feel more connected to school. Bringing together our communities for the betterment of every student should be the priority of all adults working with children; incentivizing teachers to carry a gun is counterproductive in meeting that goal.
The most recent school shooting in Parkland, Fla., is yet another clear signal that something needs to be done to protect students. However, devoting federal money to train teachers to carry guns in schools will only promote more harm than good, especially for students from urban, low-income communities who often struggle from trauma. As research has shown, there are less punitive and more proactive alternatives that promote positive school culture, foster belongingness and contribute to growth and development of all students. As helping professionals, it is our job to help create a positive learning environment for students of all colors, economic status and religious backgrounds. Allowing guns in schools will not positively contribute to these factors for students, African-American students in particular. Again, it is understandable that something needs to be done to ensure the safety of all students, but arming teachers with firearms is not an acceptable one. 
Whitney Walker, Doctoral Student, Department of Counseling and School Psychology
Tamara Lawson, Doctoral Student, Department of Counseling and School Psychology
Ian Levy, Faculty, Department of Counseling and School Psychology
Steven Vannoy, Faculty, Department of Counseling and School Psychology
Takuya Minami, Faculty, Department of Counseling and School Psychology