CONFERENCES
Division 32 spring conference
An appetizer for our spring conference in Pittsburg, PA
By
Brent Dean Robbins, PhD
The 5th Annual Conference of the Society for Humanistic Psychology is a Call to Community
March 29 – April 1, 2012
Robert McInerney and I are thrilled and honored to host the 5th Annual Conference of the Society for Humanistic Psychology at Point Park University in Pittsburgh, PA. The event will be held Thursday, March 29th through Sunday, April 1st.
Annual Conference of the Society for Humanistic Psychology
Since I first chaired the 2nd annual conference in Boston back in 2008, the annual event has been building momentum each year, and Chicago last year was a truly outstanding event that will be a tough act to follow. Our good friend Todd Dubose at Chicago School of Professional Psychology really blew the lid off, and we are looking forward to exploiting all the positive vibes from Chicago in order to take the annual conference to a whole new level in Pittsburgh.
As far as Society leadership is concerned, we could not ask for more support. Louis Hoffman, who is now President-elect of the Society, has been a major player in the conference planning from the very beginning. Back in Boston when we were scraping the budget barrel to stay alive, Louis was C.E. Committee Chair, working hard with me in the trenches to review submissions and helping me to make the tough day-to-day decisions of conference organization. Two years ago, Louis hosted the event at University of the Rockies, which in spite of freezing rain, turned out to be an enriching, powerful event that will not be soon forgotten. He knows what it takes to make this event a success. Our current President, David Elkins, is a strong believer in the importance of the annual conference, and sees it as a catalyst to the new "renaissance" in humanistic and existential psychology. David Cain, who launched the first Society conference when he was President of the Society, continues to serve on the Conference Committee, and is a tremendous source of support and wisdom. So we are in good hands, and the Executive Board is in full support of our efforts. We are looking forward to a very successful event that no one will want to miss.
After careful consideration, the conference committee has voted for a theme to this year's conference: "Person, Consciousness, and Community: The Experiential Revolution in Humanistic, Existential, Constructivist, and Transpersonal Theory and Practice." The emphasis on community in this year's theme is a reflection of our belief that the new renaissance in humanistic psychology is more than an intellectual revival; it's primarily driven by a renewed sense of community and togetherness, especially among younger cohorts who have gravitated toward humanistic approaches.
Youth Movement in Humanistic Psychology
In his article titled "The Youth Movement in Humanistic Psychology," Richard Bargdill (2011) observed that the Chicago conference was notable for the abundance of young faculty members, early career psychologists, and graduate students. Most Divisions of the American Psychological Association have become increasingly geriatric, with average ages hovering in the mid-60's and many with rapidly declining membership. Our Society has managed to maintain our membership numbers by appealing to young scholars and practitioners who are finding that the conference offers a genuine sense of inclusiveness and community. In Chicago, we saw a wide representation of new blood from programs at Michigan School of Professional Psychology, Seattle University, Saybrook University, Point Park University, University of Dallas, University of West Georgia, Fordham University, and Duquesne University, among others. In addition to efforts to foster a greater sense of community, the conference has undergone a very deliberate process of creating more openness to and inclusiveness of diverse voices, especially women and minorities. These trends toward a more ideal community are essential for the success of humanistic psychology and also for enriching each of our lives both personally and professionally. In short, our emphasis on community in the conference theme calls not only for scholarly reflection and clinical practices that emphasize community, it asks that we in fact enact and embody a sense of community in all our relations with one another, to the extent this is humanly possible to achieve.
Healing Relationships in Community
The emphasis on community in our theme is also related to an emerging appreciation for the importance of healing relationships in our lives and in therapeutic environments. To the extent that relationships work powerfully to heal in the professional practice of therapy, therapeutic relationships are also possible in fully functioning communities and institutions. When these communities become dysfunctional, members of the community suffer and require help that may not have otherwise been necessary. With this realization, humanistic psychology can expand beyond our strengths in individual and group psychotherapy to make important contributions in community psychology. Community psychology is a natural extension of humanistic psychology because of its strength-based, prevention-focused emphasis on the well-being and thriving of persons. Psychotherapy and other clinical interventions can only do so much. To the extent that humanistic psychology can help to nourish healthy communities and institutions, we can work upstream from serious mental health problems in order to prevent them from occurring in the first place. Humanistic psychology perhaps comes most fully into its own as a cultural therapeutics.
As Dr. McInerney and I were talking about the conference theme over the summer, we were both very enthusiastic about the concept of utopia as an imaginal space in which a flourishing community can come into being. Utopias often get a bad rap, because history has often shown that, as soon as leaders get utopian ideas, the realization of such visions are often enacted by a process of oppression and violence. But is this a necessary implication for utopian thinking? During a long conversation, Bob and I encountered one of those beautifully syncretic moments in which one conversational partner seems to complete the thought of the other. Suddenly we arrived at what seemed to us to be a hopeful and powerful idea: a utopia for the community is a hermeneutics of love and a transformation of consciousness, and as such, love comes forward as the structure by which we evaluate our theories about, and interventions with others. I had just been reading Benard Lonergan and, in one of those moments of resonance, felt goosebumps when I came across a passage in which he writes, "…transforming love has its occasions, its conditions, its cases. But once it comes and as long as it lasts, it takes over…There has been opened up a new world in which the old adage, 'Nothing is loved unless it is first known,' yields to the new truth, 'Nothing is truly known unless it is first loved.'"
Humanistic Psychology and Community
These ideas really seemed to communicate what we were going for when we came up with the theme of this conference. There seems to be an epistemological sensibility to humanistic psychology which is communitarian in its very foundations. We listen to others with an open heart and with unconditional positive regard because to do so is to meet a fundamental, vital human need, without which people would wither and die on the vine of life. A hermeneutics of love is an expression for just this type of listening. And this wonderfully healing power of relationship is not something we should keep sequestered in therapy rooms. It needs to be unleashed on the world and in our community, in our schools and factories, in our homes and in our governments; otherwise therapy is nothing more than a stop-gap measure to fix broken lives that will continue to roll out in unrelenting fashion from the broken communities in which we live.

The theme is ultimately intended to encourage presentations that address theoretical and practical applications that emerge from a conception of the person as a being who is situated in a community of others; in which personhood means person-in-relation-to-others; and in which consciousness is situated neither in the person nor in the community, but enacted in the relation of self and other. When we start with a humanistic understanding of the person, it changes how we think about our practices. We want presentations that articulate how humanistic practices flow from the stance that human beings are in communion with others.
What does it mean to be a person? Does this notion of the person include an understanding of consciousness? Is this a consciousness that includes the possibility of relation to others? And, given the answer to the preceding questions, what are the implications for humanistic practice? Presentations need not be deeply philosophical; we are striving for a balance of theory, research, and experiential processes.
Keynote Speakers
Our keynote speakers will each contribute a different emphasis to the conference theme. Dr. Isaac Prilleltensky is Dean of the School of Education and Professor of Education and Psychological Studies at the University of Miami. Through his prolific career as a psychologist, educator, and scholar, he has broken new ground in developing community-based approaches to psychological and social health. His recent book, Promoting Well-Being: Linking Personal, Organizational, and Community Change, co-authored with his wife Ora Prilleltensky, a School of Education clinical assistant professor, sets the foundation for a new research and training project designed to optimize the interaction between psychological wellness and organizational and community health.
Dr. Constance Fischer is a Professor of Psychology at Duquesne University, and is best known for pioneering an individualized/collaborative/therapeutic approach to psychological assessment. At Duquesne, she was the N.J. Endowed Chair of Community Outreach (2005-10), and is editor of Qualitative Research Methods for Psychologists: Introduction through Empirical Studies. She is a recipient of the Carl Rogers Award from Society for Humanistic Psychology.
Dr. Robert Stolorow is a founding faculty member and training and supervising analyst at the Institute of Contemporary Psychoanalysis, Los Angeles; a founding faculty member at the Institute for the Psychoanalytic Study of Subjectivity, New York City; and a clinical professor of psychiatry at the UCLA School of Medicine. He is the author of World, Affectivity, Trauma: Heidegger and Post-Cartesian Psychoanalysis and Trauma and Human Existence: Autobiographical, Psychoanalytic, and Philosophical Reflections, and co-author of Worlds of Experience: Interweaving Philosophical and Clinical Dimensions in Psychoanalysis, Contexts of Being: The Intersubjective Foundations of Psychological Life, and other texts.
Symposia
The conference will also feature some very special symposium events:
An invited symposium on "Martin Luther King's Vision of the Beloved Community and Humanistic Psychology: Common Ground" will feature speakers Dr. Jennifer Selig (core faculty member and chair of the Jungian and Archetypal Studies specialization at Pacific Graduate Institute), Royal Alsup (adjunct faculty member at Saybrook Graduate School and co-founder of the Humanistic and Transpersonal Psychotherapy Center in Arcata, CA), and Nathaniel Granger (a graduate of University of the Rockies).
A special symposium "Honoring Women in Humanistic Psychology" (Chair: Richard Bargdill) will celebrate influential women in humanistic psychology, including Sara Bridges, Eleanor Criswell, Constance Fischer, Myrtle Heery, Ilene Serlin, Louis Sundararajan, and Maureen O'Hara.
A symposium on the over-medication of our youth, "Drugging Our Children," will feature invited speakers Robert Whitaker, Sharna Olfman, Brent Robbins, and Tony Stanton, each contributors to the new volume published by Praeger: Drugging Our Children: How Profiteers Are Pushing Antipsychotics on Our Youngest, and What We Can Do To Stop It.
We are also very happy that Kirk Schneider and Robert Stolorow will engage in a dialogue on the renaissance of existential psychology, and the dialogue will be facilitated by our President, David Elkins.
We are excited that Brent Potter agreed to organize a special symposium on the work of R.D. Laing, which will involve presentations from Laingian scholars including Daniel Burston, Miles Groth, and Theodor Itten.
The conference will also highlight a panel discussion on the Open Letter to the DSM-5 petition drive, which has made national news, including feature articles in USA Today, the San Francisco Chronicle, and Forbes magazine. Members of the coalition to reform the DSM-5, including David Elkins, Brent Robbins, Sarah Kamens, and Dayle Jones, will provide the latest news on the petition drive.
These are just a few of many outstanding presentations that will be scheduled during our four-day conference.

Register for the conference and revew aditional information.
We'll see you in Pittsburgh!
2011 Division 32 Conference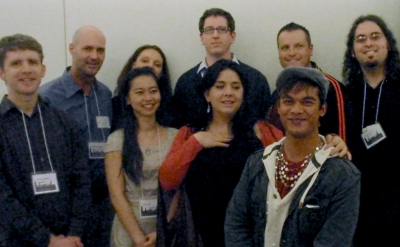 Richard Bargdill, SHP Membership Chair, and Student Scholars at the 2011 SHP Conference in Chicago
References
Bardgill, R. (2011). The youth movement in humanistic psychology. The Humanistic Psychologist, 39, 283-287.