President-Elect's column
In Commemoration of the 50th Year of Dr. Martin Luther King Jr.'s Assassination
Given our zeitgeist, one doesn't have to search far for an idea in which to address pertaining to humanistic psychology and activism — a topic that will permeate Granger's presidential theme and substrate his presidential initiatives.
By
Nathaniel Granger, PsyD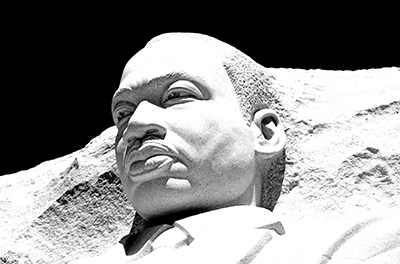 I have so much to say and so little space and time to say it. Given our zeitgeist, one doesn't have to search far for an idea in which to address pertaining to humanistic psychology and activism — a topic that will permeate my presidential theme and substrate my presidential initiatives. When I think of humanistic psychology and activism, nevertheless, I can't help but highlight one whose legacy canonizes him as one of the greatest social psychologists and activists of our time, Rev. Dr. Martin Luther King, Jr.
It was King who addressed the APA in 1967 urging behavioral scientists to "tell it like it is" when it comes to social injustices and crimes against humanity. In King's address to APA, he urged us to take a closer look at the "painfully bare tendency of the upwardly mobile Negro to separate from his community, divorce himself from responsibility to it, while failing to gain acceptance in the white community." King urged an examination of political action and stressed the importance of voting. Perhaps, however, the most provocative charge from King's address was to implore creative maladjustment, when he stated:
Men and women should be as maladjusted as the prophet Amos, who in the midst of the injustices of his day, could cry out in words that echo across the centuries, "Let justice roll down like waters and righteousness like a mighty stream;" or as maladjusted as Abraham Lincoln, who in the midst of his vacillations finally came to see that this nation could not survive half slave and half free; or as maladjusted as Thomas Jefferson, who in the midst of an age amazingly adjusted to slavery, could scratch across the pages of history, words lifted to cosmic proportions, "We hold these truths to be self-evident, that all men are created equal. That they are endowed by their creator with certain inalienable rights. And that among these are life, liberty, and the pursuit of happiness." And through such creative maladjustment, we may be able to emerge from the bleak and desolate midnight of man's inhumanity to man, into the bright and glittering daybreak of freedom and justice. (King, 1967)
Two-score and 10 years later, if ever there was a time that we as humanistic psychologists must be creatively maladjusted, now is that time. We can never allow ourselves to become adjusted to the status quo of misogyny, Islamophobia, homophobia, racism, militarism, capitalism and political systems that deride democracy and undermine citizens' constitutional rights. We can never be adjusted to policies that would tear families apart because of questions of one's citizenship after they've worked, struggled and contributed to the betterment of this nation. Interestingly, as I write, I am not unmindful that there are yet those amongst us who refuse to be creatively maladjusted to those forces that dehumanize certain groups because of the color of their skin or gender and/or sexual orientation or creed or culture and/or religious beliefs. I understand that change is always most difficult for those who think they are adjusted even if its adjusted in his/her own pathological maladjusted state. Those few "adjusted" cannot preclude the freedoms nor stop the progressive march of the "creative maladjusted" and frankly should not be allowed the liberties to do so.
April 4, 2018, marks the 50th Anniversary of Martin Luther King's assassination. A quote from his last speech just prior to his assassination: "The ultimate measure of a man is not where he stands in moments of comfort and convenience, but where he stands at times of challenge and controversy" (King, 1968). I submit to you that we are in those times, but as King surmised, "Darkness cannot drive out darkness; only light can do that. Hate cannot drive out hate; only love can do that." We have not only the capacity towards creative maladjustment, but also the capacity to be so creatively maladjusted that we will not succumb to hating the hateful, but walk in the light of love with a steadfast resolution to remain intolerant of love's antithesis — whatever form in which it presents.