Membership Spotlight
Robert McInerney: Bringing Zombie Education to Life
At the 2017 Div. 32 conference in Pittsburgh, Point Park University Professor Robert McInerney, PhD, received the Carmi Harari Mid-Career Award for his work with the Confluence Psychology Alliance.
By
Kevin Gallagher, MA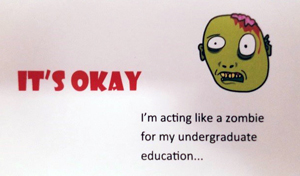 In the summer of 2013, Point Park University was holding sample classes for their brand-new
master's program in clinical-community psychology
. I had the great privilege of attending these classes, including the first one taught by Robert McInerney, PhD, whom I later learned goes simply by Bob. If you have trouble pronouncing his last name, it is okay. He taught us a trick in that first sample class: "It's pronounced like Bert 'n Ernie…from Sesame Street."
During this first class, I was exposed to new, intense vocabulary and dense meaningful ideas for three straight hours. These were things that my mind had never contemplated before, but yet, it all made sense (as much as phenomenology, Levinas, Derrida, Communitas, and the like, can make sense). What made it so easy to take in was Bob's approach. He was up and down the stage, writing all over the board, cracking jokes at every chance and — this might just be some strange euphoric recall, but I swear it happened — he dove on the ground and did a barrel roll at some point.
It worked. After this single class, I spent the next five years contemplating these ideas, trying to research them and adopt them and adapt them. It all stuck and I couldn't imagine who I might be right now if I hadn't attended that sample class (or saw that barrel roll). After a performance like that, of course, I signed up for the master's program. Two years later, I graduated in its first cohort of students, even becoming a Student Representative for Div. 32 along the way.
But you don't have to take my word for it. I've collected some testimonies from Bob's current students. Here's one from Charlee B.:
"One of the first things that come to mind when thinking of Dr. Bob is a particular lecture in my social psychology class. From meeting him in any capacity, it is near impossible to not realize how much he cares about his students, but this lecture really stuck with me. While teaching us about agency, empowerment, and cultural therapeutics, we started talking about relationships of all sorts – friendships, familial, romantic and professional. He spoke in depth about the liberation and importance of empowering the other and surrounding oneself with those that empower you. I hurriedly scratched as much as I could into my notebook. Something he said that struck me more than anything else was, 'meet someone who would like to get out of your way and at the same time help you be who you would like to be.' These words have altered the way that I conduct myself with others and the people that I surround myself with in immeasurably positive ways."
And just to top that off:
"Some quotes that I had written in my notes from this lecture: 'I don't have any PowerPoint slides. I'm giving you my heart instead.'"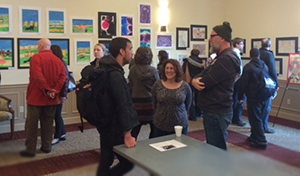 Bob famously hates PowerPoints, and even when he does have to use them, he will usually quit half way through and go back to writing things down on the board as they arise organically. In that way, as Charlee stated, he gives his heart to his students. There's reasons Bob doesn't like to use traditional pedagogy or trendy applications. As another of his students, Maia G. says:
"The anecdotes he shares of his development as an intellectual allow his students to believe that there is always opportunity for growth. Through his own stories of how he was deemed a poor student in his high school years, and now being a successful researcher and professor, he shows his university students that not everyone's genius can fit into the boxes prescribed to us by traditional education. Finding his voice in phenomenology and humanistic psychology gives hope to the rest of us that we can find our voice in whatever area(s) best suit our unique intelligence."
But that doesn't mean Bob doesn't care about teaching or pedagogy (he often teaches on Freire) or that he isn't worried about pushing his students:
"His classes, even though highly lecture based, always have a remarkably intriguing quality to them. This, in my opinion, is due to what seems like a true care for the craft of teaching. As he inserts honest stories about his own life and stories of the world around us to provide examples of the concepts he presents, he brings the course content into an applicable realm…Even more impressive is the gusto that he brings to the classroom. Jumping on tables or chairs, yelling for emphasis, and breaking into what seem like full-on comedic skits to illustrate complex ideas, these qualities are the reason I remember his course content so easily, even years later…"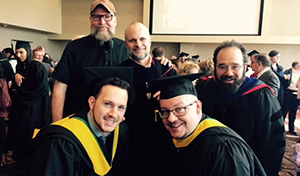 Bob truly cares about making the theoretical not just practical but personal. When his students marched for Black Lives Matter, he marched alongside them. When they want to be connected to resources and opportunities in the city, he hunts them down. If his students are interested in ideas like eco-psychology and art therapy, he brings people in to teach those things. Yet, as Charlee said, he gets out of the way. He is a member of their community first, what we might call a "confluential guide:"
"I remember sitting in his class and hearing him talk about the phenomenological attitude and how a person's individual experience is more important than some objective 'reality,' and — as someone who has struggled with my own emotions and mental health — this really resonated with me. I teared up, because no one had ever spoken about those things so clearly before. He teaches humanistic psychology in a way that shows its beauty. And I've never had a teacher who lectured on Foucault and deconstructed Pink Floyd in the same week — the creativity, love and humor he puts into every lesson just amazes me. Even outside the class, he always makes time for my questions and anxieties. He's passionate about everything he does at this school, from the academics to Confluence, and I've been so lucky to have him as an instructor, advisor and mentor."
All of this explains why, during the Div. 32 Conference in Pittsburgh, Bob received a standing ovation from his students, followed by the crowd, when Brent Robbins presented him with the Carmi Harari Mid-Career Award for his work with the Confluence Psychology Alliance at Point Park. Even then, during his speech, he did not talk of his accomplishments, insisting the credit go to past and current members of Confluence.
Bob is an exemplar of walking the "shaky ground" of truly being-with the other. He embodies the spirit of community — sometimes threatening bodily harm to himself in the process, by jumping up on desks or rolling across the room — and because of this, his students, his university and even the world are better off.