President-Elect's column
A Society of Humanistic Psychology Presidential Position Statement
If ever there was a time that we, as humanistic psychologists, must be creatively maladjusted, now is that time.
By
Nathaniel Granger, PsyD
In my column in the April 2018 newsletter, "In Commemoration of the 50th Year of Dr. Martin Luther King, Jr.'s Assassination," I noted one of the most provocative charges from King's 1967 address to APA was to implore "creative maladjustment." King stated: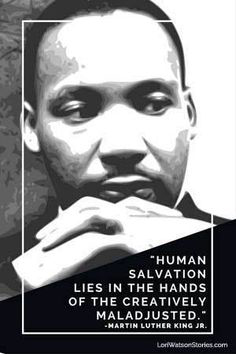 Men and women should be as maladjusted as the prophet Amos, who in the midst of the injustices of his day, could cry out in words that echo across the centuries, "Let justice roll down like waters and righteousness like a mighty stream;" or as maladjusted as Abraham Lincoln, who in the midst of his vacillations finally came to see that this nation could not survive half slave and half free; or as maladjusted as Thomas Jefferson, who in the midst of an age amazingly adjusted to slavery, could scratch across the pages of history, words lifted to cosmic proportions, "We hold these truths to be self-evident, that all men are created equal; That they are endowed by their creator with certain inalienable rights. And that among these are life, liberty, and the pursuit of happiness." And through such creative maladjustment, we may be able to emerge from the bleak and desolate midnight of man's inhumanity to man, into the bright and glittering daybreak of freedom and justice.
Today, there is a political climate that fosters discrimination and the zeitgeist of "the rich get richer and the poor get poorer" at the expense of the middle class. Incidents of hate crimes have increased exponentially, and even within the field of psychology, discrimination exists and is exemplified by our colleagues who resist equitableness for and towards all people. Therefore, if ever there was a time that we, as humanistic psychologists, must be creatively maladjusted, now is that time.  
We can never allow ourselves to become complacent to the status quo of misogyny, Islamophobia, homophobia, racism, militarism or capitalism and political systems that deride democracy which seek to undermine our citizens' constitutional rights. We can never become adjusted to policies that would tear families apart, snatch a baby from a mothers teet, because of questions of their citizenship after they've worked, struggled and contributed to the betterment of this nation.
Interestingly, as I write, I am not unmindful that there are still amongst us those who refuse to be creatively maladjusted to forces that dehumanize certain groups because of their skin color, gender and/or sexual orientation, creed, culture and/or religious beliefs. I understand that change is always most difficult for those who think they are healthily adjusted, even if that adjustment is in his/her own pathological maladjusted state. Those few "adjusted" cannot preclude the freedoms nor stop the progressive marches of the "creative maladjusted." It is my personal conviction and on this platform without reservation that as I move from president-elect and embark upon the role as president of the Society for Humanistic Psychology, I will seek to move our division and society towards the abolishment of such discriminatory acts and behaviors. Although these behaviors may have been previously tolerated, they will not be further accepted and are no longer welcome within Div. 32. Reaching back to the words of Thomas Jefferson, let us, as individuals and humanistic psychologists, lead the way to our "human inalienable rights that all men are created equal."
Warmly,
Nathaniel Granger, Jr., PsyD
President-elect, Div. 32 (Society for Humanistic Psychology)
"Our lives begin to end the day we become silent about things that matter." —Martin Luther King, Jr.