"I wish to stress that the true meaning of life is to be discovered in the world rather than within man or his own psyche, as though it were a closed system. It denotes the fact that being human always points, and is directed, to something or someone, other than oneself—be it a meaning to fulfill or another human being to encounter."  — Viktor E. Frankl (Man's Search for Meaning)
"ἔτι δ᾽ ἐν βίῳ τελείῳ. μία γὰρ χελιδὼν ἔαρ οὐ ποιεῖ, οὐδὲ μία ἡμέρα: οὕτω δὲ οὐδὲ μακάριον καὶ εὐδαίμονα [eudaimonia] μία ἡμέρα οὐδ᾽ ὀλίγος χρόνος...//... But also, this must be in a complete life, for one swallow does not make a Spring, nor one day, and in the same way one day or a short time does not make a person blessed and happy [eudaimonia]." - Aristotle (Nicomachean Ethics, Sachs translation)
Introduction: Our (un)happy and (dis)united society
Our society is not only facing crisis moments—we seem to lack words to dialogue with each other towards something beyond the problems. Indeed, our current milieu is filled with grief and loss during the COVID-19 pandemic, anger and rage at injustices re-surfacing through Black Lives Matter movement, sadness and guilt of our inhospitality towards migrants and refugees, fear and punishment to quell political discord and civil unrest, anxiousness and nihilism about general state of the ecological world… and sadly, the list goes on-and-on. As if addressing these points were not difficult enough—we also seem to be speaking at each other about these things, as opposed to with each other towards solutions together. Some have pointed towards εὐδαιμονία as our end-goal; even still, we stumble on whether this word is happiness, flourishing, or well-being, let alone how to define happiness. Indeed, the ability to navigate the nuances and end-goals of society will be necessary for leadership.
In addition, areas of psychology (as well as other disciplines) have moved towards integration and dialogue on the complexity of human experiences, albeit with some stumbling and an ample amount of jargon. For example, recent popular psychology has taken interest in virtues and strengths (via positive-psychology), biology and neuroscience (via neuropsychology), spirituality (via mindfulness-based practices), and several other directions. However, these can at times be thin bridges that do not hold weight when integration is not done well. (Note: As a psychotherapist, research assistant, and co-director in different areas of psychology, I am very in much favor of integration and dialogue. However, these must be done from a place of depth and mutual-respect, rather than over-extrapolating from preliminary thoughts—to prevent further harm to people we serve in clinics or classrooms). Connections should be made from the insights hard-won in grappling with these systems of thought, not from surface-level publishing excursions.
We need to be able to navigate the integrations—and direct them responsibly to also serve our society, not merely to add to knowledge for knowledge's sake. Indeed, integrative dialogue can be done well to promote understanding and further questioning: proper Aristotelian notions of virtues and psychology (Fowers, 2005); neuroscience of moral reasoning and judgments (Young et al., 2007); underlying societal associations and internalized stereotypes (Greenwald and Banaji, 1995); difference in brain processing for in-groups and out-groups (Cunningham et al., 2004); philosophy and psychology of trauma and suffering (Severson et al; 2016); hermeneutics and clinical practice (Orange; 2011); critical-analysis and narrative therapy (White and Epston; 1990); and dialogue between academics and practitioners (Goodman and Freeman, 2015)—and fortunately, this list is beginning to build and can go on-and-on as well. Each integration can host a place on the table to teach us something more. And yet—even when dialogue can be done well from the depth of our specialties—we, as a psychological community, will still have to contend with the meaning of it all.
The following paragraphs are brief reflections on existentialism, particularly its interface with psychology via logotherapy and leadership via responsibility. First, we briefly sketch Viktor Frankl's (and his colleague Joseph Fabry's) version of existential analysis called logotherapy [Greek: λόγος as meaning or word]. Secondly, we expand logotherapy's notion of responsibility, by adding some points from Emmanuel Levinas and Aristotle. We'll conclude with some minor reflections for future leadership, through an existentialism that is grounded in person-in-environment reality and towards responsibility back to society.
An existential psychotherapy (logotherapy)
Logotherapy has much to offer psychological leadership, practices, and research. (Other versions of existential-based psychotherapy do exist, but we shall focus here on Vienna's third school of psychotherapy). Viktor E. Frankl, founder and pioneer of logotherapy, was an Austrian psychiatrist, neurologist, and Holocaust/Shoah survivor. He is most known for his best-selling book, Man's Search for Meaning (1959), which noted his reflections amidst the sufferings of Auschwitz, Dachau, and Türkheim. Although many read his dark yet hopeful memoirs, many have not grappled with his systematic thoughts in his later works.
Simply put, logotherapy is a psychotherapy towards meaning-fulfillment and active-change. In his earlier work, Frankl (1959) noted in "Part II: Logotherapy in a Nutshell" that logotherapy focuses on the future, on the meanings to be fulfilled by the patient. Note here, that meaning is not something merely internal but also manifested externally. Even in his later works, Frankl critiqued both reductionistic mechanism and homeostatic principles of humanity, noting these views reduced our ability to choose and to act. "Rather than being concerned with any inner condition, be it pleasure or homeostatis, man (sic) is oriented toward the world out there, and within this world, he is interested in meanings to fulfill, and in other human beings… Truly, self-transcendence is the essence of human existence" (Frankl, 2000, p.138). Even Maslow's later work notes that self-actualization is not the end-goal of the hierarchy of needs; rather, it is self-transcendence. "Transcendence refers to the very highest and most inclusive or holistic levels of human consciousness, behaving and relating, as ends rather than means, to oneself, to significant others, to human beings in general, to other species, to nature, and to the cosmos." (Maslow 1971, p.269). But for logotherapy, this is not merely consciousness—it translates into activity. Frankl favors dynamic open-systems imagery of the human person, rather than a closed-systems of pleasure-principles and power-struggles. For Frankl, we human beings are motivated by meanings, purposes, and persons external to us - in the world of reality. "Every situation, every unrepeatable moment, offers a specific meaning potential. To respond to these offerings of the moment is to lead a meaningful life" (Fabry, 2013, p.32).
For logotherapy, the human person is a holistic-being with the ability to choose values to manifest. Each person is a unique "integration of somatic, psychic, and spiritual aspects. Body and psyche may form a unit, but this unit does not yet represent the wholeness of [persons]. Without the spiritual as its essential ground, the wholeness cannot exist" (Frankl, 2000, p.34). Although this axiom is a large claim to make, logotherapy hinges on human beings being able to choose between meanings and weigh values. Indeed, whether we agree on the different aspect of human dimension—we are currently facing what Frankl noted as the existential vacuum. Studies conducted out of Johns Hopkins University and sponsored by the National Institute of Mental Health in 1971 "found that among 7,948 students at 48 colleges, only 16% said their first goal was 'making a lot of money.' Seventy-eight percent (78%) of the students, however, checked finding a purpose and meaning to my life" (Frankl, 2000, p.86). Rather than a merely reductionistic stance towards determinism or an overly solipsistic stance towards unhinged free-will—logotherapy prompts the patient with choice between different responsibilities and value-systems, a quality of the noetic dimension [Greek: νοῦς as mind, understanding, or reason]."The noetic (spiritual, specifically human) dimension contains such qualities as our will to meaning, our goal orientation, ideas and ideals, creativity, imagination, faith, love that goes beyond the physical, a conscience beyond the superego, self-transcendence, commitments, responsibility, a sense of humor, and the freedom of choice making" (Fabry, 2013, p.16). Indeed, for logotherapy, happiness is not something we aim for—happiness is the by-product of excellent actions and human flourishing. "It must ensue," noted Frankl, "It cannot be pursued" (Fabry, 2013, p.xix).
How does this assist in understanding psychological leadership? For Frankl, choice and action prompts responsibility—not just freedom. Indeed, an existential stance for psychology will not be merely armchair philosophical musings—but bringing out values through our behaviors. (In a future work, we can outline the history, methods, and nuances of logotherapy. Suffice to say that logotherapy's axioms can assist psychological leadership's choice-making).
Our call to responsibility (ethics)
The telos of logotherapy is not freedom for freedom's sake but freedom towards responsibility. This is a form of existentialism which prompts us to grapple with the tensions, rather than provide sedatives or side-step them for the ease of value-neutrality. Especially with the weight of psychology's voice in our society's thought process, leadership in the psychological community wear this mantle of responsibility. Indeed, each person "has to answer to life answering for life; he (sic) has to respond by being responsible; in other words, the response is necessarily a response-in-action" (Frankl, 2000, p.29). Or simply put: "Logotherapy is education to responsibility" (Fabry, 2013, p.xix). In this final subsection, we expand logotherapy's horizons, be adding Emmanuel Levinas's infinite call to ethics and the Ancient philosopher, Aristotle's, notions of justice.
For Levinas, ethics must be our first starting point in philosophy—not from the axiom of "I" but from the axiom of "Other." One pitfall which existentialism may fall to is a form of solipsistic ascent—in which meaning is achieved only to rivet the self-back-to-itself. Levinas (also a survivor of the horrors in World War II) critiqued philosophical traditions that prize mastery, Dasein, the ego—lumping them into the violence of same-ness. For example, if a clinician interacts with a patient, the clinician may prone to reduce the person to merely their diagnosis. The patient becomes only what the clinician has in their mind, into merely the idea of an anxious or depressed person. However, when interacted with in their humanity, each person has the ability to surprise us. "The face of the Other at each moment destroys and overflows the plastic image it leaves me… To approach the Other in conversation is to welcome his (sic) expression, in which at each instant he overflows the idea a thought would carry away from it. It is, therefore, to receive from the Other beyond the capacity of the I, which means exactly: to have the idea of infinity" (Levinas, 1969, 50-51). In his mature works, Levinas recapitulates this thought towards responsibility: "Responsibility for the other, this way of answering without a prior commitment… is prior to freedom. The face of the other in proximity… is the way of the infinite." (Levinas, 1998, p.116). Indeed, Levinas arrives at a conclusion similar to Frankl—responsibility is the healthy impetus of humanity. (However, Levinas is definitely darker and heavier than Frankl in the way he views the burden of responsibility).
For Aristotle, the telos of human life is human excellence and flourishing within society—with justice being the completeness of this excellence. In the first and final books of Nicomachean Ethics, Aristotle speaks of the end-goal of all human activity as εὐδαιμονία. This is typically translated as happiness; thus, this word currently has associations with a merely pleasurable emotional state. However, eudaimonia alludes more to flourishing, toward life-worth-living filled with hard-won excellence. In the Aristotelian framework, virtue [Latin: virtus and Greek: ἀρετὴ] is "the excellence that makes anything an outstanding specimen of its kind, especially well fitted to its end" (Sachs, 2002, p.212). Thus, virtue is actually not innately moral but bound to functionality. Excellent trees grow leaves well and excellent horses run well, for that is their virtue. However, for the human person, excellence is bound with our unique rational and ethical qualities (think here also of Frankl's νοῦς dimension and Levinas's call to responsibility). Furthermore, in Politics, Aristotle claims that "καὶ ὅτι ὁ ἄνθρωπος φύσει πολιτικὸν ζῷον… A human being is by nature an animal meant for a city [polis]…" (1253a1). For Aristotle, human persons and virtues do not exist within a vacuum or closed-system—it is made manifest in the reality of the world. Finally, when considering all of the virtues, justice is noted as the completeness of excellence because it concerns others (others both in terms of other virtues and other persons).

Conclusion: Dialoguing together
Hip-hop artist Joyner Lucas portrayed a possible way of dialogue from the depth of suffering and reality in our society. In his song "I'm Not Racist" (2017), Joyner portrayed two persons from different camps in our nation, speaking to each other. The majority of the song is filled with uncomfortable stereotypes about the other, sprinkled in with the pain of the speakers. However, the song concludes with the following lines and an embrace from each person: "It's like we living in the same building but splitting down both sides… but there's two sides to every story and now you know mine… // Can't erase the scars with a bandage… Agree to disagree, we could have an understanding."
This is what existential psychotherapy (particularly logotherapy) can offer as points of reflection for psychological leadership. The tensions in our society can be the opportunity for facing reality together—the invitation to choose and enact meaning-filled behaviors that go beyond solipsism, greed, and prejudices, towards human flourishing. For as we face our patients, clients, students, research, and leadership roles—I must ask you, dear colleague, what is it you ultimately value with your choices and what story are you telling with your life?
References
Aristotle. (2011). Nicomachean Ethics, trans. J. Sachs. Indianapolis: Hackett Publishing.
Aristotle. (2012). Politics, trans. J. Sachs. Indianapolis: Hackett Publishing.
Cunningham, W.A., Johnson, M.K., Raye, C.L., Gatenby, J.C., Gore, J.C., and Banaji, M.R. (2004). Separable neural components in the processing of black and white faces. Psychological science, 15(12), 806-813.
Fabry, J.B. (2013). The pursuit of meaning: Viktor Frankl, logotherapy, and life. Charlottesville: Purpose Research.
Frankl, V.E. (1959). Man's search for meaning. Boston: Beacon Press.
Frankl, V.E. (1966). Self-transcendence as a human phenomenon. Journal of humanistic psychology, 6(2), 97-106.
Frankl, V.E. (1988). The will to meaning: foundations and applications of logotherapy. New York: Meridian Books.
Frankl, V.E. (2000). Man's search for ultimate meaning. New York: Barnes and Noble.
Greenwald, A.G., and Banaji, M. R. (1995). Implicit social cognition: attitudes, self-esteem, and stereotypes. Psychological review, 102(1), 4.
Goodman, D. and Freeman, M. (2015). Psychology and the Other. Oxford University Press.
Fowers, B.J. (2005). Virtue and psychology: Pursuing excellence in ordinary practices. Washington, D.C.: American Psychological Association.
Levinas, E. (1969). Totality and infinity: an essay on exteriority, trans. A. Lingis. Pittsburg: Duquesne University Press.
Levinas, E. (1998). Otherwise than being, or beyond essence, trans. A. Lingis. Pittsburgh: Duquesne University Press.
Maslow, A.H. (1971). The father reaches of human nature. New York: Penguin Books.
Orange, D.M. (2011). The suffering stranger: Hermeneutics for everyday clinical practice. Philadelphia: Routledge, Taylor and Francis Group.
Severson, E.R., Becker, B.W., and Goodman, D.M. (2016). In the wake of trauma: Psychology and philosophy for the suffering other. Duquesne University Press.
Young, L., Cushman, F., Hauser, M., and Saxe, R. (2007). The neural basis of the interaction between theory of mind and moral judgment. Proceedings of the national academy of sciences, 104(20), 8235-8240.
White, M. and Epston, D. (1990) Narrative Means to Therapeutic Ends, New York: W.W. Norton and Company.
About the author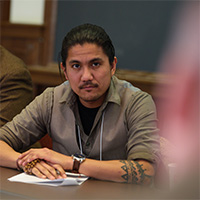 Mookie hopes to better orient the complexity of our experiences towards responsibility. He received degrees in the fields of civil engineering (BSE) from Loyola Marymount University, theological pedagogy (MA) from the University of Notre Dame, and theological studies (MTS) & clinical social work with a certification in social research (MSW) from Boston College. In terms of professional roles, Mookie is a program coordinator in BC's Lynch School of Education Professional and Continuing Education series, which houses the budding Psychological Humanities and Ethics initiatives. Additionally, he is a research assistant in BC's Morality Lab, which uses behavioral measures and neuroimaging to better understand social cognition and moral judgment. In terms of therapeutic practice, Mookie currently practices psychotherapy, by blending a narrative-based (White and Epston), meaning-oriented (Frankl), mindfulness-grounded, culturally-sensitive, and neuroscience-informed style.