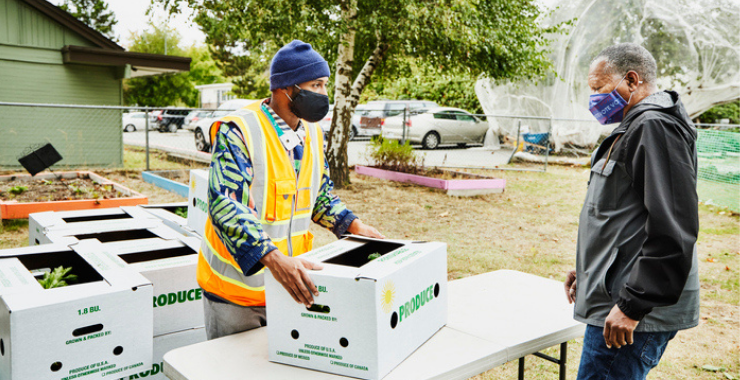 Published three times per year, the newsletter of Division 32 (Society for Humanistic Psychology) explores the intersections of psychology and the arts, humanities, and current events, and it captures the discussions, debates, and new ideas taking place in the research, teaching, clinical practice, and advocacy applications of humanistic psychology. Co-editors: Andrew Bland, Julie Falk, and Kevin Gallagher

During 2022, we celebrate the 50th full year of the Society for Humanistic Psychology. Accordingly, the theme of this issue is the future of humanistic psychology.

Almost 20 years ago, during the dawn of the new millennium, humanistic psychologist Eleanor Criswell reflected on our movement's deliberate goal of continuous revision and elaboration in order to "establish itself anew for each generation" (Criswell, 2003, p. 43). Since its inception during the mid-20th century, humanistic psychology (HP) has been an open system, as noted by founding humanistic psychologist Charlotte Bühler:
Participants' concepts and approaches are varying, because they came together from very different backgrounds and origins to their present thinking. They all shared in this interest, yet not all members of this group like to think of humanistic psychology as a school and a system. They want to keep things open and flexible. They emphasize that we want to represent an "open system." I personally agree that we are in a time of flux, and we want to keep our system open. (Bühler, 1971, p. 378)
Yet, as Buhler also noted, paradoxically, HP also involves some constants in its fundamental principles: holism, intentionality, the will to meaning and maturity, creative living that emerges out of tension, relational healing, and so on. Embracing these principles requires conscious choice-making insofar as they are not always supported—let alone modeled—in mainstream institutional life. That said, consistent with these principles, for decades, humanistic psychologists (HPists) also have believed that individual concerns (both in therapy and in general) reflect cultural trends and deficiencies (Tageson, 1982; see also Erikson, 1959/1994; Fromm, 1955; O'Hara, 2015). 
Today, as Schneider and Krug (2017) aptly pointed out, HPists undoubtedly face numerous systemic challenges. This holds especially true in our current economic and political climate that has thrown many individuals, communities, and institutions into survival mode at the same time it has revealed the extent to which survival mode is and has been the modus operandi in which many people have lived for years. On the other hand, as I suggested toward the beginning of the COVID-19 pandemic, such conditions also provide opportunities for a proverbial pressing of the reset button—and HP's rich canon of theorizing and research has much to offer in terms of laying the groundwork for a more sustainable future (Bland, 2020). That is, approached through a HP lens, at its best, COVID-19 offers opportunities for individuals to relinquish an unsustainable and ineffective way of being inherent in and reinforced by the U.S. cultural narrative; to embrace ambiguity and tragedy; to actively identify, remediate, and reconcile underacknowledged and underactualized human capacities; and therefore, to heal false dichotomies and become more capable of living fully, authentically, and flexibly. Accordingly, COVID-19 also provides opportunities for collective co-creation of a cultural narrative involving evolution toward enhanced senses of consciousness and caring. Once again, HP's promotion of open system thinking is particularly promising for addressing the needs of the zeitgeist.
And what of the next steps for our movement as we venture further into the second decade of the 21st century? This issue of the SHP newsletter is by no means the first time that the future of HP has been considered. Interestingly, when the topic has been taken up in the past, the conversation almost inevitably has involved looking back in order to look forward (e.g., see Arons, 1988, 2020; O'Hara, 2015; Taylor & Martin, 2015). This makes sense, as phenomenological temporality is another central aspect of HP's theoretical underpinnings. And indeed, that trend continues in several of the articles herein.
SHP president Todd DuBose begins this issue by imploring HPists to continue investing in systemic change from within while also exploring further uncharted territory to meet the challenges wrought by climate change, late capitalism, and contemporary technocracy. Then, in the three articles that immediately follow this editor's commentary, Steven Handwerker, Richard Schaub, and Bob Stolorow remind readers of HP's contributions to contemporary psychotherapy, psychological research, psychedelic healing, and evidence-based practice by maintaining commitment to focusing on the soul and the self-in-relation-in-the-process-of-becoming as an alternative to quick fixes and to literalistic scientism. Next, Jasper Flint proposes HP's role in challenging the gender binary and toxic masculinity in contemporary society. Thereafter, three articles by Scott Kellogg and Amanda Garcia Torres, by Paul Murray, and by Ilene Serlin revisit foundational humanistic and experiential therapy principles with an eye toward their relevance for restoring fractured lives in an ambiguous healing space, for negotiating the promise and pitfalls of teletherapy, and for cultivating inner transformation across cultural lines. Finally, the issue concludes with Ed Mendelowitz's Humanitas column (composed in memory of Georgia May—Rollo's wife—who died in December 2021) and with a bulletin board of announcements of interest to SHP members about our upcoming annual conference and our journal.
Finally, I would like to introduce and welcome Julie Falk and Kevin Gallagher as new co-editors of our newsletter. Julie is an integrative wellness coach who teaches mindfulness and focusing. She earned a doctorate from Saybrook University and has written and edited through University Professors Press, a publisher committed to dissemination of HP-oriented writings. Kevin, who has rejoined the newsletter team following a brief hiatus, is an adjunct faculty and doctoral student in the critical psychology program at Point Park University who has several years' experience in community mental health and addictions settings. In upcoming issues of our newsletter later in 2022, Julie and Kevin will continue exploring the future of humanistic psychology in the domains of education and of post-humanism: being-in-the-world and being-in-the-room. 
About the Author
Andrew M. Bland is an associate professor of psychology at Millersville University in Lancaster County, PA. He is a licensed psychologist, currently practicing at Samaritan Counseling Center in Lancaster, PA. He serves as treasurer, webmaster, and co-editor of the newsletter of the Society for Humanistic Psychology. His scholarship provides both qualitative and quantitative support for the practical application of themes/principles from existential and humanistic psychologies in the domains of relationships, work/career development, the processes of therapy and education, cross-cultural encounters, creativity, and lifespan development. He is co-editor of The New–Old: Recollections, Reflections, and Reconnoiterings of Mike Arons.
References
Arons, M. (1988, April). The legacy of Maslow and Rogers. Paper presented at the conference of the Association for Humanistic Education, Paducah, KY. https://www.westga.edu/academics/coss/psychology/assets/docs/AronsTheLegacy.pdf
Arons, M. (2020). The new-old: Recollections, reflections, and reconnoiterings of Mike Arons (A. M. Bland & S. M. Arons, Eds.). University Professors Press.
Bland, A. M. (2020). Existential givens in the COVID-19 crisis. Journal of Humanistic Psychology, 60(5), 234-250. https://doi.org/10.1177/1532673X00028002005
Bühler, C. (1971). Basic theoretical concepts of humanistic psychology. American Psychologist, 26(4), 378–386. https://doi.org/10.1037/h0032049
Criswell, E. (2003). A challenge to humanistic psychology in the 21st century. Journal of Humanistic Psychology, 43(3), 42–52. https://doi.org/10.1177/0022167803043003004
Erikson, E. H. (1994). Identity and the life cycle. Norton. (Original work published 1959.)
Fromm, E. (1955). The sane society. Fawcett Premier.
O'Hara, M. (2015). Humanistic psychology's transformative role in a threatened world. In K. J. Schneider, J. F. Pierson, & J. F. T. Bugental (Eds.), The handbook of humanistic psychology: Theory, research, and practice (2nd ed.; pp. 569-584). Sage.
Schneider, K. J., & Krug, O. T. (2017). Existential-humanistic therapy (2nd ed.). American Psychological Association.
Tageson, C. W. (1982). Humanistic psychology: A synthesis. Dorsey.
Taylor, E. I., & Martin, F. (2015). Humanistic psychology at the crossroads. In K. J. Schneider, J. F. Pierson, & J. F. T. Bugental (Eds.), The handbook of humanistic psychology: Theory, research, and practice (2nd ed.; pp. 19-25). Sage.