For the past three years, I have had to great pleasure of attending my friend and colleague's conference on Intergenerational Trauma in Jordan. I was part of a volunteer group that organized and established a Women's Safe Space group and used dance therapy to work with the women and children.
Instead of writing about the incredible work, which I have done and am continuing to do, I would like to share a few stories that convey some of the very complicated experiences there.
Saturday, Oct. 20: I'm sitting on a panel during the third day of the conference. It is on the International Muslim Mental Health Conference, and the panel is a summary and conclusion of the full conference. I have no idea what is expected of me, knowing only that this panel brings together the conference organizers and volunteer team members, that we will make a short presentation each and the floor will be open for questions and discussion.
The panel starts with a summary by Farha Abbasi, MD, psychiatrist from the Deptartment of Psychiatry at Michigan State University and faculty at the Muslim Studies Center. She is founder and coordinator of the Muslim Mental Health Conference, Managing Editor of the Journal of Muslim Mental Health and is partnering with Common Bond and the International Humanistic Psychology.
As the time comes for me to speak, I look out at the sea of health and mental health professionals and medical students — many with scarves — and imams from the United States and find myself saying:
"This is a bit uncomfortable for me — I am Jewish. But as I read this week's Torah portion, it is about Abraham, who is the father of all of us. He left his comfort zone to step forth into the unknown and he heeded the Call.
"We too are all here because we heard a Call. The path is difficult, filled with confusion and questions, no road map…I look back on my life and often wondered what I was doing…why the body and then the mind and trying to put it all together. It is only in retrospect that I can see the patterns, that one door opening led to another and that there was actually a logic to the patterns.
"You might not be able to see the whole pattern now, but you are the future generation. Our time is winding down, and it is now up to you. Please have the courage to heed the Call and follow your own path — the world needs you."
After we spoke, many young women came up to me, telling me how inspiring my talk was and how difficult it is for them to confront tradition and follow their own path. We formed a close relationship that lasted throughout the trainings and work in the Women's Safe Space after the conference. Through fundraising, the apartment house now has video cameras. A group of dedicated and energetic female medical students will carry out the work of keeping up the women's support groups while we supervise from the US.
On another day, as I spoke about psychology, creativity and humanistic psychology on a different panel, two young medical students were asking many questions about Freud. They were very intense and somewhat challenging. Later that day, they told me that one of them had grown up in the largest and oldest Palestinian refugee camp in Amman, one that had been there since 1948, and invited me for a tour of the camp. Of course, I couldn't refuse.
Later we heard that some of our organizing team were worried, that there were rumors that these young men had been interested in joining the Muslim Brotherhood, and our team back at the hotel was concerned about my safety. They gave me a phone with their numbers programmed in it and advised us not to get out of the car while in the camp. They spoke sternly with the young men about my safety. One of my students from China who was there and was a kung fu master, volunteered to come as my body guard. 
As we approached the camp, I was surprised to see that there were no boundaries, no tents, just the somewhat rundown part of the city continued…then were told we were in the camp. My hosts explained that the government of Jordan had offered money for the camp to modernize and upgrade, but the residents were focused on returning to Palestine and did not want to accept the money. These hosts pointed out, rather proudly, the graffiti that was all over the house walls saying that they residents would "go home" again. They showed me an elderly man in a long white robe who was one of the oldest in the camp, older than "Israel," and he advised the young people in the camp not to modernize because they would be home soon.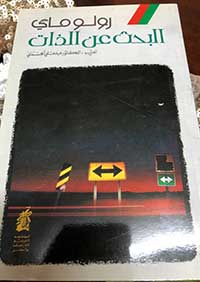 Soon another stocky man entered the car. My hosts explained that he was a childhood friend of one of them and was still living in the camp. The man had invited us into his home, and apparently, we were going. My hosts explained that we had to be careful, that everyone talked in the camp, and we could get this man and his family in trouble for hosting strangers.

Nevertheless, I couldn't resist this invitation either. As we entered the house, I was surprised to see a neat, comfortable apartment lined with books. We sat on low couches while his nieces brought us savory pastries and tea — all very pleasant. This man was apparently a self-educated psychologist, worked as a counselor in the schools and brought out a book of Rollo May in Arabic.

Then as we started home, the car stopped at the famous pastry shop downtown for one of those indescribably sticky, honey and melted cheese confections. Needless to say, our colleagues were worried about us and annoyed that our hosts did not respect the request to stay in the car, and I was relieved that we'd had a very pleasant visit and avoided any political confrontations. Knowing how my Israeli friends felt about the impossibility of the "Right of Return," I was saddened by all the Palestinian refugees still clinging to the past.