Why Join?
Be a voice of feminist issues within organized psychology. Membership connects you to feminists of all national origins who advance teaching, research and practice in the psychology of women, promote feminist scholarship and advocate public policy action for equality and social justice.
Current members may renew online.
Take Action
There are many ways you can become engaged with Div. 35 to grow the field of psychology of women, advance feminist perspectives in research and practice and flourish in your career.

Opportunities for Involvement
Explore other opportunities within Div. 35, including becoming or finding a mentor, engaging with feminist issues on your campus or serving in a division leadership role. The division especially seeks to foster the experience and leadership potential of students and early career psychologists by cultivating networking opportunities as well as other events and activities for them to showcase their research, hone their skills and develop their careers. Our members span all career levels, whether they are just beginning or are seasoned professionals, but all are passionate about a range of issues related to the psychology of women and girls. 
History, Mission and Goals

Discover more about Div. 35's history and mission, including the many vital contributions of women in psychology, resources for networking with researchers and practitioners and the division's vision for prioritizing equality and social justice within organized psychology. Our division also offers a wealth of information about the research and accomplishments of past division presidents and feminist leaders, who can serve as models for achievements in the field and as examples of career paths and opportunities, as well as give guidance to the upcoming generation of feminist psychologists. We hope you will explore these resources.

Areas of Interest
Div. 35 members are actively involved in many, diverse areas of interest within the psychology of women, whether in their teaching, research, practice, advocacy or other activities.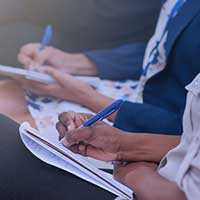 Involvement in Div. 35's committees offers members the opportunity to grow in leadership and focus on specific areas of interest to feminist psychologists.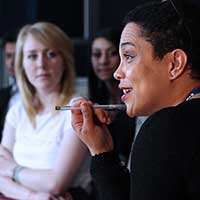 Each president appoints task forces to work on specific, compelling issues in the psychology of women and gender or issues that face feminist psychologists in the U.S. and beyond.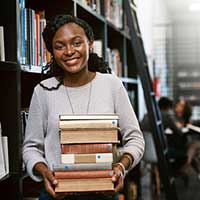 Sections
Div. 35's sections take an intersectional approach to the psychology of women by focusing on communities centered around concerns and interests related to race, ethnicity, sexual orientation and gender diversity. Sections have their own dues and sponsor their own activities. Membership is open to anyone.

Hello, I am Kathryn, a social psychologist and professor at Our Lady of the Lake University (OLLU) in San Antonio, Texas. I learned about feminist consciousness and advocacy from my feminist historian mom and from many mentors within Division 35. Being raised in New Orleans inculcated in me both the joy of living in a diverse southern city and the horrific impact of systemic discrimination. As a cisgender white woman, I am committed to a life-long process of identifying and actively challenging discriminatory beliefs and actions, beginning with my own implicit biases. Working with visionary Division 35 leaders for the past 18 years has provided me a foundation and community for engaging in critical conversations that push feminist psychology and ourselves toward needed reconceptualization of how we interact, live and work in more liberatory and equitable ways.
Div. 35 Publications
The division maintains many publications, including an academic journal, newsletters and blogs, to keep members informed of the latest research, best practices, news and trends within the field of psychology as a whole, the division and the wider public.

Psychology of Women Quarterly
About
Div. 35's journal,
Psychology of Women Quarterly
(
PWQ
), is a feminist, scientific, peer-reviewed publication focused on empirical research, critical reviews and theoretical articles that advance a field of inquiry, teaching briefs and invited book reviews related to the psychology of women and gender as well as feminist psychology.
Journal Topics
Examples of topics
: feminist approaches, methodologies and critiques; violence against women; body image and objectification; sexism; stereotyping and discrimination; gender's intersections with age, ability status, class, ethnicity, race and sexual orientation; international concerns; lifespan development; physical and mental well-being; therapeutic interventions; sexuality; social activism; and career development.
FemPop
The
FemPop blog
, hosted on Blogspot, is an initiative of Div. 35 that uses a feminist framework to examine, critique and respond to popular attitudes, images, music and other media and pop culture that affect the psychological development of girls and women. It also contains recommended readings and resources for anyone interested in the intersections of psychology, feminism and popular culture.
Other Div. 35 Publications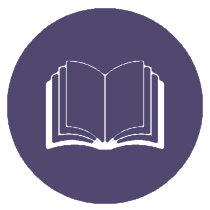 Psychology of Women Newsletters
Div. 35 publishes one division newsletter to keep members updated about the latest happenings within the division and APA, as well as five section newsletters.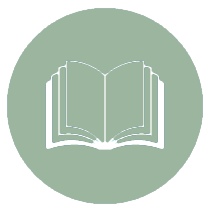 Div. 35 publishes and sponsors, in collaboration with APA, books and book series on a broad range of topics related to the psychology of women, gender and feminism.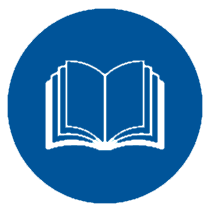 Hosted on Blogspot, this blog provides information relevant to division members concerning breaking news both within and outside the division and other resources.