Committee on Academic Feminist Psychology
The primary goal of this committee is to create and sustain networks of feminist academic psychologists that can prepare, promote and support each other professionally by discussing ideas and developing collaborations. One of the aims of the committee is to develop institutes that will bring together individuals who currently employ or would like to employ a feminist lens to their research, teaching and service. This committee is also interested in developing resources to help individuals manage the three demands of academic life — scholarship, teaching and service — and how to integrate them with personal life and self-care.
Co-chairs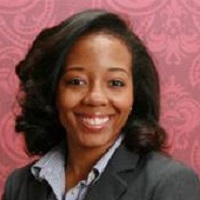 Danielle Dickens, PhD, is an assistant professor in the Department of Psychology at Spelman College. Dickens earned her BA in psychology from Spelman College and her MS and PhD from Colorado State University in applied social and health psychology. She leads a program of research that focuses on Black womanhood and its implications for health behaviors, academic performance, experiences of discrimination and coping strategies and psychological well-being. She is interested in understanding how experiences of discrimination results in a coping strategy known as identity shifting (altering one's behaviors, language and appearance) across multiple contexts (e.g., workplace), particularly among Black women. In 2016, she was the first grantee of the American Psychological Foundation and FISH Foundation Visionary Grant to Decrease Ethnic and Racial Discrimination in Education by creating a summer institute to address problems facing minorities who want to continue their education beyond the undergraduate level. In 2018, she was awarded a grant by the National Science Foundation to explore identity shifting among Black women in STEM education.

Ying (Joy) Tang, PhD is an assistant professor in psychology at Youngstown State University (YSU). She is affiliated with the Women and Gender Studies program at YSU. She received her BA with majors in psychology and sociological studies and minors in French and women's studies from Wesleyan College and her PhD in social psychology from Syracuse University. She teaches diverse courses including social psychology, research methods, psychology of women and cross-cultural social psychology. Tang's research interests center around the self and its interplay with various intrapersonal and interpersonal properties and dynamics. More specifically, on the intrapersonal level, she is interested in understanding motivation, self-defense mechanisms, self-knowledge and self-regulation. On the interpersonal level, she examines how intrapersonal processes such as self-expansion interact with relationships. She also studies how certain aspects of the self are perceived, often problematically, within the theoretical frameworks of attribution and stigma. In addition to teaching and research, she regularly reviews for Sex Roles and Psychology of Women Quarterly and is an active board member at the Youngstown Young Women's Christian Association (YWCA).