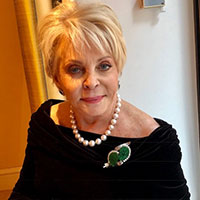 Phyllis A. Katz, PhD, is a social-developmental psychologist who received her doctorate from Yale University in clinical and developmental psychology. Her research has focused upon how children develop concepts and attitudes about race and gender. She has published extensively in these areas, with works including books, chapters and empirical papers. Numerous federal grants have supported her research.

She was the founding editor of Sex Roles: A Journal of Research, the first publication devoted entirely to scholarly research on gender. She has spoken about the formation of this journal at the 50th anniversary meeting of the Association for Women in Psychology. She also edited the Journal of Social Issues, the publication sponsored by the Society for the Psychological Study of Social Issues.
Katz has been active in the American Psychological Association in a number of capacities. She served on the Finance Committee and was Council Representative for both Div. 9 (the Society for the Psychological Study of Social Issues) and Div. 35 (the Society for the Psychology of Women). She also served as president of these divisions. Her presidential address for Div. 35 is "The Ages of Women" (PDF, 271KB).
She has received numerous awards from APA, including the Carolyn Sherif Award for scholarship, teaching, mentoring and leadership, the APA Senior Career Award for Psychological Research in Public Service and the Elizabeth Hurlock Beckman Award for Excellence in Education and Inspirational Leadership.
In addition to her research and teaching in psychology, Katz has been involved in a number of other feminist activities,  including serving on the Board of the International Women's Forum, starting a nonsexist toy store and catalogue called Play Fair and publishing a book, The Feminist Dollar: A Wise Woman's Buying Guide, co-authored with her daughter, Margaret Katz Cann. This publication analyzes how corporations, states and countries have treated women and suggests how intelligent consumer choices can have positive effects for women.