Membership
The Society for the Psychology of Women (SPW) assists in securing recognition for feminist psychologists and their work, particularly as it relates to the psychology of women.
All society members receive the division newsletter, The Feminist Psychologist, and the journal, Psychology of Women Quarterly.
SPW has more than 2,000 members with diverse psychological career interests. Membership in APA is not required for some membership categories.
Regular and Associate Members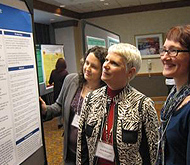 If applying for regular or associate membership, you must currently be a member or associate of APA. Be sure to list your name the same way as recorded by APA and include your APA membership number. Regular and associate members of the division hold comparable membership status in APA. You will have the same voting privileges as an affiliate member during your application year. Applications received before Aug. 1 each year will be presented to the executive committee for election to full membership beginning the following January. Thereafter, you will be billed for division dues on your annual dues statement.

Benefits: As a member, you will have online access to back issues of the Div. 35 journal, Psychology of Women Quarterly. To join as a regular or associate member, see our membership brochure (PDF, 174KB).
Affiliated Professional or Student Member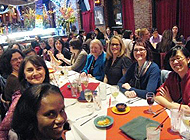 Affiliated professional and student members are persons who are not full members of APA but who have an interest in the psychology of women. Membership is for a calendar year, and affiliates and students are billed each fall for renewal. 
Benefits: Affiliated professional or student membership entitles you to the division newsletter, The Feminist Psychologist, and to vote in all division elections except for APA.
How to Join
To join SPW, apply online or download the division brochure and membership application (PDF, 174KB) and send it to the SPW Administrative Office with a payment for dues for the current year.
Membership is for the calendar year. If you join before Aug. 1, you will receive back issues of the Psychology of Women Quarterly. If you join after Aug. 1, your membership will begin in January, unless you request otherwise. 
After the application year, regular, associate and affiliate members will be billed as follows:
Regular and associate: $27 (on the annual APA dues statement).
Affiliated professional members:  $25 (directly by the division).
Students: $15 (directly by the division).
Limited means members must request renewal in that category on an annual basis. Dues support task forces, publications, special projects and reduced fees for students and people of limited means.
Gift Membership in Div. 35
Give a membership in Div. 35, which includes a subscription to the Feminist Psychologist and Psychology of Women Quarterly. Great for birthdays or to congratulate a student who completes a thesis or degree. Just complete the application form. We will send a card notifying the recipient of the gift. Please limit name and address to four lines.
For more information, contact Karol E. Dean, Membership Committee chair.