The 2016 Institute for Academic Feminist Psychologists
Forging a Feminist Future
The Committee on Academic Feminist Psychology is pleased to announce that the second Institute for Academic Feminist Psychologists was an enormous success. The Institute was held in Pittsburgh, March 2-3, 2016. It preceded the 2016 convention for the Association for Women in Psychology (AWP). A number of Institute participants also presented at AWP.
The primary goal of the Institute was to create and sustain networks of feminist academic psychologists who can prepare, promote, and support each other professionally by discussing ideas and developing collaborations, as well as mentor the next generation of scholars in different subfields of the discipline. We wanted, as Abby Stewart described it, to create an "invisible college" of feminist scholars from different institutions and with different areas of expertise who could call on each other for collaboration, support, networking, and encouragement. It was clear from the incredibly positive evaluations and feedback, summarized below, that we accomplished this goal.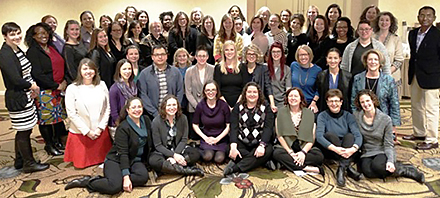 Participants included 38 early career (pre-tenure) and four recently-tenured (since 2012) scholars, from both research- and teaching-focused institutions. We opened the two day Institute with a poster session, highlighting the diversity of research and teaching interests held by our participants, and allowing them to meet each other and begin networking. Seven eminent senior scholars generously donated their time to give talks and lead discussions on a variety of topics, and facilitated break-out sessions devoted to sharing challenges and strategizing solutions related to research, teaching, service, and work-life balance. We shared lunch together each day and a fabulous dinner the first night of the Institute. The speakers and their talk titles are listed here in the order in which they were given across the two days:
Dr. Abby Stewart: "Being a Full-Time Feminist Psychologist across the Life Cycle: Scholarship, Teaching and Service"
Dr. Kim Case: "Navigating the Pedagogy of Intersectional Feminist Psychology"
Dr. NiCole Buchanan: "Mistreated, Used & Abused: Surviving the Tenure Process in a Hostile Academic Department"
Dr. Charlotte Patterson: "Joint Appointments: Having Them, Holding Them, and Maybe Even Loving Them"
Special Panel: "Publishing Challenges and Strategies to Overcome Them"

Dr. Jan Yoder, Jan Yoder, editor of Sex Roles, and former editor of Psychology of Women Quarterly (presenter)
Dr. Mary Brabeck, editor of Psychology of Women Quarterly (discussant)

Dr. Dionne Stephens: "A Feminist's Approach to Networking & Self Promotion"
Participants were asked to provide feedback about their experience of the institute, and it was overwhelmingly positive. For example, 79 percent of participants noted that their expectations for the Institute were exceeded (with the remaining indicating that most or all of their expectations were met), and 100 percent of participants said they would recommend the Institute to others.
We want to thank and acknowledge our sponsors, who provided us with the key financial support that made the institute possible. We want to especially thank Div. 35, who provided major financial support. Additionally, we received sponsorship from Psychology of Women Quarterly, Michigan State University, Pennsylvania State University, Wilfred Laurier University (Canada) and Florida International University. We also thank the Association for Women in Psychology planning committee, who were instrumental in securing our beautiful venue and shared discounted rates. Finally, we cannot thank our seven presenters enough. They donated their time and shared their hard-won wisdom, humor, and encouragement with the Institute participants — truly embodying the feminist spirit we wanted to foster. We deeply appreciate all of the support, without which there would have been no Institute!
We are aiming to have the 3rd Institute for Academic Feminist Psychologists in late spring/early summer 2018.
Committee on Academic Feminist Psychology
Co-Chairs: Nicola Curtin, Kate Richmond, Isis Settles
Committee Members: Asia Eaton, Nicky Newton, Stephanie Shields