2018 Institute for Academic Feminist Psychologists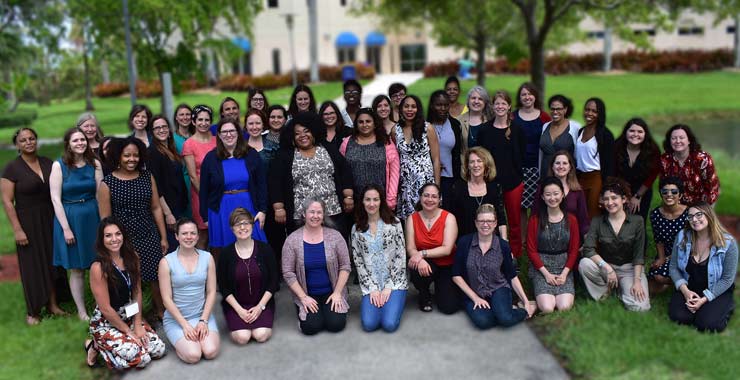 The Committee on Academic Feminist Psychology, a committee of Div. 35 (The Society for the Psychology of Women), is pleased to announce that the third Institute for Academic Feminist Psychologists was an enormous success. The institute was held in Miami, June 7-8, 2018, on the Biscayne Bay Campus of Florida International University.
The primary goal of the institute was to create and sustain networks of feminist academic psychologists who can prepare, promote and support each other professionally by discussing ideas and developing collaborations, as well as mentor the next generation of scholars in different subfields of the discipline. We wanted, as feminist speaker Abby Stewart once described it, to create an "invisible college" of feminist scholars from different institutions and with different areas of expertise who could call on each other for collaboration, support, networking and encouragement. It was clear from the incredibly positive evaluations and feedback, summarized below, that we accomplished this goal.
Participants included 31 early career (pre-tenure) and two recently tenured scholars from both research- and teaching-focused institutions. We opened the two-day institute with a poster session, highlighting the diversity of research and teaching interests held by our participants and allowing them to meet each other and begin networking.
Five eminent senior scholars generously donated their time to give talks and lead discussions on a variety of topics. We shared lunch together each day and a fabulous dinner the first night of the institute. 
Featured Speakers and Titles
Listed here in the order in which they were given across the two days:

Yolanda Flores Niemann, PhD
Navigating Academia: Applying a Chicana Feminist and Critical Race Theory Perspective to Academic Life

Gigi Awad, PhD
Don't just Survive — Thrive on the Tenure Track: Skills and Strategies for Balancing Research, Teaching and Service
Dionne Stephens, PhD

Dionne Stephens, PhD
Cultivating Your Academic Communities: Revise, Reclaim and Reorganize Networking Experiences

Mary Brabeck, PhD
Publish and Prosper: Disseminating Your Research in Peer Reviewed Journals
Kim Case, PhD

Kim Case, PhD
Intersectional Pedagogy Critical Praxis: A (Syllabus) Workshop for Your (Psychology) Course
Other highlights of the institute included: small breakout sessions on research, career advancement, service and teaching following each of the keynotes; a "hot topics" discussion over lunch; dinner on Miami Beach; and outdoor activities.
Participants were asked to provide feedback about their experience of the institute, and it was overwhelmingly positive. For example, 68 percent of participants noted that their expectations for the institute were exceeded, with the remaining indicating that most or all of their expectations were met, and 100 percent of participants said they would recommend the institute to others. Some illustrative qualitative feedback from 2018 participants is below:
"This was awesome! Thank you for the incredible opportunity to bond, connect and be 'seen-heard.'"
"Please keep having this institute. Continue to fund this event; it is of vital importance for early career feminist scholars."
"Thank you. This has felt transformational."
We want to thank and acknowledge our sponsors, who provided us with the key financial support that made the institute possible. We want to especially thank Div. 35, who provided major financial support. Additionally, we received sponsorship from Psychology of Women Quarterly, University of Michigan, Pennsylvania State University, Florida International University and Muhlenberg College. We especially would like to thank Florida International University for providing us with such a wonderful venue and all the on-site support. Finally, we cannot thank our five presenters enough. They donated their time and shared their hard-won wisdom, humor and encouragement with the institute participants — truly embodying the feminist spirit we wanted to foster. We deeply appreciate all of the support, without which there would have been no institute.
Highlights of the 2018 Institute for Academic Feminist Psychologists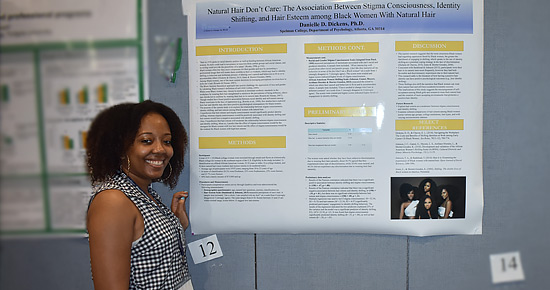 Poster Session
The Institute opened with a poster session.
We are aiming to have the Fourth Institute for Academic Feminist Psychologists in 2021. Until then, we plan to organize shorter career advancement workshops for academic feminist psychologists in 2019 and 2020. We will also keep our "invisible college" connected moving forward using social media (e.g., a Facebook page for institute participants, that currently engages 90 former members, speakers and organizers), and emails and email Listservs.
Sincerely,
Co-chairs: Asia Eaton and Joy Tang 
Kate Richmond, Isis Settles, Stephanie Shields and Dionne Stephens 
The Committee for Academic Feminist Psychology