Sponsored Books
APA Psychology of Women book series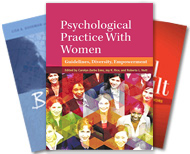 The Society for the Psychology of Women (SPW) witnessed the publication of the first book in its APA book series in 1995, Bringing cultural diversity to feminist psychology: Theory, research, and practice, edited by Hope Landrine. Since then, 14 excellent, division-sponsored books have been published. The most recent book in the APA series is Transnational psychology of women: Expanding international and intersectional approaches edited by Lynn Collins, Sayaka Machizawa and Joy Rice.

Other sponsored books
SPW and its book editors also support other books that are relevant to the goals of Div. 35. The division sponsored two books in 2015:
Have an idea for a book?
If you would like to discuss the appropriateness of your book idea for the APA book series, please contact the book series editor. To better understand the process and procedures involved in developing a proposal for a new APA book, review the book proposal guidelines. The book series editors and editorial board work closely with prospective authors and editors to provide guidance and support as needed. Generally, one-half of the royalties go to the author/editor and the other half goes to the society.
If you are writing or editing a book and would like to explore the possiblity of Div. 35 sponsorship, please contact Irene Frieze, book series co-editor.
Irene H. Frieze
Book Series Co-Editor
Margaret L. Signorella
Book Series Co-Editor