SPW/Div. 35 Books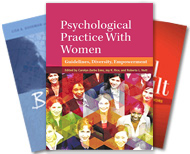 Almost 20 years ago, SPW witnessed the publication of the first book in its book series, "Bringing Cultural Diversity to Feminist Psychology: Theory, Research, and Practice," edited by Hope Landrine. Since then, 12 excellent division-sponsored books have appeared in print. Having APA as our publisher ensures that the product, as well as the content, is of the highest quality. The most recent book in the APA series is "Psychological Practice With Women: Guidelines, Diversity, Empowerment" by Carolyn Zerbe Enns, Joy Rice and Roberta Nutt.
Have an Idea for the APA Series?
If you would like to discuss the appropriateness of your book idea for the APA book series, please contact the book series editor. To better understand the process and procedures involved in developing a proposal for a new APA book, check out the book proposal guidelines. The Book Series Editorial Board works closely with prospective authors and editors to provide guidance and support as needed. Generally, one-half of the royalties go to the author/editor and the other half goes to the society.
Explore SPW's Psychology of Women Series.
Other Division-sponsored Books
SPW recognized the need to expand the types of books that we support, such as more experientially based work. These books are reviewed by the book series editor and reviewers and held to the same high standards as our APA books. The division recently sponsored two new books in 2015.
"Sight Unseen: Gender and Race Through Blind Eyes" (Columbia University Press) by Ellyn Kaschak presents an exceptionally creative and insightful analysis of how the blind "see," how they develop and conceptualize assumptions about gender, race and other social constructs. Using qualitative and ethnographic methodologies, Kaschak describes how the blind create systems of meaning from their cultural norms and how norms of the dominant cultural structure, including gender norms and relationships, inform the social interactions of all individuals regardless of physical status.
"Gendered Journeys: Women, Migration and Feminist Psychology" (Palgrave Macmillan) edited by Oliva Espin and Andrea Dottolo innovatively uses feminist theory and psychological research to enhance current knowledge and practice regarding women's experiences of migration a topic largely overlooked in past books. This unique collection considers a broad range of topics, including memory, motherhood, work, trauma and violence, language, acculturation, sexual identity, and the intergenerational impact of migration.
If you are writing or editing a book and would like to explore the possibility of Div. 35 sponsorship, please contact the book series editor.
Mary Wyer
Current Book Series Editor