Section I: Governance Structure
President (2018-20)

Collette Chapman-Hilliard, PhD
Assistant Professor
Department of Counseling and Human Development Services
University of Georgia
Collette Chapman-Hilliard, PhD, is an assistant professor in the Department of Counseling and Human Development Services at the University of Georgia. Hilliard's primary scholarly research line focuses on examining the influence of cultural assets (e.g., racial and ethnic minority identity, Black history knowledge and critical consciousness) on mental health and school achievement among people of African descent. Complementing her research interests, Hilliard's clinical interests include multiculturalism and social justice in therapy, trauma experiences and women's issues. She teaches courses in social justice, human development and clinical practice.
President-elect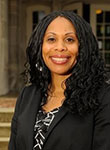 Jioni A. Lewis, PhD
Assistant Professor
Department of Psychology
Austin Peay Building
University of Tennessee
Knoxville, TN 37996

Jioni A. Lewis received her PhD in counseling psychology from the University of Illinois-Urbana-Champaign. She is currently an assistant professor in the Department of Psychology at the University of Tennessee-Knoxville. Her research is focused on the influence of subtle forms of racism and sexism on the mental and physical health of women of color, with a specific focus on Black women. She recently developed a self-report instrument to measure Black women's experiences with gendered racial microaggressions (subtle forms of racism and sexism). Lewis has received several awards for her published work addressing issues of race and gender, including the 2015 Carolyn Payton Early Career Professional Award from Div. 35, the 2016 Women of Color Psychologies Award from the Association for Women in Psychology and the 2016 Outstanding Contribution to Scholarship on Race and Ethnicity Award from Div. 17. Lewis teaches courses on African American psychology, multicultural counseling and social justice theory and practice. She also serves on the editorial boards of the Journal of Counseling Psychology, Psychology of Women Quarterly, The Counseling Psychologist and Journal of Diversity in Higher Education.
Past President

Cashuna Huddleston, PhD
Postdoctoral Fellow
Health Services Research and Development Center
Center for Innovation in Quality, Effectiveness and Safety (IQuESt)
2450 Holcombe Blvd, Suite 01Y
Houston, TX 77021
Telephone: (713) 440-4400 ext. 10282
Cashuna Huddleston recently fulfilled her clinical postdoctoral fellowship requirements at Baylor College of Medicine with a clinical health psychology focus within the Michael E. Debakey VA Medical Center for Innovations in Quality, Effectiveness and Safety. As a fellow, her work focused on ACT based psychotherapeutic interventions for patients with chronic health problems and the evaluation and treatment of Veterans with TBI and psychopathology. She received her PhD in counseling psychology from the University of Houston and completed her internship training at Vanderbilt University Medical Center – Veteran Affairs Consortium. Huddleston's research and clinical interests are in the management of co-occurring psychiatric and physical illnesses, integrated care, health promotion and disease prevention, psychosocial and cultural factors of health, health disparities and sexual health. Huddleston is a member of several organizations on the local and national level. She has a laudable publication record, including co-authorship in The Journal of Rural Health, Rehabilitation Psychology and Health Psychology Research. She has presented at national conferences and facilitated educational trainings at the American Psychological Association, Society of Behavioral Medicine and Texas Psychological Association. She has served as a reviewer of proposals for the APA convention, National Multicultural Conference & Summit and Society of Behavioral Medicine. Huddleston has also participated as an ad hoc reviewer for Psychology of Women Quarterly and Women and Therapy journals. In her spare time, she enjoys family time, reading, exercising and volunteering.
Secretary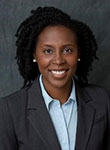 Gihane Jérémie-Brink, PhD
Assistant Professor
Department of Psychology
Science East 2055
William Paterson University
Wayne, NJ 07470 
Gihane Jérémie-Brink, PhD, is an assistant professor in the Department of Psychology at The William Paterson University of New Jersey. She teaches undergraduate and graduate courses, serves as a faculty member for the master's program in clinical and counseling psychology and is an affiliate faculty with the Department of Africana-World Studies.
Most recently, Jérémie-Brink was awarded the Jeffery S. Tanaka Memorial Dissertation Award in Psychology by the APA Committee on Ethnic Minority Affairs (CEMA). Her research focuses on how parent functioning, socialization processes and the family environment impact adolescent psychological well-being and identity development. Jérémie-Brink has published several articles and presented at numerous international and national conferences in the areas of family functioning, socialization messages, Black family dynamics and psychological well-being of ethnic minority adolescents and emerging adults.
Jérémie-Brink completed a clinical postdoctoral fellowship at The Family Institute at Northwestern University, where she received advanced training in couple, adult and family therapy. She received her Doctor of Philosophy in counseling psychology and Master of Arts degree in Community Counseling from Loyola University Chicago and a Bachelor of Arts degree in Interdisciplinary Studies from Calvin College. Jérémie-Brink completed her APA-approved, pre-doctoral internship at the University of Illinois Urbana-Champaign Counseling Center. She was a predoctoral American Psychological Association Minority Fellow and through this fellowship she was selected to serve as an APA Minority Fellow Health Policy Intern at SAMHSA (Substance Abuse Mental Health Services Administration).
Treasurer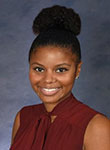 Jasmine (Jas) Tilghman, PhD
Senior Counseling Psychologist
PSY28549
UCI Counseling Center
University of California
203 Student Services I
Irvine, CA 92697
Telephone: (949) 824-6457
Tilghman grew up in the suburbs of St. Louis, and attended the University of Missouri-Columbia, where she obtained her Bachelor's in psychology, Master's in elementary school counseling and PhD in counseling psychology. Under the mentorship of Joseph L. White, PhD, the Godfather of Black Psychology; Bryana H. French, PhD; and Norman C. Gysbers, PhD, Tilghman produced publications and presentations at local, state and national conferences. She became a licensed psychologist in the state of California after completing her internship at Colorado State University and her postdoctoral residency at the University of California-San Diego. Currently, Tilghman is a senior staff psychologist at the University of California-Irvine Counseling Center.
Therapeutically, Tilghman integrates both feminist/multicultural and person-centered frameworks. Her goal is to help the college student population embrace an understanding of their identities, be secure in themselves and develop skills to better navigate college and the greater society. Her clinical interests include multicultural counseling, African-American mental health, race-related stress, first-generation college students and disenfranchised students, anxiety and depression, stress management, mindfulness and relaxation, interpersonal relationships, adjustment, identity concerns and emphasizing one's own strengths. She also has a strong passion for working with creative performers (i.e., musicians, actors, dancers, etc.). As a performer, Tilghman enjoys music and songwriting as self-care.
Membership Committee Chair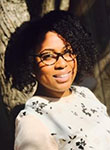 Bianca Jones, PhD
Staff Psychologist
Michael E. DeBakey Veterans Affairs Medical Center
Katy Community Based Outpatient Clinic
750 Westgreen Blvd, Suite 300
Katy, TX 77450
Telephone: 281-578-4600 ext. 11618
Bianca Jones, PhD, is a licensed clinical psychologist. She received her doctoral and master's degree in counseling psychology at the University of Texas at Austin. Jones has eight years of experience in the mental health field and has worked in a variety of settings including psychosocial rehabilitation and recovery centers, Assertive Community Treatment (ACT) teams, psychiatric and residential treatment centers, medical facilities, college counseling centers and private practice. Currently, Jones is employed as a staff psychologist within the Michael E. DeBakey Veteran Affairs Medical Center system in the Houston metro area. Jones maintains a specialty in the psychological experiences of African Americans and addressing cultural issues in therapy. Jones has shared her expertise on issues related to people of color through publishing in peer-reviewed research journals, presenting at local and national conferences and teaching university level classes. Jones has worked alongside mental health clinic directors in two medical centers to successfully achieve accreditation from a renowned international accrediting agency.
Early Career Professional Chair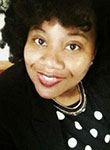 Sarah R. Cunningham, PhD
Postdoctoral Fellow
University of Mississippi Medical Center/Veterans Administration Medical Center Consortium
Jackson, MS
Sarah R. Cunningham, PhD, is a second-year postdoctoral fellow at the nationally recognized University of Mississippi Medical Center/Veterans Administration Medical Center Consortium in Jackson, Miss. Current research endeavors include: (1) improving health-related quality of life and health behaviors that promote wellness among veteran and civilian patients with co-morbid post-traumatic stress disorder (PTSD) and substance use disorder(s) and (2) understanding and reducing barriers to mental health treatment entry and adherence for minority women with histories of trauma and substance use coping. Clinical interests include providing efficacious, culturally appropriate treatment modalities for patients with PTSD and substance use disorder(s) living in historically underserved urban and rural communities. Cunningham graduated Phi Beta Kappa and Magna Cum Laude from Spelman College in Atlanta, Ga., in spring 2010 and began her matriculation at Jackson State University in the PhD in the Clinical Psychology Doctoral Program in fall of 2010. At Jackson State, she was active in a number of entities associated with the university, such as the Southern Institute for Mental Health Advocacy, Research and Training (SMHART), and she also published research with the Addictions Research and Treatment (ART) Laboratory at University of Mississippi Medical Center. Prior to graduating from Jackson State with high marks in August 2015, as part of her doctoral training, Cunningham completed predoctoral internship training at Jesse Brown Veterans Affairs Medical Center in Chicago, where she received general training in health psychology and primary care psychology as well as specialization training in administrative leadership in psychology at Veterans Affairs (VA). Cunningham's career goal is to become a clinical psychologist and clinical investigator with joint appointments at VA and an R1 institution. On a personal note, Cunningham enjoys traveling, cooking and spending time with close family and friends.
Section I Dance Chair

Julii Green, PhD 
Assistant Professor 
CSPP at Alliant International University 
10455 Pomerado Rd. 
San Diego, CA 92131  
Telephone: (858) 635-4847
Julii Green, PhD's clinical and research interests include intimate partner violence and ethnically diverse family relationships; trauma and attachment; multicultural and community psychology; Native American/Alaska Native/& Indigenous mental health and wellness; ethnicity and underage substance use; child welfare system involvement, trauma and resilience; feminism and women's issues (e.g., reproductive justice); cultural competency in mental health services; community-based participatory action research; and mixed methods research.
Other positions Green holds include CE co-chair, APA Div. 35 (Society for the Psychology of Women; dean, Feminist Psychology Institute; and treasurer, APA Div. 35 Section VI (Alaska Native/American Indian/Indigenous Women).
"Still I Rise" Newsletter Editor and Awards Chair

Batsirai Bvunzawabaya, PhD 
Counseling Psychologist   
University of Pennsylvania   
Counseling and Psychological Services (CAPS)   
3624 Market Street, First Floor, West   
Philadelphia, PA 19104-2615   
Telephone: (215) 898-7021  
In addition to providing individual and group therapy, Batsirai Bvunzawabaya, PhD, enjoys participating in training and outreach and prevention services at Counseling and Psychological Services. Bvunzawabaya's clinical interests include body image concerns, sexual trauma, racial and ethnic identity development (particularly with students of African descent) and multicultural and social justice counseling. Research interests include exploring how social justice is incorporated in all aspects of our work, eating concerns and ethics.  

Program Chair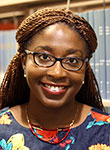 Kerrie G. Wilkins-Yel, PhD
Assistant Professor
Pronouns: she, her, hers
Department of Counseling and Educational Psychology
Indiana University Bloomington
201 N. Rose Avenue, Room 4066
Bloomington, IN 47405-1005
Telephone: 812-856-8114
Website
Kerrie G. Wilkins-Yel, PhD, is an assistant professor at Indiana University in the Department of Counseling and Educational Psychology. She is deeply committed to research that fosters academic persistence and career advancement among women, underrepresented minorities and cross-cultural groups. Wilkins-Yel's current research program investigates the factors that enhance recruitment, retention and career persistence of graduate women of color in science, technology, engineering and mathematics (STEM) disciplines. In addition to research that promotes race and gender equity in STEM, Wilkins-Yel is interested in measurement and scale development. She recently co-developed the STEM – Interpersonal Communication Skills Assessment Battery and has examined the cross-cultural applicability of instruments such as the Personal Globe Inventory (PGI) and the Career Adapt-Ability Scale (CA-AS) in countries such as Italy, Turkey, Trinidad & Tobago and Jamaica.
Historian

Catherine Adams, PsyD 
Associate Psychologist 
South Beach Psychiatric Center 
777 Seaview Avenue 
Staten Island, NY 10305 
Telephone: (917) 692-3970
Catherine Adams, PsyD, is a licensed clinical psychologist at South Beach Psychiatric Center. She works on an inpatient unit for adults with severe and persistent mental illness. Her work obligations include administering and completing psychological assessments, providing supportive counseling to family members of patients, providing psychotherapy to patients on the unit and assuming leadership roles both on the unit and within the psychology department. Her interests include trauma work with adults, adolescents and children; cultural issues; and exploring the experiences of Black women in psychology. In addition to this work, Adams also serves as an alumni mentor for clinical psychology doctoral candidates in the mentorship program at Long Island University-Post and as a member of the board of directors for Leif Ericson Day School.
Student Representative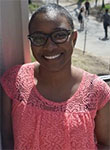 Anahvia T. Moody
Doctoral Student, Counseling Psychology
The University of Tennessee
Department of Psychology
Austin Peay Building
1404 Circle Drive
Knoxville, TN 37996
Anahvia T. Moody is graduate of Harvard University with a BA in psychology and a minor in global health and health policy. Currently, she is a doctoral student in the counseling psychology program at the University of Tennessee-Knoxville. Her research interests are broadly focused on the experience of intersectional oppression and the psychological wellbeing of Black women and girls. More specifically, she is interested in the influence of gendered racial socialization practices on trauma symptomatology of Black women and girls experiencing gendered racial violence. She is deeply invested in helping to bring Black women's issues to the public consciousness, as evidenced by her former, four-year position as a staff writer for her undergraduate institution's first student-run feminist publication, Manifesta, and guest writing in The Huffington Post. Her articles covered a wide range of issues as they relate to Black women and other women of color, such as gendered racism and sexual violence.
Recognizing the importance of community and mentoring among Black women, throughout college she served as a mentor to first year Black female students and a mentor to Black high school girls in the Boston area. Continuing this service, she is currently a member of the University of Tennessee student chapter of the National Association of Colored Women's Clubs, Inc., which works toward equality and the social advancement of Black women through advocacy, education and service. She hopes to continue this work of fostering professional and personal relationships among Black women by advocating for the needs of Black female psychology doctoral students within Div. 35 and graduate training programs as a Graduate Student Committee member of Div. 35, Section I (Psychology of Black Women).