March 2019 Student Poster Award Winners
Qualitative Study Award Winner:
"Spirituality and Daily Impact on Latinx Immigrant Mental Health." Rafael E. Hernandez, Miriam Ortiz, Paola Callejas, Oswaldo Moreno
Introduction: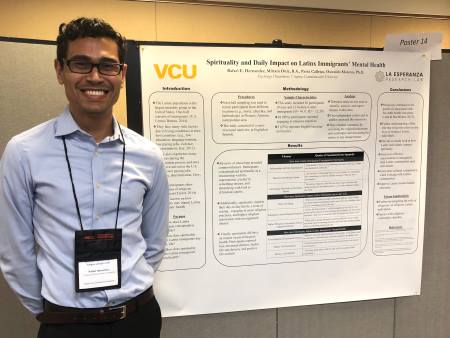 The Latinx population is the largest minority group in the United States. One-half consists of immigrants. (U.S. Census Bureau, 2014). They face many risk factors due to living conditions in their host countries (e.g., low education, language barriers, low paying jobs, violence, discrimination; Gay, 2012).


Quantitative Study Award Winner:
"God Support and Loneliness among Adolescents Transitioning to College." Christopher C. Englemann, Jeffrey P. Bjorck, Cameron Lee
Abstract: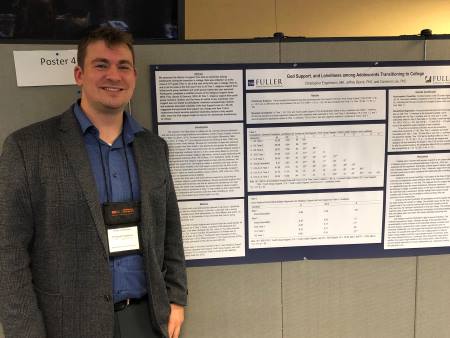 We examined the effects of support from God on loneliness among adolescents during the transition to college. Data was collected: (a) at the close of twelfth grade (Time 1), (b) at the start of the first year in college (Time 2) and (c) at the close of the first year (Time 3). At Time 1, religious support from fellow youth group members and youth group leaders was also assessed. Participants completed a modified version of the Religious Support Sclae (RSS; Fiala, Bjorck, & Gorsuch, 2002). At Time 1, religious support from youth group members, leaders and God were all related to loneliness. God support was not related to participants' loneliness prospectively, however, and moderate test-retest reliability of the God Support scale (rs = .50-.65) suggested that perceived God support can change over time. Future researchers should examine potential moderating factors to help explain other ways that God support might be relevant for adolescents transitioning to college.