In This Issue
China delegation 2012
Topics and methods of research, vocabulary and conceptual issues, and forming a social support network of like-minded academicians are all ways that we envision a continued relationship
By
Kevin L. Ladd, PhD
From 10–14 July 2012, an official delegation from Division 36 travelled to Beijing, China. We were honored to participate by invitation in a conference hosted by Renmin University of China and Minzu University of China. The primary goal of this meeting was to establish contacts between these universities and our Division. Our Division was identified as an optimal group for interaction due to its long history within APA and in recognition of our non-sectarian approach to systematic research in the area of religion and spirituality.
We began the event with an evening of welcoming speeches from distinguished scholars from the two universities as well as representatives of the Communist Party of China and the Journal of Chinese Religions. In reciprocation, we delivered official greetings from our Division President (Chris Boyatzis) and from APA's CEO (Norman Anderson) and President (Suzanne Bennett-Johnson).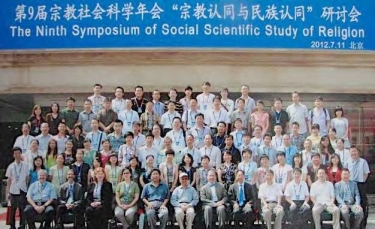 The remainder of the conference days were spent with the five Chinese and five American scholars sharing some of their most recent work as well as ideas for future collaborations. Of particular interest, one of the Chinese speakers (LIU Jitong) noted that across the next few years, the Chinese government desires to expand social work care in their nation. As a part of this expansion, they wish to have workers develop sensitivity for issues concerning belief systems. They are collaborating with several social work training organizations in the US. Given the specialization of many of our Division's members, it is likely that we will be able to be of assistance as the plans progress.
Immediately following the conference, our Chinese hosts (WEI Dedong and ZHU Caifang, both of Renmin University of China) provided us with guided tours of three significant sites in Beijing. At the Yong He Gong Lamasery, we met with the Abbot of this largest Tibetan Buddhist monastery to discuss the nature of our work and the types of questions we explore as psychologists. Our second stop was the oldest Catholic church in the city (ca. 1600). During this visit, we were privileged to have a conversation with the Secretary General of the Beijing Diocese. We rounded out this day with another conversation with Taoist scholars at the White Cloud monastery.
From the conference exchanges and the conversations at the various sites in Beijing, it was clear that the members of our Division and the faculty members of the Chinese universities have much to share with each other. Topics and methods of research, vocabulary and conceptual issues, and forming a social support network of like-minded academicians are all ways that we envision a continued relationship.
With regard to specific outcomes, the papers presented are all being translated into Mandarin for publication through the Renmin University of China Press. This process of translation will make Division 36 work more readily available to other Chinese scholars and we anticipate good interactions to follow.
What may be of most interest to Division members is to know that Renmin University of China is exploring opportunities for engaging in the teaching of short-term courses. As more details become available, we will be sure to pass them along to the membership.
The delegation (Bill Hathaway, Kevin L. Ladd, Daniel N. McIntosh, Jo-Ann Tsang, & Amy Wachholtz) wishes to take this opportunity to thank Division 36 for their partial financial support of this meeting. The hosts graciously supplied our rooms and meals while we were there; delegates covered their own transportation costs. We look forward to continuing efforts on behalf of Division 36 with our Chinese counterparts that will make the most of this investment in international relations.