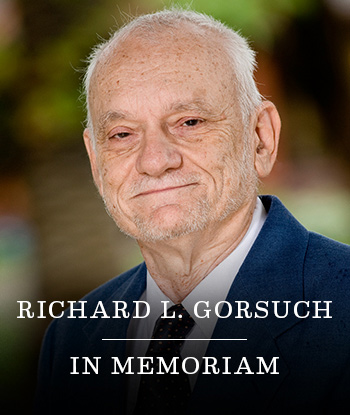 Richard Lee Gorsuch
May 14, 1937-Feb. 14, 2016
Richard L. Gorsuch was an exceptional individual and professional. He was also president of APA Div. 36 during its early years. Gorsuch contributed much to high standards of methodology in the psychology of religion (forming one-third of the Spilka-Hood-Gorsuch 1985 trio) as the modern development of the field was just getting off the ground and was known for his especially tough-minded statistical rigor.  He even asked (and advised) journal editors to send any articles submitted that used factor analysis to him for review.  He was known to work out statistical equations unintelligible to us with mere pencil and paper.  His mind did such things like none other.
He spanned the range from the practical to the abstract theoretical in his life.  He modified automobiles to create vehicles with special potential. He was also a camper, outdoorsman, sailor, traveler and more.   His last years saw him establish a business using the UniMult computer programs he wrote.  These demonstrated his manifold skills in multivariate analyses and their application to the psychological study of religious thinking and behavior.  
About 60 years ago, he was one of two or three scholars to introduce the scientific phase of a rigorous modern psychology of religion to social and behavioral scientists.  Prior to this time such efforts were attempted by religionists sensitive to relevant psychosocial factors related to religious and spiritual issues.  Unhappily they were not schooled in the necessary analytical methods for such work. 
Gorsuch earned his BA degree at Texas Christian University (TCU), an MDiv at Vanderbilt University and finally a PhD degree at the University of Illinois.  His doctoral work was directed by Raymond Cattell, a noted and statistically sophisticated psychologist.  As an ordained cleric for five years for the Disciples of Christ, Gorsuch ministered to a variety of small churches.  
Gorsuch's doctoral training stressed the then little-known but highly abstract and mathematically demanding techniques of multivariate analysis.  He soon wrote two editions of probably the most readable text on factor analysis in the field.  A source of distress to him was the application of such techniques with considerably less understanding than they merited.  In another effort to reduce such failings, he developed his UniMult system which went through repeated revisions to both counter possible user failings and also provide greater comprehension of the newer methods that he developed.  This became a commercial venture with himself as the CEO of the associated business.  His unusual skill was broadly recognized and he was invited to join the limited membership of the Society for Multivariate Experimental Psychology.  This exceptionality also was realized by his advancement to fellowship status in APA and the Society for the Scientific Study of Religion.  His considerable reputation was recently perceived by the Cambridge International Biographical Center publication in its volume 2000, "Outstanding Scholars of the 21st Century."  
Gorsuch was a core figure in the psychology of religion.  He wrote and contributed to more than 20 volumes and more than 130 professional articles.  He wanted to make others, particularly students, think about unresolved ideas and questions. His volume "The Nature of Man: A Social Psychological Perspective" asks fundamental questions that tie ethics and values to social science and philosophy.  He modestly terms this a descriptive rather than explanatory effort.  Continuing his inclination to open psychology's door to controversy, he confronted the still unresolved matter of the concept of spirituality in his work "The Integration of Psychology and Spirituality." Gorsuch also presented innumerable papers and symposia at professional meetings. Needless to say, he greatly valued the potentiality of resolving controversy.
Gorsuch was born on May 14, 1937, in Wayne, Michigan, the younger of two boys. He continually sought new experiences and moved about considerably. In the United States, he lived in Alaska, Illinois, Tennessee, Texas and California.  As a Boy Scout, he was "Mayor for a Day" in Anchorage, Alaska.  Much later for a number of years he conducted missionary work in Southeast Asia. While an undergraduate at TCU, he met his wife Sylvia to whom he was married for 54 years.  They had two children Eric and Kay and also, while in Fort Worth, Texas, cared for three foster children.
Gorsuch wanted to know and experience the world physically and intellectually.  Overseas, he traveled from England and Eastern Europe to South Korea.  With a 40-foot trailer, he wandered all over the United States.   He was never without some mentally challenging project.  He had to learn and gain new knowledge, much of which he created himself.
Gorsuch's life and creativity are models to which we can all aspire.  He was a truly a rare scholar and remains a model for the rest of us.