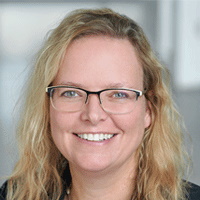 Welcome to the website of APA Div. 37 (Society for Child and Family Policy and Practice). Our organization brings together psychologists and other professionals who are committed to improving the lives of children and families, whether that be through clinical practice, research, or policy change. 
If the pandemic has taught us anything, it is the crucial role that families and friends play in supporting our mental and physical health. The pandemic has revealed many levels of inequity and injustice that have yet to be addressed. This past year has also taught us the importance of raising our collective voices to protest inequities and to bring about social change. The Society for Child and Family Policy and Practice promotes the dissemination and application of research evidence as a means of informing individual-, community-, and policy-level change.  
I hope you will consider joining the society—membership is only $37 each year for APA members and $17 for students. 
I also encourage you to participate in the society in as many ways that suit your interests:
It is my honor to serve the society and to work with the amazing members of our Executive Committee. We will work together to bring attention to the key social problems facing children and families and to identifying and promoting solutions to them.
– Liz Gershoff, PhD, 2021 president, Div. 37 (Society for Child and Family Policy and Practice)