Member-at-Large
Highlights from my last year as member-at-large…and a welcome to the new ECP MAL!
My last column as the Div. 37 early career professionals member-at-large.
By
Christy Olezeski, PhD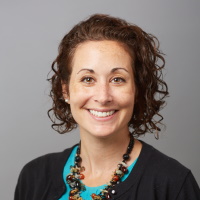 Greetings Div. 37 Early Career Professionals,

I am excited to announce that we have embarked on another year of the Div. 37 Mentor Match program! We successfully matched nine pairs of mentors/mentees, and plan to learn more about their experiences throughout the coming year. Thank you to our Div. 37 fellows who really stepped up to be a part of this match project.

We also opened our ECP Happy Hour this year at the APA convention to all division members. This was a successful event where many folks were able to mingle together and discuss research ideas, potential collaborations, and above all, network with one another. Thank you to everyone who came out to support this event at Woven & Bound. 
Congratulations go out to Adam Weissman, PhD, for receiving the Div. 37 ECP Service Award! Weissman is the founder and director of the Child & Family Institute (CFI), which was established in 2011 as the very first "clinical dissemination practice" (CDP). The Child & Family Institute was founded on four core unifying missions: 1) student training; 2) community outreach and advocacy; 3) interdisciplinary behavioral health; and 4) multi-state, multi-site clinical dissemination — all with a common goal of raising awareness and integrating local/regional resources and collaborations to disseminate best practices/evidence-based treatments (EBTs) for youth across the eastern U.S. He has developed a unique "Clinical Practice Dissemination and Implementation" (CPDI) model, rooted in these four missions. Weissman currently has offices in New York, New Jersey, Connecticut and Florida. He is also the current president of the Westchester Psychological Association, treasurer of the NYS Psychological Association, the president-elect of the NYS Psychological Association CBT Division and one of the chairs of the NYC CBT Association. Congratulations, Dr. Weissman!
Finally, I would like to thank all of my colleagues at Div. 37 for an amazing three years. As I started to write this column, I realized it is my last column as the early career professionals member-at-large for Div. 37. It's incredible to think how quickly three years have passed! I would like to thank our ECP Committee for their assistance and hard work these past three years: Angelique Day, Kristi Geissler, Becca Kanine, Jennifer Lovell, Helen Milojevich and Sonia Rubens, thank you, thank you, thank you! It has been wonderful to work with each of you, and to see your professional and personal lives grow and flourish! I would also like to welcome Paul Shawler of the University of Oklahoma, who will be taking on the ECP member-at-large role for Div. 37 from 2020 to 2022. Please contact Paul if you would like to get more involved in Div. 37 as an ECP.
Thank you to the division members for all of your support during my tenure, and I wish everyone all the best! Keep fighting the good fight and remember, "You never know until you ask!"