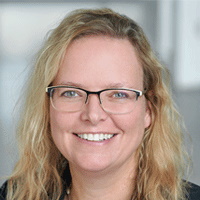 I am delighted that 10 amazing members of the division have volunteered to run for election for our five open positions. Please take a moment to learn about each of the candidates. You will be contacted by APA later this spring with your opportunity to vote.

If you have any questions about this year's election, please feel free to contact me via email.
Slate of candidates for election
President-elect (2023)/president (2024)/past president (2025)
The duties of the President include setting the priorities of the division for the year, presiding at all meetings of the division, serving as chair of the Executive Committee, supervising the affairs of the division, and coordinating the activities of the division with those of other divisions and APA.
Colleen Cullinan, PhD
Pediatric psychologist
Nemours Children's Health
Wilmington, Delaware
My name is Colleen Cullinan, and I would be honored to serve as president of Division 37. We are living and working in a time like no other. The children, families, communities, and organizations we serve are navigating a period that continues to be marked by instability and injustice. I believe we have the scientific and social justice tools needed to spark change. If elected, my focus would be to promote inclusion, diversity, and equity within the division and to mobilize new membership, enhance virtual education, and measure impact. I have a growing track record of service. I am a pediatric psychologist at Nemours Children's Health, Delaware and an assistant clinical professor of pediatrics at Sidney Kimmel Medical College, Thomas Jefferson University. My presentation record centers on prevention in integrated primary care and experiential cultural humility training in healthcare. 
Most recently, I have co-led training webinars funded by the Society of Pediatric Psychology ("Supporting Pediatric Psychology with the Complexities of Race, Racism, and Racial Healing") and the American Psychological Association (Awareness, Bravery, and Commitment: Building Cultural Humility for Integrated Care Providers). I am a cofounder of the DREAM IPC conference, and I have held leadership positions in APA's Divisions 37 and 54. I am the recipient of the Association of Psychology Postdoctoral and Internship Centers Biennial Award for Excellence in Diversity Training in 2021. Throughout my career, my professional values and advocacy efforts have emphasized breaking down silos, collaborating across disciplines, and centering the voices of the vulnerable.
Paula Fite, PhD
Professor of psychology and applied behavioral science
University of Kansas
Lawrence, Kansas
It is truly a privilege to be considered for the Division 37 president-elect position. I have thoroughly enjoyed being a part of Division 37 over the years, including serving as the member-at-large for early career members from 2014 through 2016 and the treasurer of the board from 2018 through 2020. If elected as president, I would strive to continue to push the use of psychological science to inform policy and practice decisions for children and families. This includes emphasizing the need to target resources and services at not just the federal level, but also the local and state level. I have seen through my own work (which examines the etiology and developmental progression of child and adolescent problem behavior) that research can directly impact how various agencies, such as schools and detention facilities, make decisions and implement policies pertaining to youth. 
Additionally, if elected president, I would like to further strengthen our relationships with other divisions who have similar interests in improving the lives of children and families to provide additional resources to our members and the families we all serve. Finally, as a dean's professor in the Clinical Child Psychology Program at the University of Kansas, I also appreciate the value and input of the next generation of professionals. I would strive to actively involve students and early career professionals in division activities.
Secretary 
The secretary of the division prepares materials for the midwinter and convention meetings of the Executive Board, takes minutes from those meetings, and preserves records for the division.
Yoojin Chae, PhD
Associate professor
Department of human development and family sciences
Texas Tech University
Lubbock, Texas
I am honored by the nomination for secretary of APA Division 37 (Society for Child and Family Policy and Practice). I am associate professor of human development and family sciences at Texas Tech University. I earned my PhD in human development from Cornell University and completed postdoctoral training at the University of California, Davis. I have been devoted to a wide range of research on child development. My research emphasis and educational background primarily concern children's eyewitness ability, emotion and memory, trauma and memory, attachment, parent-child reminiscing, and child forensic interviewing. In addition to my research activities, I have held several leadership positions on the Executive Committee of Division 37's Section on Child Maltreatment since 2016, including member-at-large and treasurer. I am also serving on the Division 7 (Developmental Psychology) Executive Committee as treasurer. Through these leadership experiences, I have had the opportunity to collaborate with colleagues on applying developmental science to policies and practices that facilitate positive development of children and families. 
I would love to apply the extent of my knowledge, experience, and energy to further the goals of Division 37 in contributing to social policy on behalf of children and families. I am enthusiastic about providing scientific evidence for professionals who work with children and families. If elected, I will give my full effort to fulfill the mission of our division through my research, mentoring, and public engagement. It would be my privilege to be on the Executive Committee of Division 37.
Christy Olezeski, PhD
Associate professor
Department of psychiatry
Yale School of Medicine
New Haven, Connecticut
It is an honor to be considered for Division 37 secretary. I was fortunate to serve as the division member-at-large for early career psychologists from 2017 to 2019 and I am delighted to be able to continue to serve as the division historian. Presently, I am an associate professor at the Yale School of Medicine in the department of psychiatry. I am also the director and cofounder of the Yale Pediatric Gender Program, where we offer holistic care to transgender and gender expansive youth 3–25 and their families. 
As a clinician-educator, much of my work is patient facing, while also providing ample educational and research opportunities to students. As an advocate for the rights of individuals (specifically children and adolescents) who have been marginalized or ignored by systems of power, a great deal of my work has also focused on meaningful policy change. Therefore, Division 37 has been a wonderful space to interact with like-minded psychologists who are working for structural change. I hope to continue to grow connections within the division, learn from others and help to create substantial change through my service to the division as secretary.
Member-at-large: Advocacy 
The member-at-large for advocacy identifies priority topics for the division's advocacy efforts and organizes related activities, including Congressional briefings, webinars, and training activities.
Sonia Rubens, PhD
Assistant professor
Department of counseling psychology
Santa Clara University
Santa Clara, California
It would be an honor to serve in the role of member-at-large for advocacy. Previously, I served as the division's member-at-large for communication and technology from 2016–2020. While on the Board, I helped launch a redesign of the website and brought back/expanded the division's social media presence. I also served on the early career psychologists board from 2016–2019, assisting in developing the division's mentoring program and contributing to initiatives related to dissemination of division ECP members' work. I am currently a member of the DREAM Sig executive board. I truly believe in the work being done by Division 37 and I would love to aid in the division's advocacy efforts in a leadership capacity. I am an assistant professor of counseling psychology at Santa Clara University. I completed my doctorate in clinical child psychology at the University of Kansas, with a predoctoral internship at The Children's Hospital of Philadelphia and a postdoctoral fellowship at Dana Farber Cancer Institute. I currently teach master's level classes and conduct research on the intersection between sleep and mental health among youth exposed to trauma. I am also a licensed psychologist and serve as a sleep expert for the Pediatric Sleep Council. 
Thank you for considering me for this position on the Division 37 board.
W. Douglas Tynan, PhD, ABPP
Professor of pediatrics
Sidney Kimmel Medical College
Thomas Jefferson University
Philadelphia, Pennsylvania
I have had had more than 30 years' experience at Cumberland Hospital, Children National Medical Center and AI duPont Hospital for Children in both primary care and diabetes integrated care clinics. At CNMC we developed one of the first comprehensive psychosocial program for children with diabetes and at AI duPont our team produced a large integrated primary care program to serve low-income communities. In my last four years at AI duPont I directed the health promotion programs statewide that were funded by Nemours Foundation. In addition, I have served on State of Delaware and federal HHS advisory boards on health care reform, early childhood programs and the committee for the evaluation of Head Start. I was a founding coeditor of Clinical Practice in Pediatric Psychology and the founding director of Integrated Health Care at the American Psychological Association. 
My work has focused on the coordination of health, mental health, education, and social services for children within and across systems.  During that time, I have realized the importance of psychology for other professions as well as the need for psychologists in our systems. I have always emphasized proactively recommending positive solutions to problems and pointing out where psychology has been successful. For example, if we are to truly eliminate corporal punishment for children, we need to be promoting and funding effective parent skills programs and positive approaches for behavioral management in schools. As member-at-large for advocacy in Division 37, I hope to bring that approach to addressing the needs of children and families.
Council representative 
The division's council representative attends and participates in all APA Council of Representatives meetings (two per year) and any meetings of caucuses related to the division. The representative supports motions and initiatives proposed at Council that are consistent with the Division's goals and reports back to the Executive Board about actions taking by Council.
Cindy Miller-Perrin, PhD
Distinguished professor of psychology
Pepperdine University
Malibu, California
I have been an active member of APA for 28 years, previously serving on the Board of Directors of Division 37 and the Section on Child Maltreatment, a combined 20 years in various roles including president of both the division and section. I also served as cochair of the Interdivisional Task Force on Physical Punishment of Children, helping to generate the Resolution on Physical Punishment of Children adopted by Council in February 2019.  I am a fellow of APA and I served in APA governance as a member and chairperson of the Committee on Division/APA Relations and as a member of the Fellows Committee. I am a clinical psychologist and distinguished professor of psychology at Pepperdine University. I have authored or coauthored numerous journal articles and five books including Violence and Maltreatment in Intimate Relationships (with R. Perrin & C. Renzetti, 2018, 2021), Family Violence Across the Lifespan (with O. Barnett & R. Perrin, 1997, 2005, 2011), Child Maltreatment (with R. Perrin, 1999, 2007, 2013), Child Sexual Abuse: Sharing the Responsibility (with S. Wurtele, 1992), and Faith from a Positive Psychology Perspective (with E. Mancuso, 2015). I serve on the Editorial Boards of a number of professional publications, including Advances in Child and Family Policy and Practice. Throughout my career, I have been active in advocating for policy change to improve the lives of children, youth, and families. 
I hope to continue to bring strong administrative and leadership skills to both the division and APA as council representative for Division 37.
Erlanger Turner, PhD
Assistant professor of psychology
Pepperdine University
Malibu, California
I'm Erlanger "Earl" Turner, PhD, an assistant professor at Pepperdine University. I have worked as a licensed child psychologist and taught in academic medical centers. My research focuses on mental health among racial and ethnic communities, access to care, and the impact of race-based stress on African Americans. As a psychologist, I have substantial leadership experience. Most recently, I had the honor to serve as the 2020 President of Division 37. I have served as chair of APA's Board for the Advancement of Psychology in the Public Interest, on APA's Membership Board, and on Division 53's Board of Directors as chair of the Diversity Committee and member-at-large. Additionally, I have served on APA's Children's Mental Health workgroup, which drafted the Child and Adolescent Mental and Behavioral Health resolution, and on APA's Equity, Diversity, and Inclusion Workgroup which assisted with developing it's EDI Framework. Given my expertise, I was appointed by the U.S. Department of Health and Human Services to serve on the Behavioral Health National Project Advisory Committee to develop an e-learning program for working with diverse clients. In 2021, I was awarded the Emerging Professionals—Contributions to Service Award by APA Division 45 for my commitment to the profession.
I bring an understanding of historical issues within the field and a fresh perspective to important societal issues impacting diverse families. I humbly ask your vote to bring my experience to serve as the Division 37 Council Representative to help advance our profession.
Learn more about me on my website.
Member-at-large: Early career professionals
The member-at-large: early career represents the perspectives of early career psychologist to the Executive Board. They organize activities and networking events for early career members of the division.
Cynthia Brown, PhD
Assistant professor and director of clinical training
Applied psychological science program school of graduate psychology
Pacific University
Hillsboro, Oregon
I am an assistant professor in the school of graduate psychology at Pacific University where also serves as director of clinical training for the applied psychological sciences program. I received my PhD and MA degrees in clinical child psychology from the University of Missouri and my bachelor's degree in psychology from the University of Kansas. I completed my predoctoral internship and postdoctoral fellowship at Stony Brook University. My research interests include the investigation of risk factors for aggressive and other disruptive behaviors in youths with autism spectrum disorder and the development and evaluation of family-based treatments for serious mental health problems, especially externalizing disorders, in children and adolescents. I have served as a consultant to mental health provider agencies on the delivery of evidence-based treatment to youths and families in community settings. Specifically, I have expertise in multisystemic therapy as a clinician, supervisor, and consultant. 
As a new professional, I am excited to find community with colleagues who share my passion for family-based work, advocacy efforts for children and families, and education, all through the lens of social justice. While finishing my training during COVID-19 taught me many lessons, the importance of being intentional in growing connections with my teammates is chief among them. In serving as your early career member-at-large, I hope to continue growing those connections by finding my own professional "home" and to help other early career folks do the same. It would be an honor to serve in this position.
Amy Rinner, PhD,
Postdoctoral fellow
Louisiana State University Health Sciences Center
New Orleans, Louisiana
I am presently a postdoctoral fellow at Louisiana State University Health Sciences Center in New Orleans, where I have hopeful plans to remain on faculty beyond this summer, once grant funding is finalized for positions. My primary area of passion and work is in infant mental health; my work also has heavy emphasis on trauma, parenting, and the perinatal period of development. I am particularly passionate about our children and families involved in the foster care system. I am a member of LSU's Infant Team, a multidisciplinary team which consults with the local courts to advocate for children's best interests, reducing time to permanency, and working to institute systemic change where disproportionate numbers of children of color are brought into state's custody. 
I believe joining the Division 37 Board will allow me to not only continue this work which I am most passionate about, but to continue to spread awareness, bring together like-minded advocates, and grow our number of involved early career professionals.