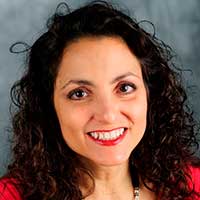 I am humbled to serve as president for the amazing group of dedicated professionals belonging to the Society for Child and Family Policy and Practice. For many years, I have been proud to affiliate with the division that seeks to advocate for policies that support children, youth, and families. Our members accomplish this vital work by serving children and families directly, by conducting innovative research to inform best practices, and/or by promoting for policies and practices that benefit children and families at the local, state, and federal level. Adversities undermine short- and long-term child and family functioning, and many of those adversities can be traced to systemic inequities in macrolevel systems funded by the public.
My presidential theme for 2022 is "Championing a Safe, Inclusive World for All Children, Youth, and Families: Moving toward Resilience from a Pandemic." Children and families continue to confront the evolving challenges from the COVID-19 pandemic which have unfolded against the backdrop of systemic racism and inequities—a historic syndemic. Abundant data has emerged on the physical, mental and spiritual toll on families during these challenging times, and the division is committed to supporting children and families individually and in the communities within which they live.
The division's work is more vital than ever: this era has magnified the need to advocate vigorously for long-delayed social justice, to encourage policies that support effective and safe public education and accessible child care, and to promote practices that ensure equity in employment, housing, and health care access—just a few of the critical issues confronting families every day. We have all witnessed how the closure of child cares and schools dramatically impacted children and cascaded to undermine the entire economy and erode years of progress in women participating in the workforce. The crushing weight of pandemic death toll has compounded the mental and physical health disparities already apparent in this country prepandemic, with the burden of this syndemic disproportionately borne by communities of color. All of these issues highlight that the work and mission of Division 37 and its members is broad and relevant to the daily lives of children and families everywhere. We can be part of the force moving children and families toward resilience. To borrow a phrase from Margaret Mead, "Never doubt that a small group of thoughtful committed citizens can change the world; indeed, it's the only thing that ever has."
If you are looking for venues to become more engaged as one of these citizens, you can contribute to our mission in myriad ways: If you share our commitment to social justice, join our special interest group, Diverse Racial Ethnic and Multicultural (DREAM) Special Interest Group and check out our anti-racism resources. DREAM-SIG offers periodic free webinars that you are welcome to join. If you are passionate about research, policy, and practice in the area of child maltreatment, consider the Section on Child Maltreatment. Or volunteer or nominate yourself for a position on our Executive Committee (we have periodic nominations and calls on our listserv). If you want to share ideas relevant to the mission and have a talent for writing, consider submitting to our multiple publication outlets: our journal that is free for members, Advances in Child and Family Policy and Practice, a topical essay for this division newsletter, The Advocate or the Section newsletter, Section on Child Maltreatment Newsletter or a blog entry for the informational website we cosponsor, InfoAboutKids.
I am honored to work alongside the Executive Committee who selflessly contribute their expertise and time to advance the division's mission. Together, we will work to promote the causes our membership recognizes as vital for the health and wellbeing of children and families worldwide. I hope you everyone will join forces with this group toward this cause.
If you want to know more about what matters to Division 37 and hear about our news, follow us on social media. You can find us on: