Featured Article
In memoriam: Penelope K. Trickett, 73
The section honors the life of a leader in child maltreatment research.
By
Jennie Noll
,
Elizabeth Susman
, and
Ferol Mennon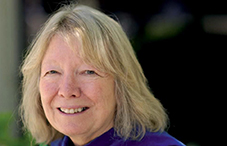 It is with sadness that we announce the death of Penelope (Penny) Trickett, the David Lawrence Stein/Violet Goldberg Sachs Professor of Mental Health at the University of Southern California School of Social Work, who died July 15, 2016, in San Pedro, California, of complications from heart failure. She was 73 years old.
The daughter of Nathaniel and Marjorie Keith, Penny was born in New York city and came to Washington, D.C., as a young child. She graduated from the Hawthorne School in Washington, D.C., and Bryn Mawr College with a BS in psychology. Later she received a PhD from the New School for Social Research, New York. She is survived by two daughters, Jennifer Loryn Trickett and Katechen Alyssa Trickett, both of San Pedro, Calif. Her husband, John Horn, died in 2006.
She began her research career as a research associate in the department of psychology at Yale University in 1976, later becoming a senior fellow at the National Institute of Mental Health in Bethesda, Md. She subsequently joined the psychology department faculty at the University of Southern California as an associate research professor and later as a professor and David Lawrence Stein/Violet Goldberg Sachs Professor of Mental Health in the School of Social Work where she served for 27 years. Her career was illustrious and she was among the first to conduct research on the consequences of child abuse and/or neglect.
Penny was highly regarded for her groundbreaking research monitoring the developmental trajectories of girls who experienced sexual abuse. Now in its 30th year when these women are entering their 40s, this study has documented that sexual abuse is associated with earlier onsets of puberty, cognitive deficits, maladaptive sexual development, high rates of obesity, more major illnesses, psychiatric problems, revictimization, teen motherhood, and domestic violence. Being the first study of its kind to document intergenerational transmission, this study also showed that offspring born to these abused mothers were at increased risk for child maltreatment and overall maldevelopment. A unique aspect of her studies was that she combined biomarkers of stress, specifically cortisol, with dimensions of psychological development which earned Penny and her team the 2012 Excellence in Research Award from the Society for Social Work and Research. This paper was instrumental in reconciling long-standing discrepancies across the child and adult literatures by demonstrating that early over activation of the stress response system can manifest in later-life attenuated stress-response—a condition tied to antisocial behaviors, post-traumatic stress disorder, and a number of long-term physical health problems.
Penny was also principal investigator of another longitudinal study where many of the mechanisms and consequences of her 30-year study are being explicated with greater precision, including:
Endocrine-autonomic asymmetry.
Predicting mental health effects over time.
The impact of early puberty on later development.
Characteristics of caregivers—such as custody arrangements and depression—that impact victim well-being.
Being some of the first long-term research to document the deleterious consequences of child abuse, the impact of Penny's work is far-reaching and is used to influence child welfare policy decisions, research funding priorities, and prevention and treatment appropriations. In fact, her passion for impacting policy led her to design an annual policy immersion experience in Washington, D.C., for master of social work students—the first of its kind for USC's School of Social Work.
She served as a member and later president of the American Psychological Association's Society for Child and Family Policy and Practice Section on Child Maltreatment. Penny was also active in the Society for Research on Child Development, Society for Research on Adolescents, American Association for Psychological Sciences, Society for Social Work and Research, and American Professional Society on the Abuse of Children. Among her many accolades were several federally funded research grants—including the Independent Scientist Award from the National Institute of Mental Health for her work, "The Developmental Consequences of Child Abuse and Violence"—and the Sterling C. Franklin Faculty Award for Research and Scholarship from the School of Social Work.
We have lost a magnificent friend, colleague, mother, mentor, scholar and advocate to maltreated children throughout the world. She was so loved by all who came into her life. Her elegance, modesty and gentle spirit are sorely missed.
In lieu of flowers, the family requests donations be made in Trickett's name to the South Bay Center for Counseling Preventative and Aftercare Program at 540 N. Marine Avenue, Wilmington, CA 90744.
Because of Trickett's love for her gardens, family, friends, and good food and wine, a private memorial service will be held at her home in Rancho Palos Verdes, California, at a later date.