Early Career Psychologist Column
Spotlight on early career psychologists
Elizabeth Reichert, PhD, our spotlighted ECP, is a great role model for members interested in a clinical career path in a medical school setting.
By
Elizabeth Reichert, PhD
This column spotlights successful Early Career Psychologists (ECPs) with a variety of career paths to help graduate students, interns and early ECPs make wise training and career choices.

Elizabeth Reichert, PhD, has been a clinical instructor at Stanford School of Medicine, Department of Psychiatry and Behavioral Sciences, since October 2014. Since 2015, she also serves as the director of clinical programs in the Early Life Stress and Pediatric Anxiety Program (ELSPAP) Clinic. In her role at Stanford, she provides direct clinical services to children and their families (about 50 percent of her time), provides training and supervision to a number of trainees (i.e., psychiatry fellows, postdoctoral psychology fellows, practicum students), conducts research and completes a variety of administrative tasks (e.g., creating weekly didactic schedule, managing the clinic wait list). Her area of focus is anxiety and trauma, but clinically she may also see children with other presentations (e.g., disruptive behaviors). Within the clinical setting, she utilizes Cognitive Behavioral Therapy (CBT), Trauma-Focused Cognitive Behavioral Therapy (TF-CBT), Parent-Child Interaction Therapy (PCIT), and most recently Cue Centered Therapy (CCT) for youth exposed to chronic trauma. Reichert's current research with the ELSPAP team includes a clinical outcome study for families aimed at integrating research-driven assessment practices into clinical care and streamlining the delivery of effective care to children and families that struggle with anxiety, early life stress and trauma. Reichert also works with the ELSPAP research team on efforts to disseminate CCT for youth experiencing posttraumatic symptoms. CCT, developed by Victor Carrión, MD, is an empirically-supported treatment for youth exposed to chronic trauma. Currently, in collaboration with Stanford Youth Solutions, the team is involved in a three-year randomized control trial examining CCT, TF-CBT and treatment as usual, aimed at determining child characteristics, phases of treatment, and neuro-markers that may be predictors of better treatment outcomes. Judy Cohen, MD, one of the treatment developers for TF-CBT, is a consultant on this project as well. Reichert loves the opportunity to conduct research in her role, and has also been excited to bring more outcome research into clinical care at Stanford.
Reichert graduated with a PhD in clinical psychology from the University of Rhode Island in 2013. For students who are considering graduate school, she encourages taking time off after undergraduate to get more experience. This will help students know if psychology, and their specific interests, are really what they want to do. Getting a PhD is a "huge commitment" of time and money, and it is important to know that it is a career you want. A year off can be spent getting more research experience, for example, as a research assistant or coordinator. A year-long academic sabbatical can also provide the opportunity for other experiences relevant to the student's interest, such as working in a non-profit. Additional experience may help clarify the type of degree you want (e.g., PhD vs. PsyD).
Reichert worked as a research coordinator in the area of pediatric obsessive compulsive disorder (OCD) prior to applying for graduate school. This helped solidify that she wanted research to be a part of her career, and that she wanted to focus on children and anxiety. With that in mind, she picked a clinical PhD program with a child track and a mentor focused on anxiety.
Following graduate school, Reichert completed an APA-accredited internship (2012-2013) and postdoctoral fellowship (2013-2014) at the UC Davis CAARE Center in Sacramento. She selected this internship because it had a specialized focus on trauma while also providing some general clinical experiences to help make her a well-grounded clinician. Her post-doctoral fellowship year was spent honing specific child maltreatment skills. For someone interested in a similar career path, Reichert recommends keeping an open mind in graduate school to get exposure to a variety of clinical populations, especially if the goal is to work in an academic medical center. Whether or not you want to specialize in a certain area (e.g., trauma), it is also important to be "well-rounded." Children do not usually present with only one need or disorder, and most positions require clinical competency across the range of childhood disorders. Reichert recalls a strong interest in childhood trauma during graduate school, but few clinical opportunities to work with this population. As access was limited, she gained experience working with adults with a history of trauma and established her line of research examining the effects of childhood maltreatment. This served to inform her clinical work, and she later sought more specialized clinical training working with traumatized youth.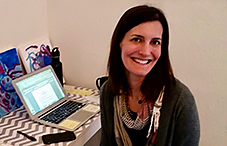 Reichert encourages students to reevaluate their "story" during graduate school - What have you done so far and why? Where are you now? Where do you want to go? It helps to be open to new experiences, and the time to try new things is during graduate school and internship. She adds that it is "ok to change your mind," as students may realize they prefer working with other populations they were not drawn to initially. Reichert looks back at some of her own experiences and believes that she got a lot out of experiences that did not fit perfectly with what she does now. For example, while her focus is children, she had several clinical rotations in graduate school working with adults. She has found these experiences to be integral to her work with parents, both in her ability to understand and connect, as well as her ability to identify any service needs in parents. This experience has been especially helpful when considering intergenerational trauma; something that frequently comes up when she works with traumatized children.
To be competitive for a medical school position, it is important to have "both quality clinical experiences as well as a solid research background." Reichert shares that it helps to have an empirical dissertation and experience with the publication process when looking for a job. Given the field's recent emphasis on evidence-based treatments, it is also "competitive to have training or certification in one or more evidence-based treatments." Another key to success is to connect with a number of mentors throughout your training. It helps to identify mentors who have career paths that align with your longer-term goals who can provide support and guidance along with way. Mentors can also help to identify local opportunities and resources, and steer you in the right direction. Having several mentors in graduate school can be a powerful experience, and as an ECP, Reichert finds her mentors continue to play an integral role.
Some of the things Reichert loves as a clinical psychologist include the variety of opportunities, tasks, and roles that are available, especially within a medical school setting. She enjoys collaborating with different departments, as well as other community agencies and schools. Reichert is also passionate about training and mentoring others, and has established a positive relationship with the PsyD program at Palo Alto University. She frequently provides informal mentoring and more formal mentorship, such as serving on dissertation committees. Reichert believes that the ability to have multiple roles makes it easy to stay passionate about her career path over time. It also helps her to "stay connected" with graduate training, as she finds mentoring and supervising rewarding. Reichert's passion for training is also appreciated by students. For example, she earned an award for excellence in clinical supervision in 2016 from the Stanford Psychiatry Fellowship Training Program.
While Reichert enjoys her multiple roles, it can also be challenging at times to find balance. Reichert reflects that as a graduate student, she was very focused on getting good training and new experiences, and felt ok waiting until "later" to find a good work-life balance. The transition from student to an ECP has included both excitement to take on new roles, as well as a conscious effort to shift to a more sustainable lifestyle. She also notes that being focused on trauma in particular, where burnout rates are high, self-care is a priority. It has been helpful to have the ability to vary her caseload and adjust when needed, such that not all her clients are trauma clients (as they were during her postdoc).
Outside of her professional role at Stanford, Reichert started a private practice where she is also focused on serving families with concerns about anxiety and trauma. She currently spends about five hours a week in private practice, and has enjoyed the control and flexibility of having her own practice without boundaries of insurance. She shares that it is quite common for faculty in the Bay Area to have a private practice in conjunction with other roles given the high cost of living in the area. Additionally, Reichert serves as a peer reviewer for several journals, works on multiple manuscripts and will also start teaching a course on child psychotherapy in the PGSP-Stanford PsyD Consortium program at Palo Alto University.
Reichert has already made remarkable contributions to the field of child maltreatment via clinical service, training, mentoring, and research. She is passionate about her multiple roles, and gives students and trainees opportunities to benefit from her knowledge. We wish her the best of luck in her future endeavors and thank her for her insights to our students and ECPs.