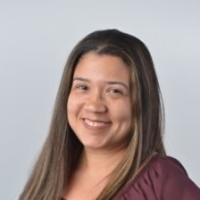 Charissa D. Pizarro, PsyD, is a bilingual licensed clinical psychologist and registered play therapist. Because of her own Latinx ethnic background and her desire to give back to her community, she became involved with diverse children who have experienced maltreatment and trauma, including unaccompanied minors who have crossed the U.S.-Mexico Border. Pizarro's family is originally from the Dominican Republic and migrated to the U.S. in 1965 during a civil war in their home country. Pizarro was the first in her family to pursue and complete a higher education. Her master's thesis at Columbia University was based on childhood sexual abuse and its aftermath, as well as resiliency factors which help children survive and thrive in the face of abuse. After completion of her master's degree, Pizarro began doctoral studies with a focus on trauma at Yeshiva University. Her doctoral dissertation studied the intergenerational transmission of trauma following the Dominican Republic's 31-year dictatorship (1930-1961). All throughout her studies, Pizarro continued full-time work with children and families at an inner-city community mental health center. Pizarro's goal with children has been and continues to be to empower them so that they eventually feel safe asserting themselves and "having their own voice." 
At present, Pizarro heads two grant funded child protective services programs where she and her staff conduct home visits and provide individual, family, couples and/or play therapy for children and families affected by domestic violence, sexual abuse, physical abuse, substance/alcohol abuse and their children have been removed or may be in jeopardy of being removed from the home by child protective services. With treatment, the families are prepared for reunification and taught skills such as conflict resolution, parenting skills, and processing of their trauma so that the family may remain intact. Many of the clients in these programs are not only Spanish-speaking but they are often of undocumented immigrant status. 
Pizarro also has a small private practice where she treats various presenting concerns for diverse populations. Services include psychological assessments, such as immigration and bariatric evaluations. In her private practice, Pizarro works with many undocumented individuals via immigration evaluations. The evaluations are often a determining factor in staying or leaving this country and in maintaining or dissolving a family unit. Children are usually amidst undocumented parents or parents of mixed status and require advocacy, which Pizarro gladly provides. 
Aside from the immigration evaluations, Pizarro is an avid advocate for immigrant rights and belongs to several advocacy groups which work on advocating for policy changes related to immigration. Through her membership in the Latino Mental Health Association of NJ, Pizarro has presented pro bono workshops one of which was titled "Working with Latinx Populations: Special Considerations for Undocumented Immigrants and Survivors of Trauma." In this workshop, which was geared toward professionals as well as students, she discussed the journey of the immigrant across the border and factors associated with immigration, such as child detention and its deleterious effects, family separations, and the trauma involved with the immigration process. She has since done similar presentations for different audiences to raise awareness about immigration issues and its effects on immigrant children and children of immigrants born in the U.S. Pizarro has also provided trainings on diversity, racism, social justice, cultural competence and cultural humility for clinicians working with diverse populations including immigrant children.
Pizarro's work expanded internationally as she wanted to give back to her home country, the Dominican Republic. Her goal is to increase mental health awareness and reduce stigma not only at home but also abroad. Due to many factors, mental health is something that is not typically tended to in third world countries. An individual may be frowned upon if he/she seeks therapeutic services. Maternal mental health is no exception. To this end, Pizarro is a member of Postpartum Support International (PSI) which provides support, resources, and treatment for perinatal and postpartum mental health issues. Pizarro is a volunteer for this organization as the Postpartum Support International coordinator for the Dominican Republic. While in this role, she has not only provided support to mothers and teen mothers alike, but she has been in contact with local providers in the Dominican Republic in the hopes of creating an island-wide network of support to increase mental health awareness and reduce mental health stigma throughout the Dominican Republic. 
Pizarro has also partnered with Fundación Red de Misericordia Orphanage in the Dominican Republic and planned and executed toy/clothing and nonperishable food drives which she hand-delivers to the institution. In doing so, Pizarro takes the opportunity to hold orphaned infants failing to thrive due to abandonment and abuse. Even if for a moment, she provides warmth and nurturing to orphaned babies. There is nothing more gratifying. 
Pizarro intends to continue her mission to exert change not only withing the individual but within the system, as well. She would like to conduct research to contribute to the psychological literature, which are needed to bring about changes in immigration policy and advocacy.