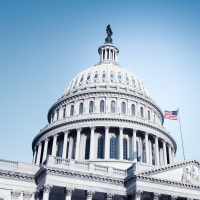 A significant amount of legislation has been introduced in recent months, much of which will have a direct impact on families with children if passed. The most ambitious of the plans is President Biden's proposed American Families Plan, which has the potential to lift more than five million children out of poverty and cut child poverty in half in 2022.
The American Families Plan
The American Families Plan would increase paid parental and family leave, increase unemployment insurance rates, provide more free school meals to children, extend the Child Tax Credit enhancements passed under the American Rescue Plan (H.R. 1319), and invest $200 billion into publicly subsidized early learning and childhood programs. These poverty reduction and family support reforms have the potential to reduce the amount of economic stress placed on families and, if passed, could result in reduced incidence of child maltreatment. Below are some of the key child and family wellbeing provisions included in the plan.
Support for children
Nutrition
In one study in Missouri, over half of mothers at risk for child protective service involvement reported their family experienced very low food security. The American Families Plan has several measures to address this. The plan would expand summer Electronic Benefits Transfer (EBT) to all eligible children nationwide, providing low-income families the ability to purchase food during the summer. Families with children eligible for free and reduced-price meals during the school year are eligible for the program. The plan would invest $25 billion to make the program permanent and available to all 29 million children receiving free and reduced-price meals.
The Community Eligibility Provision (CEP), which allows high-poverty schools to provide meals free of charge to all of their students, would also be expanded. Currently, only 70% of eligible schools have adopted the program, as the reimbursement rate is lower than the free or reduced-lunch meal rate. $17 billion would be invested to provide higher CEP reimbursement rates. Additionally, the plan would lower the eligibility threshold for CEP from 40% of students participating in SNAP to 25%, making more districts eligible for the program. $1 billion would also be invested to support schools that are further expanding healthy food offerings for students.
Improving access and quality of early learning and child care
In 2006, nearly half of American youth (41.5%) reported being left home alone as a child. Child care is expensive and inaccessible for many families. The American Families Plan would invest $200 billion in free universal preschool for three- and 4-year-olds, with priority given to high-need areas. The plan would also ensure publicly-funded preschools have high-quality and developmentally appropriate curriculum, low student-to-teacher ratios, and inclusive environments for all students. Families would pay a portion of their income based on a sliding fee scale and working families would pay no more than 7% of their income on childcare for all children under age five. Additionally, the investment would require that early childhood staff in participating pre-K programs and Head Start are paid a $15 minimum wage, ensure those with similar qualifications to kindergarten teachers receive comparable compensation and benefits, and implement measures to address high childcare employee turnover rates.
Education quality
The plan would provide teacher scholarships, ranging from $4,000 to $8,000 per year, to support those who wish to earn a bachelor's degree or other credentials to build their career as an early childhood educator. The plan also calls for $2.8 billion to be invested in programs providing year-long, paid teacher residency programs. $400 million would target teacher preparation at Historical Black Colleges and Universities (HBCUs), Tribal Colleges and Universities (TCUs), and Minority Serving Institutions (MSIs) and $900 million would support career development for special education teachers.
Support for parents
Higher education
Parental employment, job skill level, and income are associated with child maltreatment rates. The American Families Plan could help more families achieve economic security by obtaining a college degree. The plan calls for $109 billion to fund two years of free community college, allowing more Americans to obtain a degree or certificate. Students will be able to use the benefit over three or four years. The Plan also calls for an $85 billion investment in Pell Grants to increase the maximum award by around $1,400 and allow young immigrants (DREAMers) to access Pell Grants. $62 billion will be invested in evidence-based strategies to strengthen completion and retention rates at colleges and universities that serve high numbers of low-income students, particularly community colleges. Further, the plan calls for $46 billion to be invested into HBCUs, TCUs, and MSIs. Of this $46 billion, $39 billion will help provide two years of subsidized tuition and expand programs at these colleges and universities, $5 billion will expand existing institutional aid grants, and $2 billion will be directed towards expanding the pipeline of skilled healthcare workers with graduate degrees.
Paid Leave
The American Families Plan would allow more parents to stay home with their children when needed. The plan would create a national comprehensive paid family and medical leave program, which would guarantee 12 weeks of paid parental, family, and personal illness/safe leave by year 10 of the program, and also ensure workers get three days of bereavement leave per year starting in year one. Further, the program would provide workers up to $4,000 per month to take leave, with an average of two-thirds of average weekly wages replaced. The program is estimated to cost $225 billion over ten years.
Nutrition
The plan would lift the Supplemental Nutrition Assistance Program (SNAP) eligibility restriction for formerly incarcerated individuals with a drug-related felony. Given that 1 in 12 American children have experienced parental incarceration, this measure has the potential to positively impact previously incarcerated parents and their families.
Unemployment
The plan would also invest $2 billion towards unemployment insurance system modernization, equitable access to unemployment insurance, and fraud prevention. This would reform an unemployment insurance system that oftens leaves unemployed Americans waiting weeks to get benefits and receiving benefits that are too low.
Taxes
There is evidence that increasing tax credits for low- and moderate-income families can reduce the incidence of child maltreatment. The American Families Plan would extend the American Rescue Plan's Child Tax Credit increases through 2025 and make the Child Tax Credit permanently refundable. Further, the plan would make the Child and Dependent Care Tax Credit (CDCTC), which is also a temporary part of the American Rescue Plan, permanent. This provides a tax credit for up to half of an individual's spending on qualified child care for children under age 13, up to a total of $4,000 for one child or $8,000 for two or more children.
Read more about the American Families Plan.
We would like to thank Amanda Saxton, MSWc/MPAc, for contributing to this article.