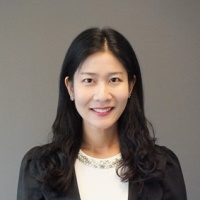 Susan Yoon is an associate professor at The Ohio State University College of Social Work. Yoon's research seeks to promote resilience and well-being in children who have experienced child maltreatment. She is particularly interested in identifying factors, mechanisms, and pathways that promote or hinder resilient development following child maltreatment. Her current research includes: (1) an exploration of the conceptualization and measurement of the construct 'resilience'; (2) investigation of the developmental pathways from child maltreatment to behavioral risks and resilience; and (3) the role of fathers in resilient development of maltreated youth. She received her BA and MSW from Ewha Womans University in South Korea and earned her PhD in social welfare from Case Western Reserve University.
What drew you into the field of child maltreatment?
I am from South Korea, and I grew up watching my grandfather running an orphanage to provide support and care to children who lost their parents due to the Korean War. Ever since I was little, I've always wanted to be a person who can help others and make the world a better place. I decided to study social work, and during my internship I had an opportunity to directly work with children who have experienced child abuse and neglect. While working closely with them, I found my passion and dedication to support these children—one of the most vulnerable populations in the society. My research interest in understanding resilience in children who have experienced child maltreatmentstems from my practice experience as a child protective services worker in South Korea. While working with maltreated children, I noticed that not all maltreated children were depressed or aggressive, as people would assume. In fact, a significant number of my clients showed adaptive functioning following these traumatic life adversities. Greatly inspired by their strengths, I have dedicated my career to studying risk and resilience following child maltreatment.
Tell us about the course of your career so far.
I received BA ('06) and MSW (Masters of Social Work; '08) from Ewha Womans University in South Korea. My academic training and prior research experience have provided me with a strong background in violence, trauma, and child welfare research—both nationally and internationally. Prior to my PhD training, I worked as a Child Protective Services worker for over two years at the National Child Protection Agency in South Korea, providing services to the victims of child maltreatment. This practice experience directly informed and shaped my research agenda on the long-term impact of child maltreatment on youth behavioral health outcomes, as well as resilience, following trauma. In 2011, I began my PhD training in social welfare at Case Western Reserve University, where I gained fundamental knowledge and skills in health behavior theories, research methodology, and statistics through active involvement in various research projects, ranging from community-based child welfare program evaluations to federally funded longitudinal youth development studies.
In 2016, I joined the faculty of the College of Social Work at The Ohio State University (OSU). As an Assistant Professor at OSU, I have successfully collaborated with researchers in other disciplines (e.g., psychology, public health) and community partners (e.g., local child welfare agencies, child advocacy center) to study the impact of child maltreatment on child outcomes, with a particular focus on identifying factors and mechanisms that promote or hinder resilience in maltreated children.
I have successfully obtained several federal grants to support my research, including the R03 grant that I received from the NIH National Institute of Child Health and Development (NICHD) to examine various patterns and profiles of early childhood resilience among children involved with the child welfare system due to child maltreatment. My future work will continue to focus on resilience of maltreated children. Findings from my future studies will guide the design of strength–based, resilience promotion interventions for maltreated children. I am excited to continue this important and meaningful work to support these vulnerable children.
What is the goal of your research or practice work? What problems do you hope to solve?
I am committed to conducting and disseminating research to promote resilience and well-being among children who have experienced child maltreatment. In the past five years, I have focused on advancing the fields of child maltreatment and resilience science by conducting high-quality research that is innovative, interdisciplinary, and meaningful to practice. Although it is well established that maltreated children are at higher risk for negative behavioral health outcomes (e.g., aggression, substance use), much remains unknown about the specific pathways and mechanisms through which maltreatment impacts children and adolescents' behavioral health risk and resilience. Furthermore, compared to our extensive knowledge base on the detrimental consequences of maltreatment, far less is known about protective factors and resilience—adaptive functioning in the face of adversity—in maltreated children. To address these critical gaps in knowledge, my research program centers on understanding various aspects of resilience (e.g., conceptualization, measurement) and identifying new pathways and factors (e.g., father involvement) vital to resilience development in children who have experienced maltreatment. My long-term career goal is to develop and implement strength-based, resilience-promoting interventions that will improve the well-being of children and adolescents who have experienced child maltreatment.
What advice would you have for students and early career professionals interested in pursuing this field?
My advice for students and early career professionals interested in pursuing the field of child maltreatment would be to actively seek opportunities. There are many ways you can gain valuable experience in this field, such as internships, volunteer work, networking with interdisciplinary researchers/practitioners, reaching out to experts, and finding great mentors. Be creative and bold in finding opportunities to improve your skills and knowledge, strengthen your CV, build your network, and publicize your work. My second advice would be to practice self-care on a regular basis! The topic of child maltreatment is inherently challenging and traumatic. It is common and natural to experience emotional exhaustion, secondary traumatic stress, vicarious trauma, and burn out as we work in the field of child maltreatment. It is critical to develop your own self-care strategies (that work best for you) and build your own resilience to be able to continue doing what you are passionate about.