Presidential Initiative on Social Justice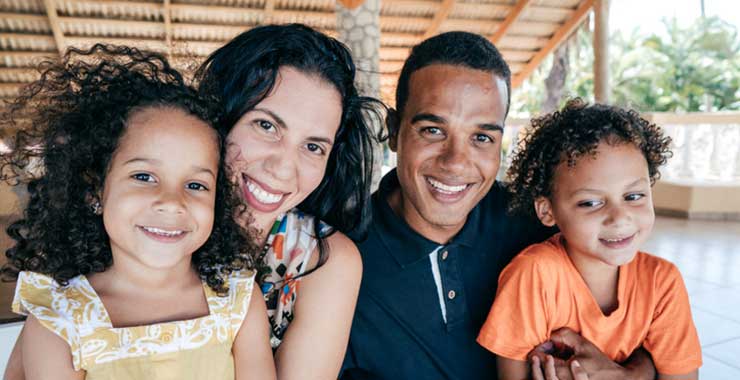 This 2019-20 presidential initiative is a collaborative effort that draws attention to critical social issues and their impact on the well-being of couples and families.

This initiative brings together student affiliates and members of Div. 43 and specifically is focused on three salient social themes: immigration laws and family disruption, families in the criminal justice system and male gender role socialization and interpersonal violence.
Immigration Laws and Family Disruption
Immigrants face stressful challenges post migration. These include environmental risk factors, such as the current anti-immigrant policies that have an adverse impact on mental and relational health. Family separation is one of the greatest challenges and fears immigrants experience (Wessler, 2012). Roughly 4.5 million U.S. citizen children have at least one undocumented parent, while records indicate that over 1.5 million individuals were deported between the years of 2009-2013 (Passel & Cohn, 2011; Henderson & Baily, 2013). These realities increase distress and fear of family separation which places couples and families at high risk for developing mental health disorders and leaves children at risk for foster care or detention center placement (Henderson & Baily, 2013). It is imperative for mental health providers to be informed on the unique needs of immigrant couples and families in order to engage this population and provide the services they need (Sidhu, 2017).
Families in the Criminal Justice System
Since 1991, there has been an 80 percent increase in the number of children who have had a parent incarcerated at some point in their life, and a 2007 analysis indicated that 1.7 million children experienced a parent's incarceration (Glaze & Maruschak, 2008). Parental incarceration is a developmentally disruptive event, as those who are incarcerated struggle to maintain a connection with their children and families. Furthermore, there are clear racial disparities in which families are most affected, with 11.4 percent of African-American families with a parent who is incarcerated, followed by 3.5 percent of Hispanic families and white families (1.8%) (The Pew Charitable Trusts, 2011). Public policy changes regarding drug laws and mandatory minimum sentencing requirements for non-violent drug possession offenses continues to affect primarily poor communities and communities of color. Using a dynamic network system framework targeting key stakeholders from a family network approach (Speck & Attneave, 1973; Westaby, 2012), psychologists could assist in enhancing our understanding, address adverse impacts and address policy that influences the effect of incarceration on the family system.
Male Gender Role Socialization and Interpersonal Violence
Sexual harassment and intimate partner violence are social problems that have recently called the attention of the media and the general public in the U.S. and abroad. National surveys indicate that one in six women (1 in 33 men) in the U.S. have been the victim of an attempted or completed rape in their lifetime (Truman & Langton, 2015); and one in three women (1 in 4 men) in the United States have experienced sexual, physical and/or psychological violence by an intimate partner (Black et al., 2011). Research has shown that gender role socialization and the enactment of hegemonic masculinity in particular are factors that contribute to interpersonal violence in couple relationships. In LGBTQ intimate relationships, the effects of gender violence are exacerbated by heterosexism (Brown, 2008). Feminist theories provide a lens for understanding gender dynamics and the intersection of gender with other social structures; they can also be used to address the effects of gender socialization in couple relationships at the level of the relational and the social.
Goals
The goals of this initiative on social justice are to formulate recommendations for: (1) educating the public, (2) training mental health professionals and (3) policy changes. The initiative involves activities designed to facilitate conversations about broader societal issues that impact the wellbeing of couples and families using a systemic perspective that integrate multicultural and feminist theories, such as critical race theory and intersectionality.
References
American Psychological Association, Presidential Task Force on Immigration. (2012). Crossroads: The psychology of immigration in the new century . Retrieved from http://www.apa.org/topics/immigration/report.aspx Accessed December 28, 2017
Black, M.C., Basile, K.C., Breiding, M.J., Smith, S.G., Walters, M.L., Merrick, M.T., Chen, J., & Stevens, M.R. (2011). The National Intimate Partner and Sexual Violence Survey (NISVS): 2010 Summary Report. Atlanta, GA: Centers for Disease Control and Prevention, National Center for Injury Prevention and Control.
Brown, C. (2008). Gender-role implications on same-sex intimate partner abuse. Journal of Family Violence, 23(6), 457-462. doi:10.1007/s10896-008-9172-9
Glaze, L., & Maruschak, L. (2008). Parents in prison and their minor children. Bureau of Justice Statistics Special Report (NCJ 22984), 1–25. Retrieved from http://bjs.ojp.usdoj.gov/content/pub/pdf/pptmc.pdf
Henderson, S. W., & Baily, C. R. (2013). Parental deportation, families, and mental health. Journal Of The American Academy Of Child And Adolescent Psychiatry, 52(5), 451-453. doi:10.1016/j.jaac.2013.01.007
Langhinrichsen-Rohling, J. (2010). Controversies involving gender and intimate partner violence in the united states. Sex Roles, 62(3-4), 179-193. doi:10.1007/s11199-009-9628-2
Speck, R. V., & Attneave, C. L. (1973). Family networks. Pantheon.
Sidhu, S. S. (2017). Impact of recent executive actions on minority youth and families. Journal Of The American Academy Of Child & Adolescent Psychiatry, 56(10), 805-807. doi:10.1016/j.jaac.2017.07.779
The Pew Charitable Trusts. (2010)."Collateral Costs: Incarceration's Effect on Economic Mobility." Washington, DC: Pew Charitable Trusts.
Truman, J., Langton L., (2015). National Crime Victimization Survey, 2010-2014. Washington, D.C.: U.S. Department of Justice, Office of Justice Programs, Bureau of Justice Statistics. 
Westaby, J. D. (2012). Dynamic network theory: How social networks influence goal pursuit. American Psychological Association.