Cite this
Patterson, T. (2020, December 15). Couples experiencing an unknown world. The Couple and Family Psychologist. https://www.apadivisions.org/division-43/publications/blog/practice/couples-covid-19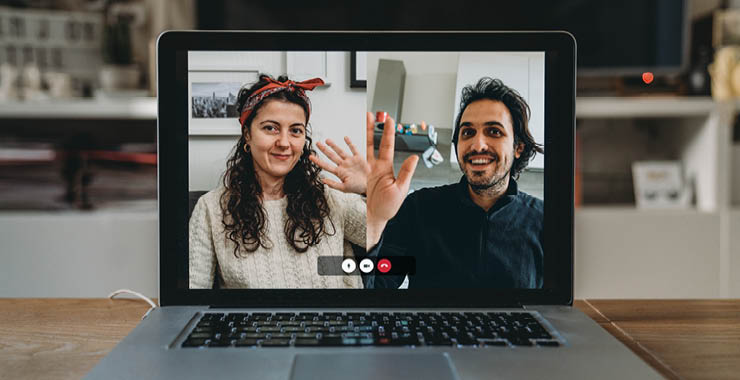 Let there be spaces in your togetherness, and let the winds of the heavens dance between you.
From a broad existential perspective, each of us is always facing the unknown. For couples, the anxiety most feel about their relationship is distance, whether prolonged physical distance over space and time or more elusively, emotional feelings of disconnection. Lack of intimacy may be based on what John Gottman describes as the "Four Horsemen of the Apocalypse:" contempt, criticism, defensiveness and stonewalling (Gottman, 1998). Faulty attachment and other overanxious patterns and personality traits may also mediate perceptions of intimacy.
Of the many possible frameworks to place this discussion, I propose that intimacy and perceptions of closeness between partners are a fundamental reason for fear and anxiety that arise in both well-functioning and clinical couples. Simply stated, intimacy can be viewed as the emotional, intellectual, and physical connection that is more frequent and intense than in other relationships (Shapiro & Patterson, 2019). Often considered to be mainly sexual, intimacy is on a continuum ranging from acts of kindness, words and mutually-satisfying activities, to touch and sexual intercourse.
In the early months of 2020, couples around the world are facing multiple dimensions of an unknown future that is unparalleled in the last 100 years. It is true that migrants leaving their homes, natural disasters, family dissolution, poverty and other critical situations have always threatened the stability of relationships. In more common circumstances, couples attempt to work through aspects of their lives that could prevent them from bonding or lead them to separate. These include: geographic relocation for jobs, relationships with extended families and other situations that may not be compatible, as well as questions regarding major issues such as whether to have children or whether they are in synch with cultural and religious values and can negotiate them amiably. A main factor in dealing with these challenges successfully is how couples define intimacy in their relationship.
Intimacy can be linked to systems theory according to two polarities: enmeshment and disengagement (Werner et al., 2001). Enmeshment is a type of fusion of egos to the point where individuals lose their sense of individuality and refer to "we" as their core identification. The pattern is often seen in finishing each other's sentences, in difficulty in pursuing individual interests or as Barry and Lawrence (2013) put it, "Don't stand so close to me." Disengagement is the opposite pattern, in which individuals do not consider themselves to be a unit nor share many activities or mutual views of their lives together. Murray Bowen proposed that individuation is necessary for individuals to have strong separate identities in order to form a healthy relationship and avoid excessive enmeshment or disengagement (see Titleman, 2014). Only through individuation can couples achieve true intimacy.
Consider the following couple: Adrianna and Stephen have lived together for four years and have been planning a September wedding. They each commute and work long hours, including some weekends. Their typical time together consists of a take-out dinner on weeknights and errands and activities, trips and time with other couples on the weekends. During the current crisis they each feel a strong sense of "we-ness" and rarely take time for separate friends or individual pursuits. Stephen now has little work to do at home and feels very disconnected from Adrianna, who remains preoccupied with a heavy workload, and he wonders whether he is a priority in Adrianna's life and is questioning their impending marriage.
From a systems perspective, both Stephen and Adrianna have lost their sense of themselves as individuals and have become highly enmeshed as a unit. Stephen feels a lack of connection and intimacy in their relationship, even though Adrianna may not feel the same. With greater individuation and more flexible connection, both can weather this crisis and develop a stable marriage.
What do these systemic concepts have to do with facing the unknown? Individuals at the beginning of their relationship wonder how or whether they can negotiate differences; couples facing migration or other forced separation face the unknown as well and wonder how they can maintain their individuality and be flexibly connected and intimate. It is only possible when there is adequate individuation rather than enmeshment or disengagement. The unknown and other ambiguity can be faced with confidence when assertion of one's individuality and true intimacy can both be maintained.
In the present era of isolation and social distance, couples face new types of unknown challenges, including being together for longer periods that most have ever experienced. Early clinical experiences are revealing increased irritation and bickering, recurring arguments over past slights and trivia, intimate partner violence and a general perception of disconnection among partners. Some of these experiences occur in highly functional couples under stress, and others are exacerbated by the types of connections, flexible or rigid, that precede the current world crisis. Couples can withstand both intense time together and periods of separate activity when a sufficient degree of individuation and intimacy are present to meet each other's needs.
News media and other sources advise couples to engage in separate activities and also to allow space and to create new activities together, to the extent possible while ensuring health and safety. As in any crisis or stressful situation, pre-existing relational dynamics are intensified in either a positive or negative direction.
At the present time, clinicians have the opportunity to work with clients to strengthen in asserting their individual identities and diffusing tendencies toward extreme enmeshment and dependence. Couple and family psychologists have the opportunity to actively assist those in intimate relationships during this unusual time to develop a sense of both "I and we can get through this!" Our systemic foundations make us uniquely suited to engage dynamically and to strengthen couple and family life.
References
Barry, R. A., & Lawrence, E. (2013). "Don't stand so close to me": An attachment perspective of disengagement and avoidance in marriage. Journal of Family Psychology,  27 (3), 484.
Gottman, J. M. (1998). Clinical manual for marital therapy: A scientifically-based mar ital therapy. Seattle: Seattle Marital and Family Institute.
Titelman, P. (Ed.). (2014).  Differentiation of self: Bowen family systems theory perspectives. Routledge.
Werner, P. D., Green, R. J., Greenberg, J., Browne, T. L., & McKenna, T. E. (2001). Beyond enmeshment: evidence for the independence of intrusiveness and closeness‐caregiving in married couples. Journal of Marital and Family Therapy,  27 (4), 459-471.