Couple and Family Psychology: Research and Practice®
The journal of Div. 43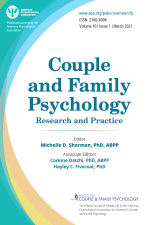 Couple and Family Psychology: Research and Practice ® (CFP) is a scholarly journal publishing peer-reviewed papers representing the science and practice of couple and family psychology. It is the official publication of Society for Couple and Family Psychology and is intended to be a forum for scholarly dialogue regarding the most important emerging issues in the field, a primary outlet for research particularly as it impacts practice, and for papers regarding education, public policy, and the identity of the profession of couple and family psychology. All manuscripts include an Implications Section with concrete, usable information that can be applied in everyday clinical practice or in training programs.


Editor and Publisher
Editor: Michelle D. Sherman PhD ABPP
Associate Editors: Corinne Datchi, PhD ABPP, and Hayley Fivecoat, PhD
Submissions
Submit manuscripts electronically (.rtf or .doc) through the Manuscript Submission Portal.
In addition to addresses and phone numbers, please supply email addresses for use by the editorial office and later by the production office. The editor welcomes inquiries regarding the suitability of ideas for articles and special issues.
Last updated: July 2020
Date created: April 2014