Reference Corner
A Review of "Treating the Difficult Divorce: A Practical Guide for Psychotherapists" by Jay L. Lebow
From Reference Corner Editor Linda Berg-Cross, PhD: Ralph Fretz, PhD, is a psychologist who is licensed in New Jersey and Florida and is board-certified in couple and family psychology He has been a practicing clinician since 1982. His family training includes two years with Harry Aponte and one year with Sal Minuchin. He currently works as a research director for a company that partners with public agencies to provide correctional treatment services.
By
Ralph Fretz, PhD, ABPP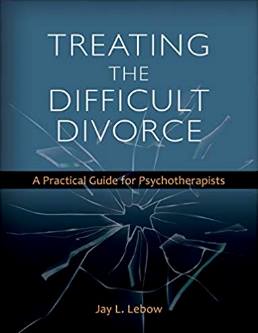 Working with families to navigate the waters of separation and divorce is a challenge, even under the best of circumstances. Therapists are confronted with individuals and families going through each stage of divorce, from pre-contemplation to chronic post-divorce conflict. Research on the effects of divorce on the family system and individuals indicate that there are numerous factors to take into consideration when assessing such families, including the mental health of the parents and children, involvement of the non-residential parent after separation and level of parental conflict, historically and at the time of the divorce (Kelly & Emery, 2003; Birnbaum & Bala, 2010). While most divorced families tend to return to approximately 75-80 percent of their pre-divorce psychological functioning after two years, a significant subcategory of families continue to engage in high-conflict behaviors that go beyond the two-year mark (Cummings & Davies, 2010). Those families that continue to engage in serious conflict can be like tornadoes leaving a path of destruction in their wake that affects anyone or any system that comes into contact with them, including therapists. Families going through a divorce may seek therapy to deal with their feelings about the divorce, prevent trauma to the children and/or to learn how to cope with the developmental transitions in the family system. Often families going through a difficult divorce are court-ordered to engage in some form of therapy.

Jay Lebow's recent book, "Treating the Difficult Divorce: A Practical Guide for Psychotherapists," weaves his own clinical experience and extant research into a tapestry that illustrates the complexities of divorce. Unlike a tapestry, Lebow's work also makes visible the sometimes-hidden threads that constitute a difficult divorce system. From the first chapter of this book through the final chapters, Lebow clearly differentiates between a "difficult divorce" and a "better or less difficult divorce." Lebow's delineation of these two categories are not binomial but are continuous along a spectrum from families that go through divorce with coping mechanisms intact and possibly enhanced to the families of Armageddon that represent the difficult divorce. The book starts off with a definition of a difficult divorce. He presents 18 signs that should alert the therapist that one is dealing with a family system that falls into this realm He also offers 12 signs that indicate the family system can be characterized as going through a "better divorce." The ability to distinguish between these systems is critical to how the therapist develops a treatment plan and even whether the therapist is equipped to deal with the machinations that are part and parcel of a difficult divorce.
Lebow outlines the risks that a therapist faces when dealing with families who are going through a difficult divorce. Throughout the book, Lebow provides case examples to highlight his topics, including an entire chapter devoted to case examples. The heart of the book describes Lebow's approach to dealing with a family system that is locked in a difficult divorce system. His approach is a modified version of his method of therapy called integrative systemic therapy (IST). As Lebow points out, IST usually assumes that all parties are basically psychologically healthy. However, in dealing with the difficult divorce, systemic and individual factors may have overwhelmed the family's coping mechanisms, such that the basic tenets of IST have to be modified to reflect the unique needs of family members. The approach to treating difficult divorce systems is still integrative in that the therapist uses a wide range of strategies and interventions to address problem areas. In fact, Lebow's book and the integrative strategies necessary to competently work with difficult divorce cases suggests that the therapist who takes on these cases needs to have an extensive therapeutic toolbox that usually comes from years of experience and supervision.
Lebow describes a highly structured method of assessing and treating these families going through difficult divorce, including developing the therapeutic contract at the beginning of treatment, discussing the complex issues of confidentiality and dealing with the inevitable ethical dilemmas that often arise. Lebow discusses critical topics including forming therapeutic alliances with family members or a family member in individual therapy. Treatment strategies including guaranteeing safety, witnessing (being an empathic listener) and providing psychoeducation, motivational interviewing and behavioral strategies. While describing motivational interviewing, Lebow discusses the stages of change and evaluating each member of the system in terms of their stage of change. This ongoing assessment of stages of change is vital to any therapy and particularly important in dealing with families of difficult divorce. For example, one member of the family may be in the pre-contemplation stage (often all family members in the difficult divorce start out in this stage), but another member may have moved onto the contemplation stage. Accurately assessing which members are in what stage of change is a dynamic process that Lebow points out can be used strategically to assist the individual and the family system in moving towards the outlined goals of treatment.
Lebow also describes how a therapist dealing with families of difficult divorce often interacts with the legal system. He skillfully points out the ethical and sometimes legal dilemmas associated with treating this population. For example, it is not uncommon for this practitioner to receive a call from an attorney about how his client is going through a difficult divorce. If not stopped at this point, the attorney will be more than happy to describe the ways in which the client has been victimized by the other parent. When I receive these kind of calls, I always stop the attorney after the first sentence to minimize bias and potential ex parte communication. I usually offer the attorney the opportunity to have a conference call with the other attorney about the particulars of the case.
Assessing families for domestic violence is also covered in great detail. A history of domestic violence is frequently alleged by one or both parties (Johnston, 2006). These allegations need to be properly assessed, as all members of the family need to feel safe during treatment. The therapist may have to make accommodations for families that are impacted by domestic violence. Lebow aptly discusses ways to structure meetings when domestic violence is a part of the family dynamic. These guidelines will help maximize the likelihood of a successful encounter and minimize litigation issues that often accompany these difficult cases.
In one of the last chapters, Lebow describes families who are experiencing less difficult divorces. This chapter provides a road map for dealing with most families going through the developmental transition of divorce. This chapter also highlights the differences in working with families of difficult divorce and families going through a less difficult divorce.
Lebow's book is essential for the novice family therapist and yet still a treasure trove of information for the seasoned family therapist. As Lebow points out, working with these families is stressful and not for the faint-of-heart. Lebow points out that these families strain even the best therapist's coping skills. The author discusses how therapists should engage in self-care activities to avoid burn out with this population. Even practitioners who are competent in working with difficult families should place a cap on how many of these families are on one's caseload. In this practitioner's clinical experience, these families, unlike many other families and individuals, rarely, if ever, provide a positive feedback loop to the therapist. As Lebow points out, the therapist learns to attenuate his goals with families of difficult divorce, given the frailty inherent in these family systems. Overall, the information presented in Treating the Difficult Divorce is helpful for practitioners in dealing with and avoiding the potential land mines that these families pose.
References
Birnbaum, R & Bala, N. 2010- "Toward the differentiation of high-conflict families: An analysis of social science research and Canadian case law. Family Court Review, 48, 403-416.
Cummings, E. & Davies, P. (2010). Marital conflict and children: An emotional security perspective. NY: Guilford Press.
Johnston, J. R.(2006) . "A child-centered approach to high-conflict and domestic violence families: Differential assessment and interventions, Journal of Family Studies, 12(1), 15-36.
Kelly, J.B. & Emery, R.E.(2003) "Children's adjustment following divorce: Risk and resilience perspectives" Family Relations, 52 (4), 352-362.
Lebow, J.L. (2019). Treating the difficult divorce: A practical guide for psychotherapists. Washington, DC: American Psychological Association.