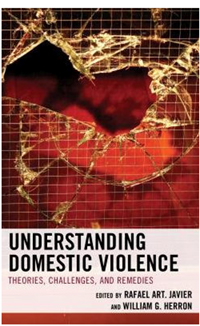 This book is an encyclopedia of statistics, research and treatment of domestic violence. It reads like a storybook for helping practitioners and researchers understand how domestic violence cuts across and is influenced by context (culture, race, socioeconomic, historical, religious, biology, relationship and gender identification, educational levels, political affiliation) in both national and international environments. Understanding Domestic Violence takes a deep look at how the dysfunctional and destructive patterns associated with Intimate Partner Violence (IPV) continue, even within the 21 st century, where there is seemingly greater awareness and intervention programs to aid in the reduction of these destructive patterns.

Particularly informative is the timeline offered at the beginning of the book that provides the reader with a detailed description of relevant domestic violence regulations that have been enacted from 1848 to the present day. This gives the reader a sense of how the domestic violence struggle has been at the forefront of both local and national legislation for the past two centuries. As a couple and family psychologist, educator and practitioner, this book opened my thinking and expanded my understanding of domestic violence and particularly IPV as a national and worldwide problem. It also enabled me to understand my cases with a new respect and informed sense for power imbalances and control and how they can be played out through violence or the fear thereof. Also, it gave me pause to reflect on personal relationships in many arenas.

Understanding Domestic Violence reviews up-to-date theories and looks at domestic violence through a trauma lens. Further, it identifies four types of intimate partner violence: (1) Intimate Terrorism, which is distinguished from other forms of violence by patterns of "ongoing use of physical, emotional, economic and sexual forms of violence to exert control over victims," p. 6; (3) Violence Resistance, which is violence in self-defense "perpetrated by victims against their abusive partners", p.7; (3) Common Couple Violence, where both partners are engaged in domestic violence; and (4) Mutual Violent Control, in which both partners act violently fighting for control. This book offers us a look at domestic violence from a neurological basis model with representations in the brain. A view is that those who can feel a range of emotions and seek solutions when compared to those who experience anger as the dominating feeling are more likely to leave abusive relationships (WHO, 2005) possibly offering a rationale for those abusive couples that stick together to the end.
A plethora of data is offered in this book that offers the reader a deeper understanding of the prevalence of IPV (e.g., three women are killed daily by a husband or boyfriend; one woman is beaten every nine seconds in the United States and twenty-four every minute). A look at abuse throughout the world is also discussed, with specific details in terms of prevalence in different countries. To mention a few statistics: "Over 1,259,390 domestic violence incidents take place per year (Truman, Langton & Planty, 2013) worldwide. More than three women are murdered by their husbands or boyfriends everyday (Catalano, 2012) and one woman is beaten by her husband or intimate partner every nine seconds in the United States and 24 every minute" p. 15.
An overview of aggression, domestic violence and risk factors is offered through the lens of psychodynamic and social learning theories that point to "the probability of an innate psychobiological disposition in the formation of an aggressive character" (p.57).
Attachment theory is also explored, and four theoretical models of violence (psychological, socio-psychological, sociocultural general systems/global and ecological) are identified and discussed.
The General Aggression Model (GAM) of domestic violence (Warburton & Anderson, Chapter 4) offers a model of the psychological processes that make domestic violence cyclical, happening over and over again in the same pattern. This chapter offers many ideas on assessment (e.g. evaluating the function of violence on three aggressive domains: (1) What needs does each violent instance meet for the DV client? Does the violence serve the purpose of benefiting the perpetrator or hurting the other? How? Why? (2) Are DV instances typically affectively charge or cold and calculated? What are the emotions that are aroused? How does violence satisfy these emotions? (3) How thought-through is each instance? Is there a pattern? Do episodes play out automatically, almost like scripts? Are there opportunities to think-through responses? If violent responses are thought-through, what goals does the violence achieve? (p.92). This chapter also addresses Within-Person Factors that include aggressive traits, low empathy or emotional intelligence, an aggressive personality style that can lead to interpretation of others behaviors negatively. Also discussed is a tendency to interpret the outcomes of aggression positively. The presence of aggressive schemas and scripts are reviewed and interventions (e.g. reducing person risk factors and bolstering protective factors, reducing risk factors in the environment and looking at opportunities for reappraisal) are described. These factors alone are not the bases for therapy alone that are effective in reducing the risk of domestic violence in clients.
Herron and Javier (Chapter 5) offer an in-depth look at the psychodynamic theory of domestic violence, offering the reader a means to look at how the past influences feelings and behaviors in the present. They explore the dynamics of domestic violence (mentalizations, causal pathways, revenge) as a means of understanding the why of the domestic abuse. They further examine the theoretical synthesis, looking at the abuser as an individual with a history of narcissistic injuries that have shamed them, and whose feelings need to be relieved. Anger at these psychic wounds turns into rage and is expressed in physical action against the partner.
Chisholm and Magee (Chapter 6) offer eye-opening statistics about female perpetuated violence (e.g., one out of six serial killers is a woman; 53% of child abuse is by a woman) and an in-depth look at female initiated violence. A discussion of many perspectives that look at female initiated violence is offered with the conclusion that "the etiology of violent behavior is more complex and nuanced" (p.163). Intervention programs designed specifically for women who commit violent offenses is discussed.
El-Jamil & Abi-Hashem (Chapter 7) examine the psychological, cultural, religious and legal aspects of domestic violence within Arab-Middle Eastern countries, bringing to life an in-depth understanding of how these societies foster and justify IPV based on cultural expectations subsumed in their psychology, customs and religious beliefs. A thorough list of emotional, mental social, spiritual and cultural insights and guidelines is offered to help the practitioners who treat this population.
Chapter 8 covers the crucial considerations in the understanding the treatment of IPV in African American couples (West, C). An ecological model (individual, relationship and community levels) is presented that explores the increased risk of IPV for African Americans, as well as suggestions for conducting a culturally sensitive assessment. The author goes into depth describing each part of the ecological model to enable the reader to obtain a deeper understanding on how to assess IPV in this population, pgs. 223-230.
Clauss-Ehlers, Milan and Zhao (Chapter 9) write about understanding domestic violence within a Latino/Hispanic/Latinx context, looking at environmental, cultural and ecological mapping as a culturally relevant assessment tool. This model is further enhanced by an exploration of gender roles, cultural scripts, immigration status, perceptions of seriousness and stressors created by homophobia and heterosexism. The authors present a case using the application of environmental and ecological mapping that can serve as a model for treating domestic violence within this cultural context. The tripartite model is presented and includes relevant information on research, training and practice to better understand and work with this population.
Disabled individuals are also victims of domestic violence, and in Chapter 10, Banks offers an insightful look at the social situations, risks and types of abuse faced by women with disabilities, noting that 70% of women with disabilities report that they are victims of abuse (Baladerian, Coleman, & Stream, 2013). Brain injury can be a telltale symptom of possible physical violence, and Banks offers detailed assessment tools and a view on how to treat this population.
In Chapter 11, Murray and Crowe explore the impact of stigma on survivors of intimate partner violence and the implications for counseling. Types of stigmas are noted (blame, discrimination, loss of status, isolation and shame) and explained to enable the practitioner to better understand the discrimination to which IPV victims are subjected. Discussion and suggestions are offered to practitioners to enable provision of non-stigmatizing support to help victims overcome the effects of being abuse victims.
Walker and Jungersen (Chapter 12) offer the essential elements for an effective treatment model of domestic violence in our complex world, integrating feminist and trauma theories with the knowledge and skills to promote healing. They describe the STEP program, which offers the practitioner a model of helping victims that includes safety, trustworthiness, choice, collaboration and empowerment. This model has been applied to many types of settings including private practice, jails, prisons and hospital settings.
Understanding Domestic Violence: Theories, Challenges and Remedies concludes with a chapter by Javier and Heron (Chapter 13) that looks at the importance of viewing IPV from a trauma lens. They state that it is essential to distinguish between characterological violent perpetrators and situational perpetrators and includes an analysis of how different types of violence may have different consequences for different victims.
I recommend this book without reservation as an integral part of your reference and psychotherapy library. Enjoy the read and improve your understanding and therapy skills in understanding domestic violence and treating IPV.
References
Baladerian, N.J, Coleman,T.F, & Stream, J. (2013). Abuse of People with Disabilities: Victims and their families speak out: A report on the 2012 National Survey on Abuse of People with Disabilities. Los Angeles, CA: Spectrum Institute: Disability and Abuse Project.
Truman, J., Langton, L. & Planty, M. (2013, October). Criminal victimization, 2012. Retrieved from http://www.bjs.gov/content/pub/pdf/cv12.pdf.
World Health Organization (2005). Summary Report: Multi-country Study on Women's Health and Domestic Violence Against Women. Initial results on prevalence, health outcomes and women's responses. Geneva, World Health Organization.