Introduction from Div. 43 Student/ ECP Representative Shawndeeia Drinkard, PhD
Marilisa Raju is a fifth year PhD candidate at the California School of Professional Psychology at Alliant International University-Los Angeles. In this edition of the Student/ECP corner, she is sharing some important information about some of the sexual health and education disparities for Asian Americans in various age groups, including a focus on South Asian Americans.
From Marilisa Raju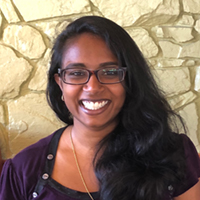 As professionals, we come into contact with many people who may be struggling with more than what they list within a questionnaire or divulge in an intake visit unless prompted. One of the areas that seems to be often overlooked are issues related to sexual health and risky sexual behaviors. This tendency for clients and patients to forgo sharing information related to their sexual health and activity seems to be amplified as we consider demographic variables (e.g. people from historically underserved populations may be less inclined to discuss matters related to sexual health with their providers). It is important as providers of mental health services, that we gain knowledge in areas related to sexual health so that we can offer support to our clients.

Regarding risky sex, studies have focused on various ethnic differences within this realm, with research focusing on risks among Asian Americans. The literature highlights the disproportionate ratio between the percentage of Asian Americans within the United States (U.S.) compared to the percentage that they make up within the group of those living with AIDS in the U.S., which is four percent and one percent respectively (Hahm, Rough, & Strathdee, 2012). Additionally, the HIV rates between 2002 and 2004 grew most rapidly within this population (Hahm et al., 2012). One risk factor among Asian American youth is a lack of condom usage during last intercourse, and the literature also highlights a dearth of awareness regarding the transmission of HIV. Furthermore, these individuals are being tested for HIV at lower rates and have less knowledge overall about sex, pregnancy prevention and sexually transmitted infections (Zhao et al., 2016).

Culture plays a large role concerning sex and the Asian American population. According to research, youth desired to fall in line with the norms of their culture and therefore generally would perform sexual acts without their parents knowledge and appeared fearful of their parents having knowledge of these acts (Zhao et al., 2016).
As it pertains to Asian American women, one factor that relates back to the Asian culture has to do with the power differential between men and women, with the women's primary role being identified as caretakers (Hahm et al., 2012). While the woman takes on the role of caretaker, the man takes on the role of providing for the family financially, thus causing the power gap to widen (Hahm et al., 2012). As a result of this power gap, women may feel less inclined to assert their power over conversations regarding sexual behaviors, including birth control methods such as condom use, which may place them at disproportionate risks of contracting HIV. The results of one study highlight how condom use was not prioritized over other types of birth control, which may indicate that there is a higher focus for this population on pregnancy prevention rather than contracting sexually transmitted infections (Hahm et al., 2012). Similar results were found among South Asian Americans in particular, and while data is limited, research has found that South Asian American women stated concern regarding protecting themselves from sexually transmitted infections, while also reporting engaging in unsafe oral sex. Such results may highlight a gap in knowledge for this population regarding sexually transmitted infections or misinformation concerning the transmission of sexually transmitted infections (Bacchus, 2017). Additionally, such individuals appeared to experience more concern regarding becoming pregnant compared to receiving a sexually transmitted infection, due to the financial and emotional stress that a pregnancy would cause. Furthermore, the stress of a pregnancy is also related to the shame that it would bring within the family and among the community, especially considering the prominent role that virginity plays within this culture (Bacchus, 2017). Religion also impacts this mindset regarding South Asian American females and their engagement in sex, as Islam states that a woman should remain pure before marriage, and such purity is linked to the virtue of the family (Bacchus, 2017). 
Taken together, this information highlights the fundamental importance of couple and family therapists to utilize their work with clients to promote sex positive conversations. The risks associated with unsafe sexual practices are a grave health concern, and as practitioners, we have the ability to address some of these issues with the folks that we come in contact within our respective practices. The hope of the information presented here is that it inspires you to do further research and begin to or continue supporting clients holistically.