News & Events
Div. 44 sponsors several events throughout the year. They include scholarly presentations, social gatherings and cross-disciplinary meetings, offering opportunities for connection and transformation in the company of LGBT and ally colleagues.
News
Div. 44 Leaders Collaborate with GLMA
The Society for the Psychology of Sexual Orientation and Gender Diversity was well represented at the 37th GLMA Annual Conference in LGBTQ Health in New Orleans, La.
As its meeting at convention in Washington, D.C., the Executive Board of Div. 44 unanimously voted to endorse the candidates: Rosie Phillips Bingham, Raymore DiGiuseppe and Steven Hollon.
2017 Div. 44 Elections
Statements from the candidates for the positions of president, treasurer and member-at-large for the 2017 Div. 44 elections.
Distinguished Elder Award Speech
Ruth Fassinger, Div. 44, shares her acceptance speech from the National Multicultural Conference and Summit (NMCS), January 2017.
I Am Stigma-Free
Graduate Student Reflection: Supportive language and navigating difficult discussions around HIV serostatus.
Division Awards Annual Deadline Approaching
The annual deadline for many Div. 44 awards is March 30. Please visit the Div. 44 Awards page to find awards for engagement, scholarship, to support travel to conferences and more.
Div. 44 has signed a joint letter (PDF, 212KB) to the National Coordinator for Health Information Technology, Department of Health and Human Services, concerning a proposal to include sexual orientation and gender identity information and categories in the HHS certification process for electronic health record systems. The letter, however, points out that the proposed categories are not adequate in capturing the reality of identities and expressions of sexual orientation and gender minorities, and proposes new language.

Altogether 152 organizations and several dozen individuals sign the letter. Thanks to key colleagues at Fenway Institute (Harvey Makadon, Adrianna Sicari and Andrea Karis), Kellan Baker at the Center for American Progress, and Elina Alterman at the National Partnership for Women and Families for their help understanding this complex process and their logistical support.
Members Receive APA Presidential Citations
In his first month as president of the American Psychological Association, Barry Anton, PhD, awarded presidential citations to two members of Div. 44's presidential trio.
At the National Multicultural Conference and Summit in Atlanta, Michael L. Hendricks, PhD, received a citation, "For his critical work on behalf of transgender and other gender nonconforming individuals." The certificate cited Hendricks' expertise in "theoretical, evaluative and treatment concerns for transgender and other gender nonconforming individuals" and his lead role in the development of the Minority Stress model for transgender persons which "brings his expertise in suicide assessment and management to this particularly vulnerable population." Anton cited evidence of Hendricks' "dedication to the needs of gender nonconforming clients in particular and LGBT clients more broadly."
Then, at the Division Leadership Conference in Washington, D.C., just a little more than a week later, Allen M. Omoto, PhD, received a citation, "For his passionate dedication to social justice and to bringing psychological science to bear on social policy." Omoto's certificate cited his "strong and lasting commitment to social justice and inclusion through his research, publications, teaching and mentorship, and leadership." The certificate noted that Omoto "inspires and leads his students and his colleagues to affect social justice through the science of psychology by his passion, his dedication...and by the example he sets for integrating his values into his personal and professional life."
Both recipients were unaware that they would be honored in this way. The surprise, it turns out, is a part of Anton's plan in presenting his presidential citations throughout the course of this year.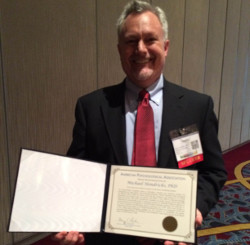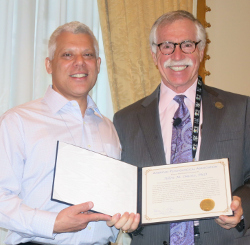 Events