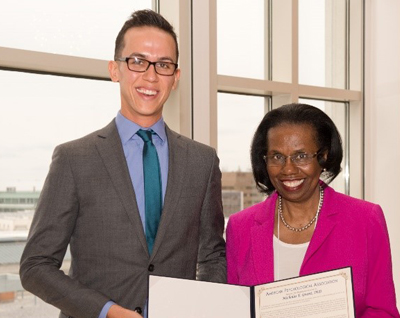 When transgender service members were being discriminated against through potential changes to military policy last year, Grant was called to serve as U.S. Sen. Gillibrand's (D-NY) subject matter expert for this issue, given his prior relationship with her office. He had formerly served as a William A. Bailey Health and Behavior Congressional Fellow with APA through the American Association for the Advancement of Science's (AAAS) Science and Technology Policy Fellowship. While serving as a fellow, Grant worked on legislative portfolios covering LGBTQ, healthcare and military personnel issues. Grant continued to provide volunteer consultation to Sen. Gillibrand's staff to support their legislative efforts. Grant developed a four-hour "Trans 101" training for the staff, the first known training on this topic to ever be conducted in a U.S. Senate office.
For over two years, Grant has also served on the board of directors of GLMA: Health Professionals Advancing LGBT Equality, a 501(c)(3) organization. During his tenure on the board, Grant has developed initiatives increasing outreach with behavioral health students, communication and collaboration among trainees from different professional backgrounds and the dialogue around intersectionality and diversity in healthcare.
Grant has been an active volunteer with LGBTQ Community Centers since college, including in San Francisco while in graduate school, in New Orleans while on internship and San Diego while on his clinical fellowship. His commitment to improving the lives of all LGBTQ communities in which he lives is an exemplar of applying psychological science through sustained civic engagement.