NMCS Travel Award Winner Essays
Winner: Psychologists' role in the movement for all black lives
Increase awareness and understanding by applying an intersectional analysis to social issues, such as the #blacklivesmatter or "Fix Society" movements.
By
Della V Mosley, MS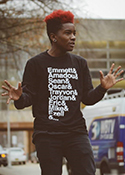 Blake Brockington1 has an incredible, short life story. Blake was a black trans man and the first out transgender student to win homecoming king in North Carolina. Blake hosted trans health workshops and spoke at Transgender Day of Remembrance events. He also organized and participated in civic actions focused on racial justice. Blake had no rest. No real sense of peace in his life. He lived with and fought against racial oppression just as he lived with and fought against gender-based discrimination.
Blake wears the names of Emmett Till, Amadou Diallo, Sean Bell, Oscar Grant, Trayvon Martin, Jordan Davis, Eric Garner, Mike Brown and Ezell Ford. In addition, an ampersand and ellipses represent the names of losses to come. At NMCS 2015, these names were honored and space was given to address the issues of racial injustice and police brutality that had become common conversation in social and academic spaces. However, this essay is not about the primarily straight, cisgender men who were killed, garnering national attention (albeit not justice) over the past year. This is about Blake Brockington and the ellipses on his shirt.
At age 18, as a college freshman, Blake Brockington died by suicide. As psychologists, we can consider how Blake's identity as a black trans man in the southern United States influenced his life options, experiences and, ultimately, his outcome(s). &…Blake.
Blake Brockington, & Islan Nettles, & Ty Underwood, & Sakia Gunn, & Lamar Edwards: all Black and LGBT or gender expansive people who lost their lives due to their identities. Each deserves not only a shirt with their names emblazoned but also a community of scientist-practitioners who care and who act. We claim an ethic of justice, yet too often we ignore the disparate psychosocial health outcomes and specifically the early deaths faced by Blake and so many others in this community. Given the longstanding ethical principles that we (claim to/try to) strive toward, are we not falling short when we do this? Are we not failing this multiply marginalized population by our limited focus on them and the issues costing their lives? &…
I believe we have a responsibility to act equitably in our psychological research and practice. That means increasing our awareness and understanding by applying an intersectional analysis to social issues, such as the #blacklivesmatter or "Fix Society" movements. That means we say their names (Blake &…), read their stories, try to understand their hardships and work on their behalf. It means we work in solidarity with those who continue to live, fight and love in this toxic social environment. It means we take the time to ponder what psychological well-being might look like for them. And it means we continue such efforts until the names, and ampersands, and ellipses are no more.
Footnote
1 Read an overview on Blake Brockington's life and death. Hear him tell his own story.