Reflection
LGBTQ+ Psychology, Advocacy and the March for Science
An APA congressional fellow reflects on the march for science.
By
Nick Grant, PhD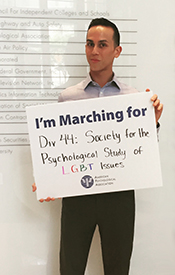 Serving as the William A. Bailey Health and Behavior Fellow in the American Psychological Association's Congressional Fellowship Program provides a wide range of educational and professional development opportunities. From walking the halls of the U.S. Senate surrounded by our nation's leaders, to attending briefings provided by experts across diverse fields, to researching new topics under short deadlines, no two days are the same. Perhaps one of most interesting aspects of this experience is the unique way in which working as a Congressional Fellow teaches one to examine and dissect the news. In preparation for my year on The Hill, I reached out for a one-time mentoring session with a past professor and previous fellow. She told me outright that spending time on Capitol Hill would completely change the way in which I consumed the news but at that time I could not imagine how true this statement would come to be or the impact it would have on my consumption of psychological research. In a time of "fake news" and partisan reporting, developing the skills necessary for consuming news accurately is essential. Of course, being a clinical psychologist with a foundation in psychological science can help in this process.
In reflecting upon these new skills, I began to consider the relationship between psychological and related social sciences with advocacy. My grad school research advisor, Peter Goldblum, PhD, MPH, often shared the analogy of wearing multiple hats. More specifically, he spoke about the roles we engage in as clinicians, LGBTQ+ researchers and advocates. This began my process of considering how we utilize our research skills and knowledge base around psychological science and LGBTQ+ people to both advocate for our communities and promote the well-being of those within them. At times the relationship between social science and advocacy is not always a clear one, but utilizing evidence-based research can aid in the development of evidence-based policy.
This lesson materialized for me when signing up to attend the March for Science in Washington, D.C. The day before the march, APA hosted an exceptional advocacy training entitled "Beyond the March: Advocating for Psychological Science," which included practical advice on how to advocate for issues and lobby elected officials. Following the training I gathered materials for the march, and again reflected on being a social scientist and what beyond psychological science mattered to me. What motivated me during all those years of graduate training and what motivates me today to continue to do work that I am passionate about? I concluded that while APA will always be my professional home, it was Div. 44, (Society for the Psychological Study of LGBT Issues), my professional family, which sustains that motivation. I decided then to specify on one of APA's pre-made signs that read "I'm Marching for ____", that I was marching for Div. 44: Society for the Psychological Study of LGBT Issues.
The day of the March was a rainy one but full of energy and passion for advocating for the importance and utility of science. People travelled to Washington, D.C., from around the country to organize for scientific causes most important to them and of course to hear Bill Nye "The Science Guy" speak about "the significance of science for our health and prosperity." Crowd estimates for the March in Washington, D.C., exceeded 100,000. Individuals held signs that read, "Powered by Science, Strengthened by Diversity," "So bad even introverts are here," and "Science Made Glitter."
I was stopped a handful of times with questions about my own sign, most commonly about how psychology related to LGBTQ+ issues. The opportunity to briefly discuss the relationship between psychological science, sexual/gender minority health disparities and resilience, and public policy can be difficult to communicate concisely and effectively. Those who stopped me had backgrounds in both social and STEM (science/technology/engineering/mathematics) fields, but were motivated to ask these questions due to a desire for better understanding.
As psychologists, and psychologists in training, we can provide unique perspectives in public policy and advocacy. We have chosen to engage in a field that is based in a science that explores human behavior and aims to improve the human experience for those facing stigma, discrimination and mental illness. I believe that every member of the Div. 44 family is dedicated to the well-being of LGBTQ+ people, whether it be through research, clinical practice or education. I encourage all members of Div. 44 to remember that psychological science is the basis for all of the work that we do and to use your skills to advocate or promote policies that support our communities, especially those within our community who may not be able to advocate for themselves. Below is a list of APA resources that I believe will help anyone become more involved as we continue to end discrimination, fight for equality and support one another.
APA Resources