Membership Highlights and Reflections
LGBT Health Policy and Practice Program
Learn about the development of this program and how to get involved.
By
Stephen L. Forssell, PhD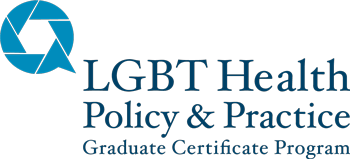 The development of the LGBT Health Policy & Practice Program (LGBTQHP&P) was a project that developed over time. For many years I had been including LGBT health disparities in my undergraduate level health psychology classes but only in the context of other underserved populations. Furthermore, the content could only occupy a small portion of the curriculum as the course's focus was much broader. Having followed the literature on LGBT health disparities and the lack of culturally competent providers, I was well aware that a substantial body of evidence had accrued in this area. We knew of the deficits, but higher education lacked a program to train providers to implement the best practices that emerged from this research. So, in 2011 when the Institute of Medicine released their report, The Health of Lesbian, Gay, Bisexual, and Transgender People: Building a Foundation for Better Understanding, calling for better applied science, I knew the time was right for a graduate level program aimed at training providers to fill the gap. I began developing LGBTHP&P, got it approved to launch, and in 2013, we enrolled our inaugural class.
The LGBTHP&P is an 18-credit interdisciplinary graduate certificate program at The George Washington University that trains medical and mental health professionals to better care for and produce improved health outcomes for LGBT people.
The program's hybrid format allows students from across the country and around the world to enroll. Students complete the bulk of the coursework online and participate in two residencies on GW's campus in Washington, D.C., each year where they attend classes with core faculty, hear presentations from distinguished guest lecturers and visit with policy professionals and political representatives on Capitol Hill.
The program can be completed in as little as one year, though students can opt to finish over two years. Coursework includes nine credits in multidisciplinary health, mental health and LGBT health policy; six credits of elective courses in topics, such as transgender health, LGBT youth, rural LGBT populations and lesbian health; and a three-credit capstone project that results in a product or outcome that can be applied in existing community settings or used as a tool for job or graduate school applications.
Our students come from a variety of backgrounds: many already hold a terminal degree and work in care settings or in policy organizations, while others are applying to or are concurrently enrolled in medical, nursing or other graduate mental health, public health and policy programs. We limit our annual cohort size to no more than 25 students so that they progress through the program together, forming close, tight-knit professional and personal relationships.
To learn more about how you could become part of the LGBT HP&P Program, visit the program's website or email us.