Leadership and Committee Initiatives
Introducing the New President-Elect
Meet Gary Howell and learn about his motivation to serve the division.
By
Gary Howell, PsyD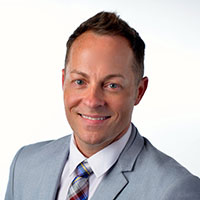 I am humbled by the support and vote of confidence from the Div. 44 membership to serve as the current president-elect. In this inaugural column, I am happy to share my journey and experience in Div. 44 leadership with you. I am no stranger to leadership and have dedicated my life and career to advocacy, education and clinical work. I have many amazing mentors who have supported and encouraged me over the years.
My first APA convention and introduction to the division was in San Diego in 2010. My chair, Gregory Sarlo, PhD, and I presented my dissertation in the division suite that year. I knew when I attended the social hour that it would be my professional home for years to come. I recall Bonnie Strickland saying it was the "gayest APA convention ever" because APA made LGBT issues central to the convention after the fallout with the Manchester Hyatt. For me, it was an amazing first convention, but on the other hand, it was incredibly overwhelming. It was difficult not to be intimidated by those who fought to make my journey easier. I cited so many of our past leaders in my dissertation, so meeting them for the first time was both inspiring and anxiety provoking at the same time. I ended up being recruited to serve as the Div. 44 suite coordinator for the Orlando convention and was the programming chair for the Hawai'i convention. One thing led to the next, and I was suddenly roped into serving as the Mentoring Committee chair for several years. I was later approached to take over the fundraising coordinator position just in time to plan the Toronto fundraising dinner. Each of these roles helped prepare me for other leadership positions both in and outside of APA.
I left Chicago in 2011 to start a new career in Tampa. I am an associate professor and the director of practicum training for an APA-accredited doctoral program at the Florida School of Professional Psychology and maintain a private practice and recently founded a non-profit organization. I have brought many of my students into the Div. 44 family and have mentored them into leadership roles.  As I embark upon this journey on the Div. 44 Executive Committee for the next three years, I am dedicated and committed to our mission. This role came at the perfect time as I was transitioning out of all my other obligations. I look forward to sharing my presidential initiative soon. Our sociopolitical climate is unpredictable at best, so it will be important for us to work closely with other diversity and social justice focused divisions to coordinate efforts in the event we should need to mobilize advocacy efforts in the future. It is an honor and privilege to serve our division and follow many amazing leaders committed to making our division one of the best in APA.
I am committed to recruiting more people of color and early career psychologists (ECP) and hope we are able to make Div. 44 an even more diverse division. The leadership pipeline has been an ongoing opportunity and growing edge for our division, and I value what graduate students and ECPs have to offer. I would like to see more mentoring of these members so we can begin to see their faces on our executive board in the years to come. Thank you again for your support and trust to lead our division. Please know that I am eager, ready and looking forward the challenge ahead. It is refreshing to know I am surrounded by many former leaders of the division who are eager to mentor and have already offered their support.