Notable Awards and Honors
Div. 44 Members Garner 10 Percent of APA Citizen Psychologist Citations
APA President Jessica Henderson Daniel awards presidential citations to Div. 44 members for their outstanding work within their communities.
By
Michael L Hendricks, PhD, ABPP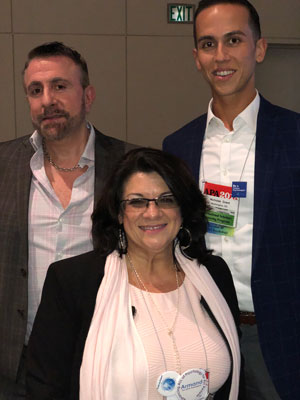 During her presidential year of 2018, APA President Jessica Henderson Daniel, PhD, awarded approximately 40 Citizen Psychologist citations to prominent APA members. Of these, four were awarded to Div. 44 members, accounting for 10 percent of all of the Citizen Psychologist Awards. The Div. 44 members who received this very distinguished recognition were Nicholas E. Grant, PhD; Perry N. Halkitis, PhD; Arlene Noriega, PhD; and Skyler Jackson, PhD.
Grant was recognized "for his stellar leadership and service to the lesbian, gay, bisexual, transgender, queer and questioning (LGBTQ) communities." Grant served as a William A. Bailey Health and Behavior Congressional Fellow with APA, serving as Sen. Kirsten Gillibrand's (D-NY) subject matter expert on LGBT issues. In this capacity, he worked on legislative portfolios covering LGBTQ, health care and military personnel issues and he continued to provide volunteer consultation to Sen. Gillibrand's staff to support their legislative efforts beyond his fellowship year. Grant has also served on the Board of Directors for GLMA, where he developed initiatives for communication and collaboration with behavioral health students and trainees from different disciplines. Since college, Grant has volunteered his time and experience with community LGBT organizations in San Francisco, New Orleans and San Diego.
Halkitis was recognized "for his unwavering dedication to stemming the HIV/AIDS epidemic and other health disparities through sustained advocacy that addresses important social and public health issues of the lesbian, gay, bisexual and transgender community." He is perhaps best known for his expertise in biobehavioral, psychological and public health research, as well as research on all subjects related to the health issues affecting gay men of all ages including HIV/AIDS, substance use and mental health. Beyond his research, Halkitis has extended his scientific work to multiple advocacy efforts for the LGBT community in New York City and New Jersey, working with the Gay Men's Health Crisis (GMHC), Harlem United, the African American Office of Gay Concerns, Body Positive, Project Samaritan, the LGBT Center of New York City and others to facilitate the rapid translation and dissemination of new and critical information to both underserved community members and social service and health care providers serving LGBT youth and adults.
Noriega, who trained with Daniel at The Children's Hospital in Boston, was recognized "for her leadership and sustained commitment to service to marginalized and oppressed populations in her community" in Atlanta. Noriega has turned her passion for social justice and empowering others into meaningful action through her multiple roles in Atlanta. She has worked with Positive Impact, a community organization providing mental health services to HIV infected/affected clients, where her work ensured the cultural competence of mental health providers and with The Health Initiative, a nonprofit providing healthcare access to marginalized segments of the LGBT population, where she secured a major grant for training Affordable Care Act (ACA) insurance navigators in order to significantly increase healthcare enrollment in the LGBT and Latinx communities and coordinates a social networking group that reaches out to queer women in rural areas and transgender women to provide a safe, virtual space in offering social engagement. Her private practice is dedicated to Spanish-speaking immigrants and their children and offers a free reading program for clients who are first generation children of immigrants.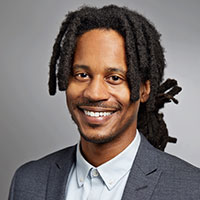 Jackson is a postdoctoral research fellow at the Yale School of Public Health and a recent graduate of the Counseling Psychology Program at the University of Maryland-College Park who has been actively involved as a student affiliate of Div. 44. He was recognized for his systematic dedication to addressing issues of social justice through research and service. Throughout Jackson's tenure as a PhD student, he has engaged in ongoing work to reduce prejudice and intergroup conflict among California youth through his affiliation with Western Justice Center/ENCOMPASS, a non-profit organization dedicated to building a more civil, peaceful society where differences are valued. In this capacity, he helped develop and implemented Creating Bias-Free Classrooms, a three-part training series on race, gender and sexual orientation that combines live, improvisational theater delivered by young actors with facilitation by a human relations expert aimed at equipping educators to build safer, more inclusive classrooms for students targeted by bias. Creating Bias-Free Classrooms has served more than 1,000 K-12 teachers and school administrators in Southern California. Jackson also helped the organization launch SchoolTools.info, a conflict resolution education resource website for K-12 educators that has served over 14,000 educators.
These descriptions fail to do real justice to the magnitude of the work that each of these Div. 44 members has done to "give psychology away" in the interest of improving the lives of people, communities and institutions. Their work reflects not only the public interest focus of APA, but the social justice mission of Div. 44 as well. In so doing, they also serve as models of the dedication and diligence in serving that mission that our Div. 44 Mission Statement embodies.