Feature Article
Update on Presidential Initiatives and Activities
Facing difficult times as a cohesive community and division.
By
Margaret Rosario, PhD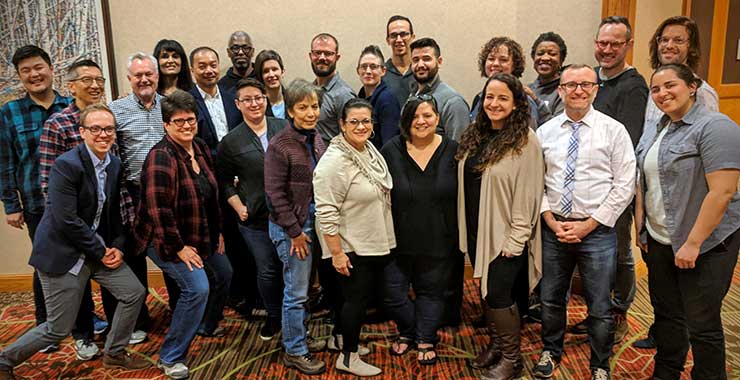 We face difficult times as a community of individuals from or allied with sexual minorities or gender diverse individuals. The Trump Administration has made clear its intentions to reduce or eliminate the civil rights gained during the Obama Administration. Closer to home at APA, Div. 44 also has experienced difficult times. On Nov. 14, 2018, I informed Div. 44 via the Listserv of APA's decision to nominate to a U.S. Department of Education committee on accreditation someone who was a senior officer at a university with anti-LGBT attitudes and behaviors directed generally and at its students and staff. Your trio of presidents – Margaret Rosario (president), Gary Howell (president-elect) and David Pantalone (past president) – argued that a potential conflict of interest existed for the nominee between the professed pro-LGBT attitudes and values of APA and the anti-LGBT attitudes and behaviors of the nominee's institution. Such a potential conflict of interest demanded the withdrawal of the nomination. Let me share what has happened since then.
I believed it necessary to be prepared for a negative reaction to our requests by APA, if it occurred. Indeed, we learned that APA would not withdraw the nomination and held this position throughout the process. Your presidential trio informed all divisional president trios and requested their support in three ways: (1) directly contact APA CEO Arthur C. Evans Jr., PhD, and then APA President Jessica Henderson Daniel, PhD, to request withdrawal of the nomination; (2) have the presidents-elect raise the issue with APA leadership and professional staff at the annual meeting of Division Leadership Council in early January 2019; and (3) empower Council Representatives to raise the issue at the February 2019 meeting of Council.
As we unearthed more information about the nominee's institution and considered the matter in greater detail, it became apparent that a lack of transparency existed at APA. The nominee was selected without feedback from the membership. Although we later learned that a firewall exists between the larger APA and its Education Directorate, given the sensitivity of the accrediting process, we were not appeased. No one individual or group of individuals has complete knowledge about any situation. Someone else may always come forward with heretofore unknown but pertinent information. Thus, as I tried to communicate to APA professional staff, once the Education Directorate made its selection with respect to knowledge of accreditation and other related factors, the membership should have been asked for their comments about all potential nominees.
It also became clear that the membership was not being considered. APA was making decisions on behalf and with the implied consent of the membership. However, the membership was not consulted and thus had no opportunity to comment on those decisions.
The anti-LGBT attitudes and values of the nominee's institution and the potential conflicts of interest they might generate were joined by lack of transparency at APA and exclusion of the membership from important deliberations. The divisional trio of presidents responded, and Council was galvanized. From Nov. 19, 2018, through the end of the month, at least 13 divisions supported, in writing to Evans and Daniel, withdrawal of the nomination. The divisions represent the breadth of APA: Div. 1 (Society for General Psychology), Div. 6 (Society for Behavioral Neuroscience and Comparative Psychology), Div. 7 (Developmental Psychology), Div. 13 (Society of Consulting Psychology), Div. 17 (Society of Counseling Psychology), Div. 25 (Behavior Analysis), Div. 27 (Society for Community Research and Action: Division of Community Psychology), Div. 29 (Society for the Advancement of Psychotherapy), Div. 34 (Society for Environmental, Population and Conservation Psychology), Div. 35 (Society for the Psychology of Women), Div. 39 (Society for Psychoanalysis and Psychoanalytic Psychology), Div. 42 (Psychologists in Independent Practice) and Div. 51 (Society for the Psychological Study of Men and Masculinities). Div. 44 is grateful for the support provided by these divisions and any others which did not share with me what they may have done.
Despite the strong show of solidarity by the membership, APA continued to support the nomination.
On Dec. 1, 2018, the nominee withdrew their name from consideration.
Five related events have happened since the nominee's self-withdrawal. First, the presidents-elect, under the leadership of Gary Howell, discussed the issues of concern with APA professional staff at the Division Leadership Meeting in January 2019. The aim, on both sides, was to begin repairing the relationship.
Second, I met with APA President-Elect Sandra L. Shullman, PhD, to discuss the matter in January 2019. I emphasized the need for transparency at APA and for involvement of the membership in matters directly involving the membership or in which APA acts externally on behalf of the membership.
Third, Arthur Evans requested time to meet with Div. 44 at its Midwinter Meeting of the Executive Board. Joining him were Deputy CEO Jaime L. Díaz Granados, PhD; Chair-elect of the Council Leadership Team Cynthia de las Fuentes, PhD; Interim Chief of the Public Interest Directorate Clinton Anderson; and APA President-Elect Sandra L. Shullman, PhD. APA leadership and staff made clear their desire to repair the relationship. The Executive Board, while voicing its concerns and underscoring that the concerns were ignored or not heard also conveyed its intent to move forward and be helpful to APA.
Fourth, Council met in February 2019 to affirm that APA is a membership-driven organization that consequently, derives from and reports to its membership. This was made clear to APA staff and emphasized by APA President Rosie Phillips Davis, PhD.
Fifth, the Div. 44 divisional trio sent a letter on Feb. 10, 2019, to the APA representatives attending our Midwinter Meeting and copying APA President Rosie Phillips Davis, PhD; APA Past President Jessica Henderson Daniel, PhD; and Chair of Council Leadership Team Rom-Rymer, PhD. The letter focused on the hurt Div. 44 members experienced throughout the process and the wish that leadership and staff learned from what happened and were committed to ensuring that nothing comparable would happen in the future. The latter could be accomplished by greater transparency and policies that guarantee input by the membership.
Div. 44 has yet to receive an official response. As such, I can only conclude the matter has been turned over to the Council of Representative and the Board of Directors, where deliberations have continued on the wider issues raised by incident. Nevertheless, this experience underscores that we must be vigilant, ready to mount campaigns against oppression and appreciative of the support we receive from our colleagues.